The iPhone passcode is helpful to protect the device from unauthorized users and keep your personal data secure. The disadvantage is when you forget the passcode, you will be locked out of your iPhone and if you enter the wrong passcode more than 5 times, the device will be disabled.
There are several online tools to unlock disabled iPhone without using a computer. It is a good news for users who have no access to computers. Read on this article to discover ways to unlock iPhone without computer.
Way 1: Unlock iPhone Passcode without Computer Using Siri
Most people don't know it, but you can easily unlock your locked iPhone without computer using Siri bug. The process is quite simple as these steps demonstrate:
Press and hold the "Home" button on your device to activate Siri.
Use the "Hey Siri" voice activation command to ask Siri to show you the current time.
When Siri obeys the command and displays the current time, tap on the Clock.
A World clock will appear on the screen. Tap on the "+" icon at the top.
In the search box that appears, enter any random search-term. Tap and hold the search term and then choose "Select All".
Tap on "Share" and select "Message" when the AirDrop appears.

In the text field, enter any random text and tap "Return". Tap on the "+" icon and then select "Create New Contact".
Tap on "Add Photo" and then "Choose Photo" to select a photo from the library. A few seconds later, press the "Home" button to get to the home screen and your device will be unlocked.


Note
Keep in mind that this method is just a iOS loophole that only works for iPhone running with iOS 8.0 to iOS 10.1.
Way 2: Unlock Disabled iPhone via Find My iPhone App
If you had enabled the Find My iPhone feature on your iPhone, you can use this option to unlock iPhone passcode without computer using the iCloud. Follow these simple steps to do it:
Step 1: On another iOS device, download and install the Find My iPhone app.
Step 2: Launch the app and then sign in with your Apple ID and password.
Step 3: You should see a map with all the devices connected to that iCloud account.
Step 4: Locate the locked device you want to unlock and tap on it.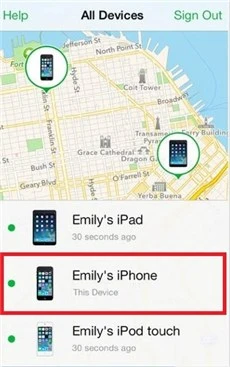 Step 5: Select "Erase iPhone". This will wipe all the data from the iPhone including the passcode.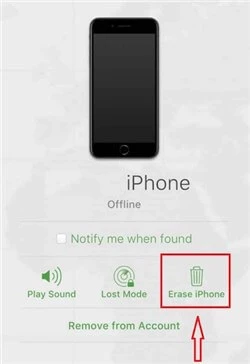 Step 6: Set up the iPhone and then choose "Restore from iCloud Backup" to restore data back on the device.

Note
Please note that this way is workable based on the fact that you can remember your Apple ID and passcode, and the Find My iPhone feature is enabled on your iPhone. What's worse, the process will erase all the data on the device. You'll suffer from data loss if you haven't made a backup before.
Way 3: Unlock iPhone Passcode without Computer Using iCloud
If unfortunately, you don't have any iPhone or iPad in hand, you will be able to unlock iPhone via iCloud. This way is almost the same as the method above.
Go to the website of https://icloud.com/find on any Android devices.
You will be directed to the iCloud sign-in page. Log in the iCloud account with your Apple ID and password.
The dots displayed on the screen represent the devices connected to the iCloud account. Tap on your disabled iPhone and click the I icon.
Then click on 'Erase iPhone' to wipe your device settings including the screen passcode.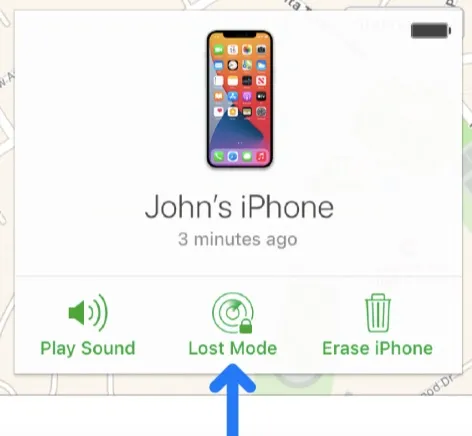 Way 4: Unlock iPhone Passcode without computer via IMEI Unlocking
Every iPhone has an IMEI number and it can be used to unlock the device's passcode. You may however need to contact the carrier and provide some information in order to whitelist the device before you are able to use the device again. Follow these simple steps to unlock your disabled iPhone using the IMEI number:
Step 1: Dial *#06# to see the IMEI number. You can also go to Settings > About or get it from the SIM tray.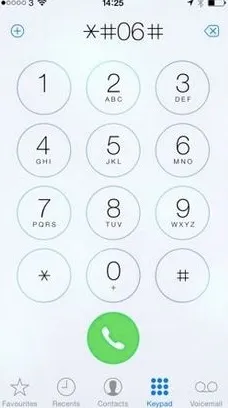 Step 2: Contact your carrier and provide the IMEI number along with other information they may need and they'll help you unlock the device.
Option 1: Using FoneGeek iPhone Passcode Unlocker (100% Success Rate)
If the above three solutions fail to unlock your iPhone, your best option is to use a third-party tool like FoneGeek iPhone Passcode Unlocker (iOS 16 supported). This tool can help you unlock your iOS device in just a few minutes. It can also be very helpful when to remove an Apple ID that is already activated and replace it with another.
The following are some of the program's features:
It unlocks the iPhone in just a few minutes with just a few clicks.
It has a 100% success rate of bypassing the lock screen on any iOS device.
It can even be used to unlock a disabled device or an iPhone with a broken screen.
It can remove various types of locks including a 4-digit passcode, a 6-digit passcode, Face ID and Touch ID.
Here's a simple guide to help you unlock iPhone passcode on computer:
Step 1: Download and install FoneGeek iPhone Unlock tool on to your computer. Open the program and click on "Unlock Screen Passcode".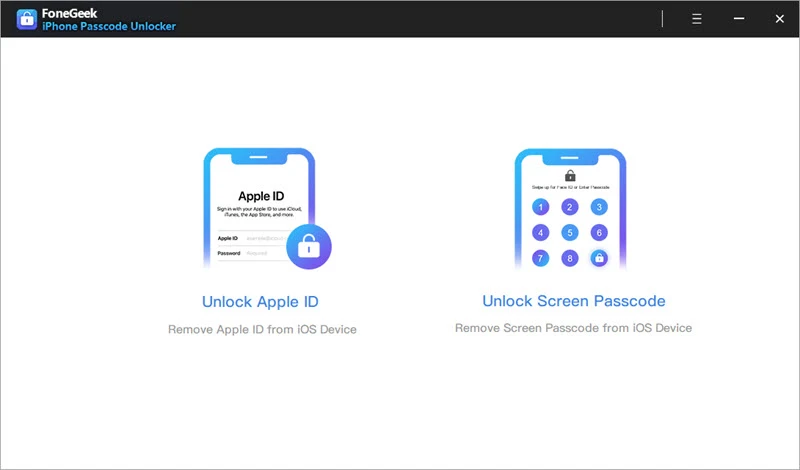 Step 2: Click "Start" and then connect the iPhone to computer using USB cable. Wait for the program to detect the device. If not, you need follow th on-screen instructions to boot it into DFU/Recovery mode.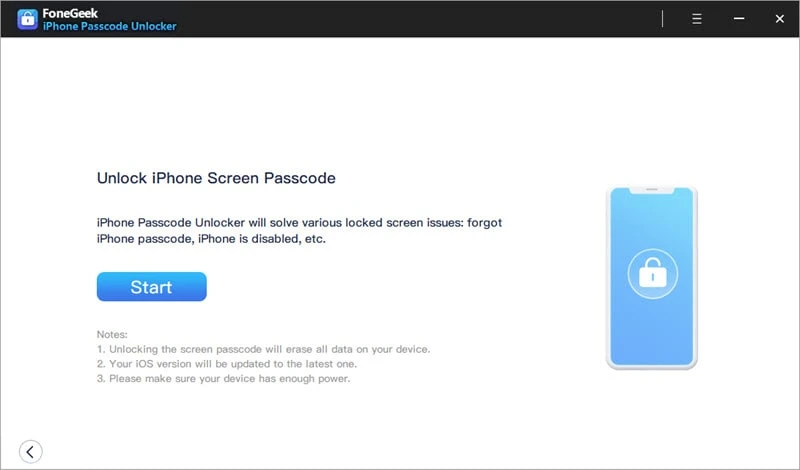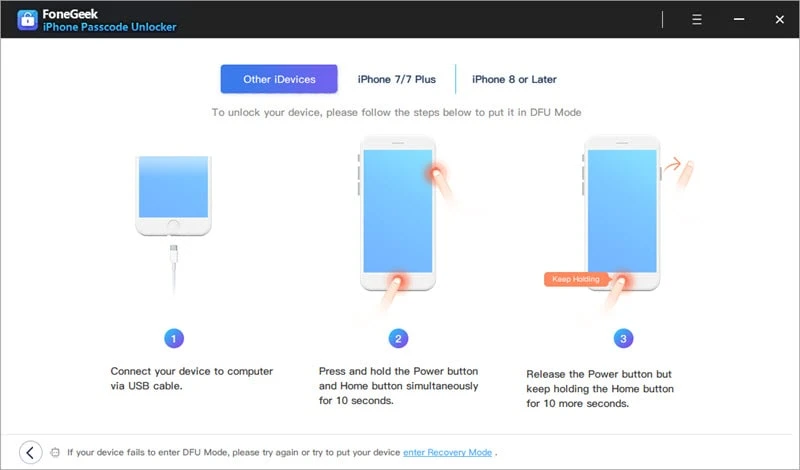 Step 3: Once the program has detected the device and provided information about it on the next screen. Double-check to ensure the information is correct before clicking "Download".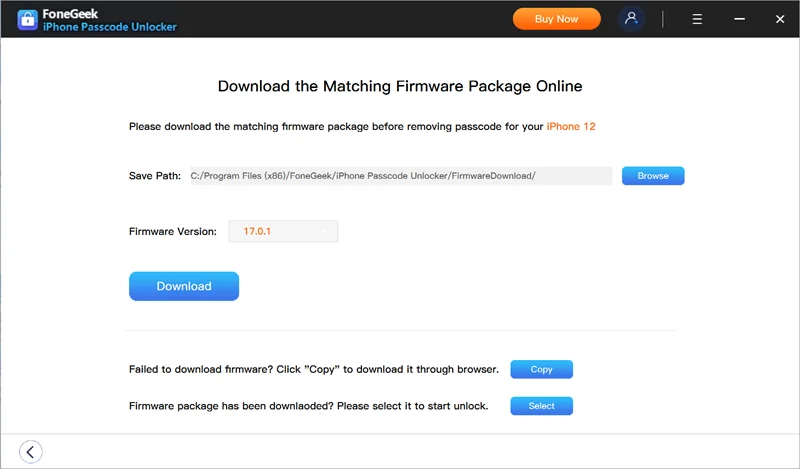 Step 4: When the firmware extraction is complete, click on "Start Unlock". The program will begin unlocking the device.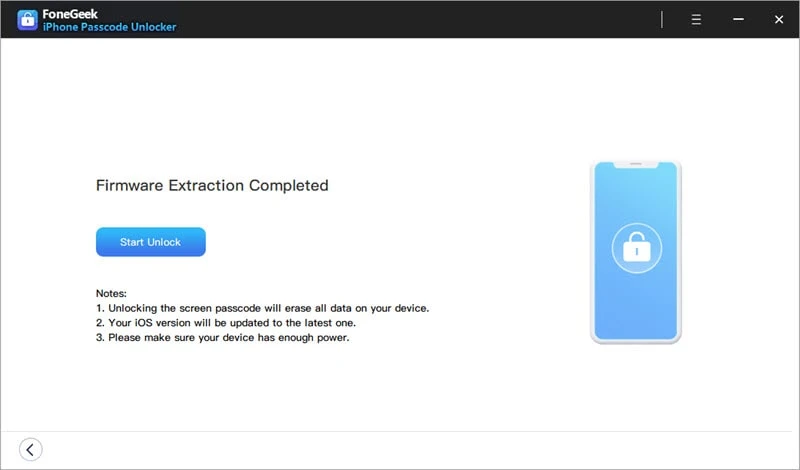 A few seconds later, the passcode will be removed successfully and the device will be consequently unlocked.
Note:
All the data and settings on iPhone will be erased after the unlocking process. So you should make sure to make the full backup of your device data.
The iOS version of iPhone will be updated to the latest version after unlocking.
If 'Find My iPhone' feature is enabled, you will be prompted to input your iCloud account to set your device.
Option 2. Unlock iPhone Passcode with iTunes
If you have synced your iPhone with iTunes, another method you can try to unlock your iPhone passcode is restoring the device using iTunes. Here's what you need to do:
Connect your locked iPhone. If you device doesn't have the Home button, press the side button and volume +/- button until you can see Apple logo on the iPhone screen. Then keep pressing the 2 buttons until the device is put in Recovery Mode.
Once your iPhone has been detected by iTunes. click on the device icon and tap "Restore iPhone".
Tap "Restore" to confirm your choice. iTunes will begin to restore the device to factory settings and remove the screen passcode.
After that, you can choose to set up the device as a new one or restore from a backup provided that you have one.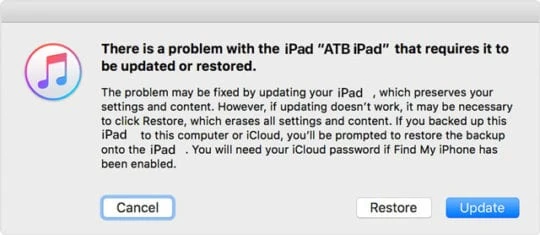 Final Part: FAQs about Unlocking iPhone Passcode
Q1. Is it Safe to Use FoneGeek iPhone Passcode Unlocker?
FoneGeek guaranteed that they would provide the best service for customers. If customers don't feel satisfied with their software, they would offer the money-back guarantee of 30-days. And the buying information are protected and confidential.
Q2. Can Apple Unlock My iPhone?
Apple can remove the screen lock of your iPhone when you can prove that you are the owner of this iPhone. But this service will charge a great amount of money.
Conclusion
You will now be able to unlock iPhone passcode without computer. Most solutions to this problem will result in data loss since they will need to wipe the passcode from the device. But FoneGeek iPhone Passcode Unlocker is a faster, quicker and better alternative that will unlock iPhone without data loss. It is the perfect solution if you would rather not use iTunes and you need an easier solution.