iCloud Assistant Pro Review and The Best Alternative
Edwin J. Parke
Last updated: Monday on Feb 01, 2021, 20:28:49
Unlock iPhone
Being locked out of an iPhone is more common than you may think. You could have recently changed the Apple ID password or you purchased a second-hand iPhone and the original owner hadn't factory reset the device. Either way, not having the right password can keep you locked out of your iPhone in more ways than one, then you are unable to enjoy the complete iOS experience.
In response to this common problem, iCloud Unlocker tools like iCloud Assistant Pro have emerged in the market. Their main role is to help you to bypass the passcode and be able to unlock iCloud features, enabling you to have complete access to your device's features. In this article, we will take a look at iCloud Assistant Pro and offer you a better alternative.
Part 1. What is iCloud Assistant Pro?
iCloud Assistant Pro, you may sometimes see it referred to as iCloud Assistant Pro Enterprise 365, is a iCloud removal tool that helps users to unlock their iPhone without the iCloud password. It is therefore very useful in situations where you've forgotten your iPhone password or when you purchase an used iPhone and the owner didn't give you their password.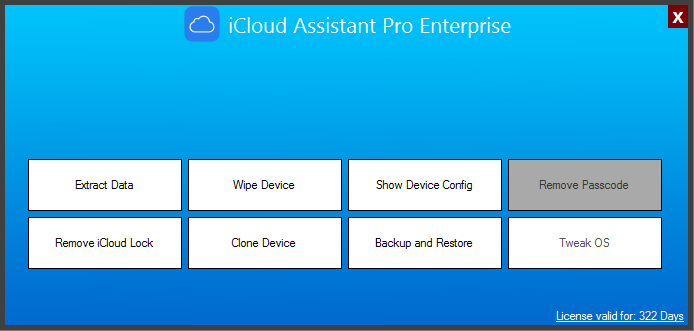 Pros & Cons of iCloud Assistant Pro
Some of the main features that make this tool an effective solution include the following:
It can remove iCloud accounts from most iPhone models running iOS 7 to iOS 11.
It doesn't require iCloud account credentials to unlock iPhone.
It is simple to use and doesn't require a lot of technical knowledge on the part of the user.
It comes with intuitive interface and the unlocking speed is very fast.
Like other iCloud removal tool, iCloud Assistant Pro does have a few disadvantages, including the following:
The tool lacks an official website, a factor that can make it very difficult to find and download.
There are some users who have reported that this tool is not as effective as it claims to be.
A complex payment procedure and a lot of suspicious aspects can make iCloud Assistant Pro look like a scam.
It doesn't support iOS devices running iOS 13, iOS 14 and above.
It has a very low user-rating which could mean it is not an effective solution.
Part 2. Best iCloud Assistant Pro Alternative
If you are looking for a more reliable solution, we recommend choosing FoneGeek iPhone Passcode Unlocker. This tool is useful in numerous situations especially when you forgotten your iPhone password. This powerful iPhone unlocking tool helps you remove screen lock and Apple ID from iPhone/iPad without passcode. It has numerous 5-star reviews from users who all say it is the best solution they could have ever found.
Some of its other useful features include the following:
It can be used to remove Apple ID/iCloud account on any iPhone/iPad without the password.
It can bypass all types of security locks on the device including the 4-digit or 6-digit passcode, Face ID and Touch ID from an iPhone or iPad.
It is very fast and simple to use, allowing you to bypass the iPhone/iPad screen passwords instantly.
It can also be used to fix a disabled iPhone/iPad without iCloud or iTunes.
It works well on all iPhone and iPad models as well as all versions of the iOS firmware including iOS 14.
Follow the steps below to remove iCloud lock on iPhone/iPad:
Step 1: Download FoneGeek iPhone Passcode Unlocker on to your computer and install it. When installation is complete, open the program and in the main interface, click "Unlock Apple ID".
Step 2: Plug your iPhone to the computer using USB cable. You may need to unlock the screen and then tap "Trust this Computer" on the device to allow the program to recognize the device.
Step 3: Click "Start Unlock" and the program will begin to unlock your Apple ID and iCloud account associated with the device. The process will work differently depending on various scenarios.
If Find My iPhone is off, the program will unlock the Apple ID immediately and all the data on your device will be retained after the process is complete.
Keep the device connected to the computer until the process is finished. Once the process is complete, you can easily log into a different Apple ID or create a new account.

By Edwin J. Parke
Posted on Nov 11, 2019, 18:41:17
As a professional writer who is interested in technology, Edwin J. Parke has helped thousands of users by offering various tips to solve their problems.