When you lose or forget your iCloud password, you will be unable to access many features and functions on your iPhone. This can also happen when you purchase a second-hand iPhone and the previous owner's iCloud account is still active on the device.
In the past, it was impossible to get out of this problem, but with the rise of iCloud unlocking tools, now it is easier to bypass an iCloud Activation Lock.
There are lots of iCloud bypass tools out there, and in this article we are going to look at one of the most popular iCloud bypass tools - iCloudin. Here is a complete iCloudin review as well as its best alternative. Read on and check out.
What is iCloudin?
iCloudin is a popular iCloud bypass tool that helps you bypass iCloud Activation Lock on iPhone or iPad and regain access to the device. It is quite simple to use, however, you may run into problems of locating the download link for this program.
Once you are able to download it though, you will find that it is a very useful tool for the removal of old iCloud account that you no longer have access to. This tool is also quite helpful when you need to delete someone else's iCloud account from an iPhone/iPad when you purchase a second-hand device.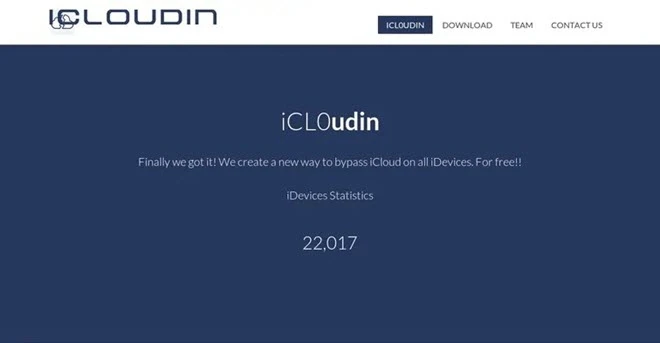 Pros & Cons of iCloudin
To help you understand whether iCloudin is right for you or not, we've outlined the software's pros and cons:
Pros
Offers a practical solution for bypassing iCloud Activation Lock on Apple devices.
Features a simple and intuitive interface, making it easy to use for both tech-savvy users and beginners.
Compatible with a wide range of iPhones and iPads running various iOS versions.
It is completely free to use, no premium option at all.
Cons
It is only compatible with iPhones running iOS 9 or earlier versions.
It can be very difficult to find the download link for iCloudin and therefore it is very easy to download fake versions that can be loaded with viruses.
Sometimes it fails to work to remove iCloud Activation Lock from iPhone or iPad.
It is only available for Windows users, no Mac version available.
You must have iTunes installed on your computer to use this iCloud bypass tool.
Is iCloudin Reliable or Fake?
This tool is not fake, but most versions of this tool are obsolete. Any links you can find online don't work with the latest iOS devices. That's to say, if your iPhone is of the new version, iCloudin may not help you remove the iCloud activation lock for you.
User Reviews of iCloudin Online:
It is difficult to download this software since the download link cannot be found easily.
It is a good choice to remove Apple ID from your iPhone/iPad/iPod touch.
How to Download and Use iCloudin
If you are not sure how to download iCloudin, you can rely on the backup servers to cloud. The servers allow you to find the version that suits your PC: 2.0 or 1.5.1. The download link of iCloudin is held by servers like Mediafire or MegaUpload. With Mediafire, you can access iCloudin remotely without downloading this software on your computer.
Here's how to download and use iCloudin to remove iCloud lock free on your iPhone:
Begin by downloading iCloudin to your computer from the iCloudin download link you've found and then extract the ZIP files you download.
If you don't have iTunes installed on your computer, install it before you can start using iCloudin. If you already have iTunes, make sure you are running the latest version.
Connect the locked iPhone to the computer using the lighting cable and then open the iCloudin program. Click on the "Host's file IMEI".
In the new window that opens, locate the iCloudin folder and then select "Hosts_Activation _ IMEI.java".
The iCloud unlocking process will begin immediately and you should see a progress bar to track the unlicking process.
When the process is complete, the iCloud Activation Lock should be removed from the iPhone. You can check if you are able to access all the iCloud features and functions now.
Does iCloudin Really Work?
You may be wondering if iCloudin will work for you especially given how difficult it can be to find and download the program. We tested the effectiveness of the tool on iPhone 7 Plus, iPhone 8 and iPhone X, the results were varied. Each of the iPhones was running the latest version of iOS.
The results were not encouraging. Even after using iCloudin several times on each iPhone, we were unable to remove the iCloud Activation Locks on any of the devices. But like we mentioned before, iCloudin works with earlier versions of iOS and if you are running iOS 9 or earlier, it may be able to help.
Recommended iCloudin Alternative
Our Experiences with iCloud Unlocking
The next section of this article is to introduce the best alternative to iCloudin that really work.
We have tried the DNS bypass method and found that it free, but it isn't a feasible long-term choice. We have also searched for other similar tools and downloaded them one by one. Some of them didn't work at all, some of them had malware in them, etc. Fortunately, we stumbled across a tool that actually worked.
When it comes to bypassing iCloud Activation Lock, Tenorshare 4MeKey emerges as a highly recommended alternative to iCloudin. With its advanced features and reliable performance, 4MeKey offers a great solution that helps you bypass iCloud Activation Lock and regain access to your locked iPhone or iPad. Now let's explore why Tenorshare 4MeKey stands out as the best alternative:
Employs advanced unlocking technology to ensure a high success reate in bypassing activation lock.
Comes with an intuitive and user-friendly interface, making it accessible to both novice and experienced users.
Provides clear step-by-step instructions, guiding users through the bypassing process effortlessly.
Offers a free trial version to explore and understand the software's features before purchasing the premium version.
Compatible with the latest iPhone 15/14 and all other iPhone models as well as with all versions of the iOS firmware like iOS 17/16.
Here's how to remove iCloud Activation Lock from iPhone with 4MeKey:
Step 1: Download and install Tenorshare 4MeKey on your computer. Once it is installed successfully, launch the software and click on "Start to Remove".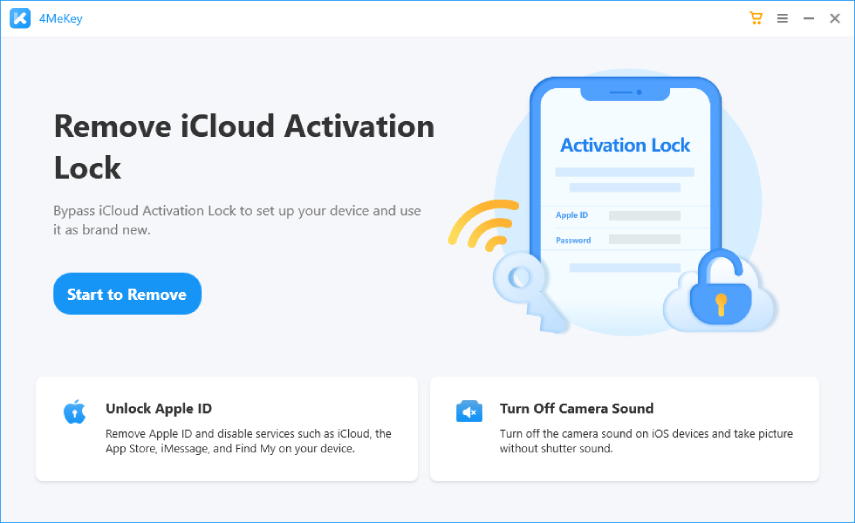 Step 2: Use a USB cable to connected your locked iPhone or iPad to the computer and follow the on-screen instructions to jailbreak the device.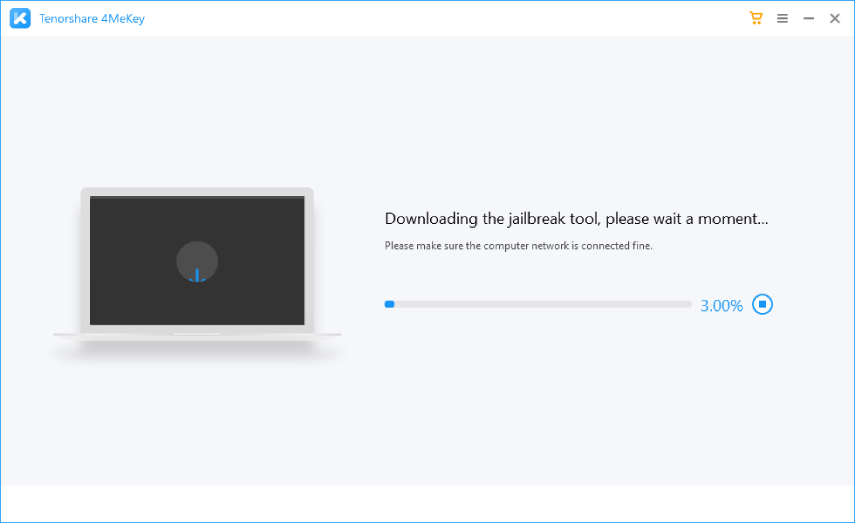 Step 3: After jailbreaking, 4MeKey will prompt you to confirm the information of your device, click "Next" to proceed.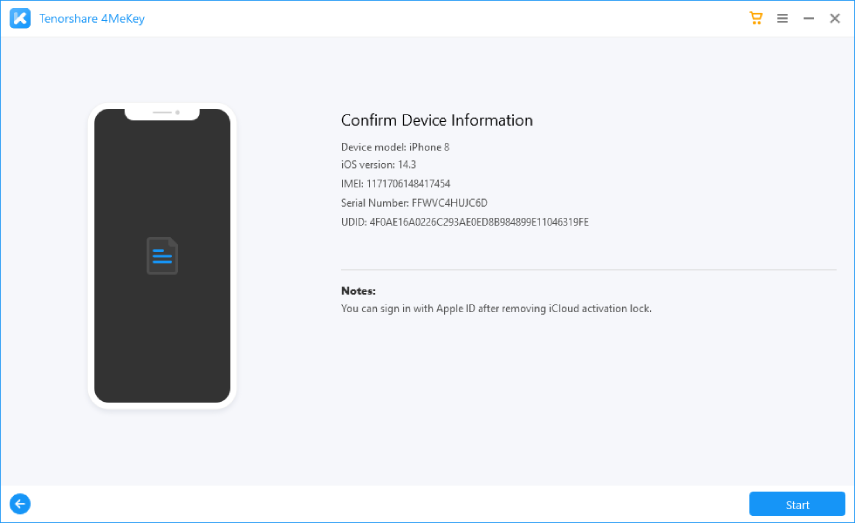 Step 4: Once you click "Next", 4MeKey will start the process to remove the iCloud Activation Lock. Just wait for the program to complete the process.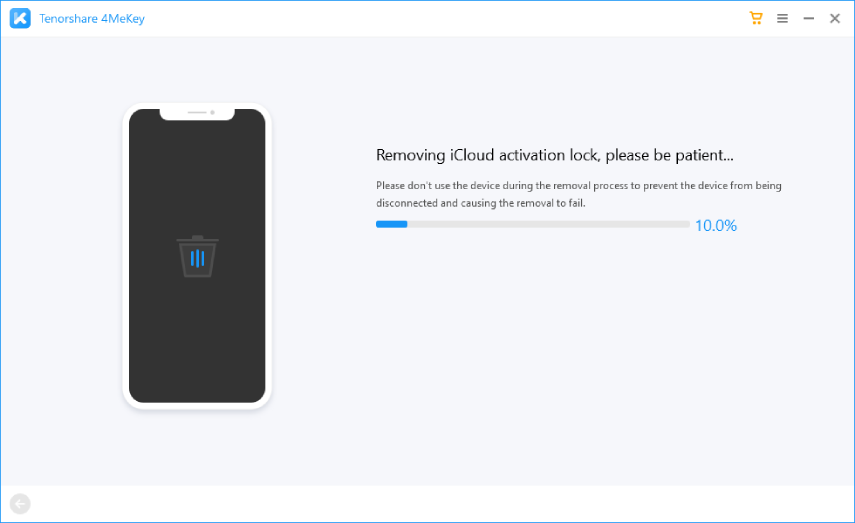 When it is complete, a popup will appear notifying you that the process is complete. You can now check if the device has been unlocked.
Hot FAQs about iCloudin
Is iCloudin free to use?
Yes, iCloudin is available for free. However, it's important to be cautious when using free tools, as they may come with limitations, potential security risks, or lack official support. Some features or functionalities may be restricted, and there may be premium versions or paid alternatives that offer more comprehensive solutions.
Is iCloudin safe to use?
When it comes to the safety of using iCloudin, it's important to note that the safety can vary. While iCloudin may be a legitimate tool, there are also risks associated with using third-party software for iCloud-related services. To minimize the potential risks of malware or data breaches, it's crucial to ensure that you download iCloudin from a reputable source. Be cautious of downloading software from unfamiliar or untrustworthy websites.
Is using iCloudin legal?
The legality of using iCloudin can depend on several factors, such as the specific purpose for which you use it. It's important to note that removing the iCloud Activation Lock or unlocking iCloud accounts without proper authorization may be considered a violation of Apple's terms of service or local laws in certain regions.
Does iCloudin unlock any iCloud-locked device?
The effectiveness of iCloudin or any similar tool may vary depending on the device's specific circumstances. While iCloudin claims to be able to bypass activation locks, there is no guarantee that it will work on all devices or iOS versions. It's always recommended to explore official methods of unlocking devices and seek professional assistance if needed.
What should I do if iCloudin doesn't work for me?
If iCloudin doesn't work for you, consider exploring other alternative methods to bypass the iCloud activation lock. One recommended alternative tool is Tenorshare 4MeKey. It offers a range of features and functionalities that may help you bypass the iCloud activation lock on your device.
Conclusion
When it comes to bypassing the iCloud activation lock and unlocking iCloud accounts, iCloudin may not always provide the desired results for everyone. However, there are alternative tools available, and one highly recommended option is Tenorshare 4MeKey. With its specialized features and user-friendly interface, 4MeKey offers a reliable solution for removing the iCloud activation lock and unlocking iCloud accounts.