"iPhone is disabled try again in 15 minutes" could delay using your iPhone for security reasons.
There are several ways to bypass iPhone is disabled try again in 15 minutes issue. Read this article patiently to learn the solutions to resolve the issue and get your iPhone up and running again.
1. Why Does iPhone Say "iPhone is Disabled Try Again in 15 Minutes"?
First off, the reason behind iPhone saying "iPhone is disabled try again in 15 minutes" is because you, or someone else, have input incorrect passcode multiple times. This triggers the security lock put in place by Apple to secure your device's data.
At first, iPhone will ask you to try again in one minute, then in five minutes, and lastly in 15 minutes. In other words, you need to wait for a 15-minute countdown to put your passcode again and unlock it.
If you still do not get it right, you'll have to wait for another 1 hour. Failure to get it right at the next chance will result in "iPhone unavailable" or "Security lockout".
2. Erase iPhone Feature on iOS 15.2 or Later Versions
Suppose you cannot remember your passcode, there are several ways to go around it. An initial approach to consider is the Erase iPhone Feature. This option is available on iOS 15.2 or later versions. For those using an iPad, it is referred to as Erase iPad on the device. To use this option, follow the guide below:
Step 1: Enter the wrong passcode for multiple times and the "Erase iPhone" option will appear on the bottom of the screen. Click "Erase iPhone" on the screen.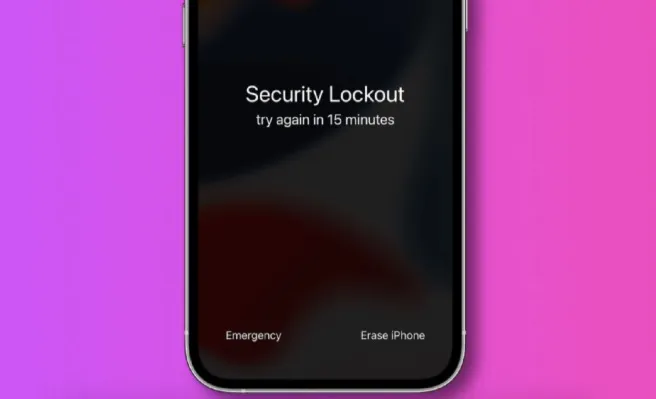 Step 2: Provide your Apple ID password. Note that all your content and settings will be erased as a result.
Step 3: Choose "Erase iPhone" to continue, then wait for your device to complete the erase process. Eventually, it will restart, and you can set another passcode for yourself for future use.
3. Unlock Disabled iPhone with A Professional Tool
Here is another proven approach to resolve the "iPhone is disabled try again in 15 minutes" issue: utilize the FoneGeek iPhone Passcode Unlocker program. This tool is convenient to use, works instantly, and protects your data and privacy.
More importantly, you don't need your Apple credentials to unlock your iPhone using FoneGeek iPhone Passcode Unlocker. With ease, it enables users to unlock alphanumeric passcode, Touch ID, Face ID, and 4 or 6-digit passcode. Simply follow the guides below to use:
Download FoneGeek iPhone Passcode Unlocker on your PC. Open the program and choose "Unlock iPhone Passcode" mode.
Connect your iPhone to PC via USB cable and wait for the program to detect it.
Download the firmware package according to the device information.
Get rid of the iPhone passcode lock with the remove option.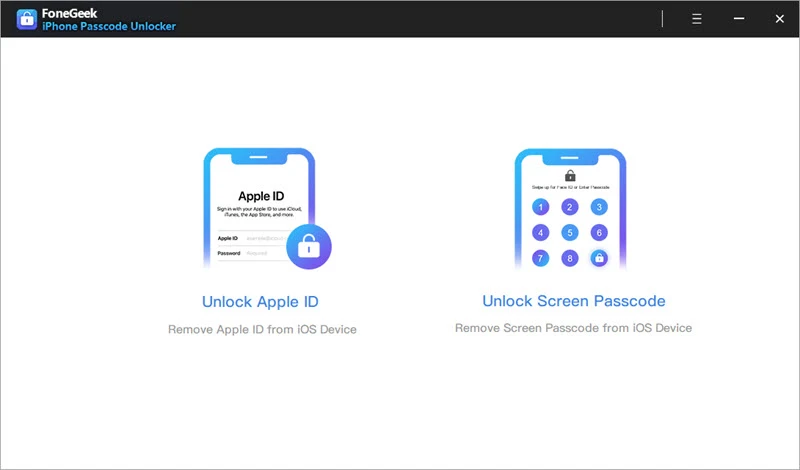 After a completed process, the iPhone will become unlocked and available to use.
4. Apple's Ways to Unlock Disabled iPhone
While the 2 solutions discussed above should easily help unlock your iPhone, you may consider the following options to unlock disabled iPhone.
4.1 Unlock iPhone with iTunes (No Data Loss)
For those who had synced their iPhone with iTunes on their personal computer, you can unlock your disabled iPhone without losing your data by creating a backup. Below is a step-by-step guide to unlock via iTunes:
Step 1: Connect your PC and iPhone. Open iTunes on your PC.
Step 2: After your device gets recognized by iTunes, choose "Summary".
Step 3: Click "Back Up Now" to develop a backup for your iPhone data.
Step 4: Select "Restore iPhone" to restore the data after the backup is complete.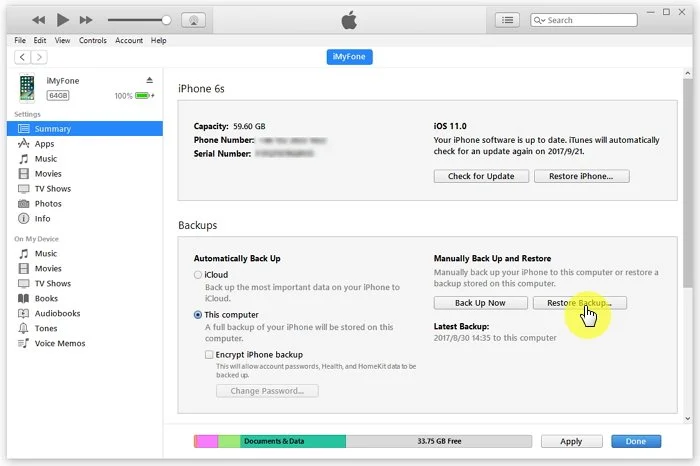 At this point, the device will be restored by iTunes. All data on the device will be erased. However, once your iPhone is unlocked and available, you can restore the data from the backup.
4.2 Erase iPhone with iTunes in Recovery Mode
If your iPhone is not synced with computer, recovery mode is an option to unlock your iPhone using iTunes. This approach works for every iPhone model, so you don't need to be concerned about your device's version. Use the guide below to unlock your iPhone:
Step 1: Get your iTunes opened without connecting the iPhone.
Step 2: Put your iPhone into the Recovery mode. This is attainable in different ways, depending on your device's model.
For those who use iPhone 8 or later, long-press the volume and side buttons and release once the power slider shows. Turn the device off. Hold the side button and connect your iPhone to your PC. Do not release until the recovery mode surfaces on the screen.
Suppose you use iPhone 7 Plus or iPhone 7, long-press the side button, and put off the device once the power slider shows. Connect the device to your PC while holding the button for volume down. Do not release the button until the device enters recovery mode.
For iPhone 6s and earlier versions, long-press the side button and switch off the device once the power slider shows. Connect your PC as you hold the Home button. Do not release the Home button until the recovery mode surfaces.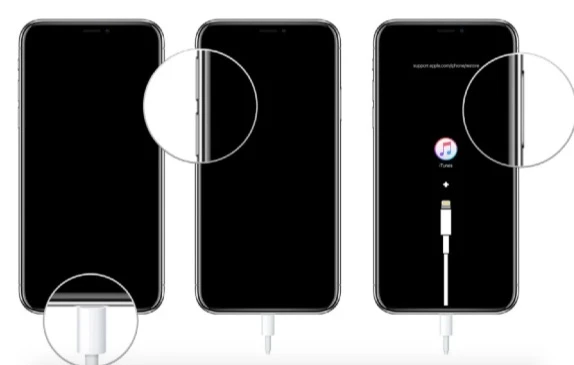 Step 3: Choose the "Restore" option from the iTunes dialogue box.
With the displayed instruction, you'll be able to unlock your iPhone easily. Note that you need a PC and existing backup to restore your data.
4.3 Unlock iPhone via Find My iPhone
Here is another approach to get around iPhone is disabled try again in 15 minutes stuck. This method only requires logging into your iCloud account. Follow the steps below as a guide:
Step 1: Log into your iCloud account with your Apple ID password.
Step 2: Tap "Find iPhone" then "All Devices".
Step 3: Choose your device and tap "Erase iPhone".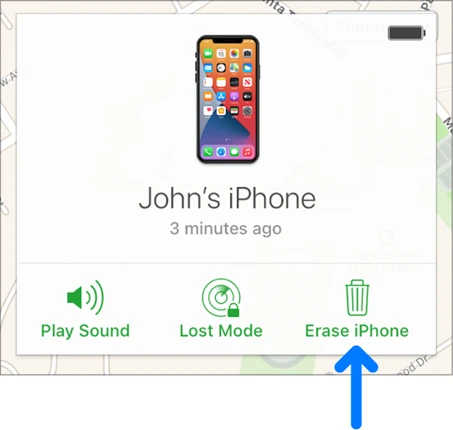 Step 4: Select "Remove from Account".
This method is not applicable to iPhone users who did not enable their "Find My iPhone".
5. Contact Apple to Resolve "iPhone is Disabled" Issue
It is almost impossible that any of the solutions above won't work for you. However, if this is the case, consider taking your disabled iPhone to an Apple office or a certified third-party repair center for help. An Apple expert should be able to erase your iPhone and restore your device without any difficulty.
6. Tips to Avoid Disabling an iPhone
A disabled iPhone could lead to an unpleasant experience, if not exasperating. To avoid such a troubling experience, consider the following recommendations:
Use a new 6-digit passcode generated from a random number generator. Endeavor to memorize the number or jot it down on paper, then keep it safe. Visit the Touch ID & Passcode part of your device settings to change the passcode.
Use Face ID or Touch ID to lock your iPhone. However, this requires using an iPhone that supports a fingerprint reader or facial recognition feature. Also, set a passcode as a backup. This will come in handy when your fingerprint fails to read, or you are not recognized by your Face ID program.
Conclusion
And there you have the proven and reliable approaches to solving an iPhone is disabled try again in 15 minutes bypass. A choice is subjective; hence, you are in the best position to choose the right option for yourself.
However, a professional recommendation is to use a reliable program such as FoneGeek iPhone Passcode Unlocker for a quick and efficient way without losing your data. Also, consider the recommendations stated herein to prevent your iPhone from locking you.