Almost every year there's a new iPhone released that's better and more powerful than the previous ones. For many of us who still hold on to our old iPhones, we're often worried and wondering if our iPhones will continue working, or if they will end up being obsolete. It's not an unfounded worry given that Apple usually discontinues software updates and hardware support for its smartphones, especially old iPhone models.
However, just because Apple stops offering support for a particular iPhone model or an iPhone is obsolete doesn't necessarily render the phone useless or unusable. In this post, we'll discuss everything you should know about iPhone obsolete state, including what are obsolete iPhones and how to exactly tell if your iPhone has become obsolete. Moreover, we'll show you what you should do if your iPhone turns out to be obsolete. Let's start right away.
What Does Obsolete iPhones Mean?
Obsolete and vintage are terms that can be used interchangeably for most purposes. But, according to Apple, there's a distinction between "obsolete" and "vintage" devices. So, what exactly does iPhone obsolete state mean? Well, an iPhone is obsolete when Apple stops selling it and no longer offer any hardware support for it in every region - no exceptions. In other words, service providers like repair shops can't order or obtain necessary repair parts for any obsolete iPhone model and Apple can't offer any technical support for it either.
An iPhone that's vintage, while essentially similar to an obsolete iPhone, is one that you can still get hardware support when it breaks provided you bought it in California. Mac products that are purchased in Turkey also hold this "vintage" label, hence they can still get hardware support from Apple. In short, for any iPhone bought in the other 49 states in the U.S. or anywhere else in the world, Apple won't offer any hardware support for them.
How to Check If an iPhone is Obsolete?
When buying a second-hand or particularly old iPhone, one thing that should come to mind is, "Will the iPhone be obsolete?" It's easy to check an iPhone obsolete state because you just need to go through Apple's list of obsolete and vintage products. The iPhone obsolete list gets updated once a year, mainly around September and October, often followed by the unveiling of the latest iPhone model.
Below is a list of iPhone models that are already Vintage or Obsolete:
Obsolete iPhones
iPhone
iPhone 3G (8GB, 16GB) models
iPhone 3GS (8GB, 16GB, 32GB) models
iPhone 4 CDMA model
iPhone 4 CDMA (8GB, 16GB, 32GB) models
iPhone 4 (8GB, 32GB) models
iPhone 4 GSM (8GB) Black model
iPhone 4S model
iPhone 4S (8GB) model
iPhone 5C model
Vintage iPhones
iPhone 4 (8GB) model
iPhone 5 model
iPhone 5S model
iPhone 6 model
iPhone 6 Plus model
iPhone 6S (32GB) model
iPhone 6S Plus (32GB) model
As we said earlier, iPhones considered "vintage" are pretty much obsolete if they were not bought in California. But note that nothing lasts forever. So, the big question is, how long does Apple support iPhones? Well, Apple has been classifying products as vintage or obsolete depending on how long they offer hardware support for them.
For instance, products listed as "vintage" are those that Apple discontinued 5 to 7 years ago. "Discontinued" means that Apple no longer manufactures and sells the particular product. A good example is the iPhone 5 listed above. Apple discontinued this particular model in September 2013, hence it was labeled as "vintage" in October 2018.
The "obsolete" label, on the other hand, applies to those devices that Apple discontinued over 7 years ago. It's not clear though how Apple follows its own guidelines for classifying obsolete devices, for instance, iPhone 4 is categorized as obsolete yet the model was only discontinued in late 2013. It seems like Apple renders certain iPhone models obsolete early.
2023 List of Obsolete iPhones
Below are iPhone models that are expected to be obsolete or won't get software updates from Apple once the iOS 17 is released, which will be around this mid-2023.
iPhone 8 (Plus) model
iPhone SE (1st geberation) model
iPhone 7, 7 Plus models
iPhone 6S, 6S Plus models
iPhone 5, 5S models
iPhone 5C model
iPhone 4, 4S models
Other iPhone models
Is Your iPhone Obsolete and Broken? Here's What to Do
In case your iPhone is broken or needs a hardware fix but it's obsolete, you won't get any assistance from Apple. Even if you take it to your nearest Apple repair shop, they won't fix it. Other licensed repair shops or service providers that usually get their new parts from Apple would also be out of the necessary parts for your obsolete iPhone. They won't be able to do repairs like installing a new battery, camera lens, or Home button. Replacing the charging port or swapping the chip also won't be possible to do.
However, your iPhone being obsolete doesn't mean that you can't get it fixed. You can fix it by looking for the replacement parts yourself. For instance, you can search eBay and find the parts you need, then take to a repair shop and have them repair your broken iPhone. Also, there are repair shops that have other sources besides Apple where they can find or obtain the necessary parts themselves. The risk is that your phone may end up getting repaired using components that are sub-par and could easily malfunction.
The other downside is that the process of finding the parts yourself or having repair shops find them for you is time-consuming and could cost you more. Therefore, it's much better to spend that money on getting a new phone, especially if it's a broken iPhone 4 or 5. It's not a must to buy a brand-new iPhone, though, if your funds are still not enough. You can get a refurbished or second-hand iPhone, which will likely cost you less money than repairing the broken iPhone.
Should You Upgrade Your iPhone Before It's Obsolete?
You shouldn't wait until the iPhone is obsolete or vintage to upgrade. It's always advisable to get a newer iPhone model if possible. For instance, iPhone 5 was labeled obsolete in October 2018 yet Apple had already stopped software support for it back in September 2017. Therefore, when iOS 11 came out, you couldn't update iPhone 5 to iOS 11 because it wasn't compatible with it.
If you had iPhone 5 then, you would have missed out iOS 11 new features and important software updates. In short, your iPhone 5 and personal data on it could have possibly been at risk. For this reason, you should always upgrade your iPhone even if Apple is yet to label it vintage or obsolete. Immediately Apple stops providing software updates for it, it won't be able to deal with any new bugs and software vulnerabilities that get discovered.
So, how long does Apple support iPhones with regard to software updates? The iPhone 5 for instance, came out in 2012 but Apple stopped offering software updates for it in 2017. Another example is iPhone 4 which came out in 2010 but Apple discontinued its software updates after the iOS 8 update, which came out in 2014.
To put it simply, Apple's time frame for supporting an iPhone before it becomes "obsolete" with regards to software updates is 4 or 5 years. What this means is that you have to upgrade your iPhone once it's on its 4th birthday so that you can benefit from the latest iOS updates and features. However, if you're a techie with a knack for the latest hardware and specs, you may find it worth getting a new iPhone model sooner.
Obsolete iPhone Stopped Getting Software Updates, How Do I Update It?
Having an obsolete/vintage iPhone often means that the iOS version can't get updated anymore. This limitation can be overcame using FoneGeek iPhone Passcode Unlocker, which is third-party software that helps you update the iOS of any iPhone, even if it's an obsolete/vintage one. The software can remove all kinds of locks from iPhones/iPads right away without using Apple ID or passcode. It has the "Unlock Screen Lock" mode that you can use to update your iPhone's iOS version without using a password. Moreover, it's really simple to use and works fast.
FoneGeek iPhone Passcode Unlocker Key Features
Do iOS update on obsolete devices after unlocking their Apple ID.
Overcome the iOS lock screen on vintage/obsolete devices without using a passcode.
Fully access iPhone that has Face ID, Touch ID, 4-digit/6-digit passcodes, etc.
Allow the change of a device's Apple ID or the setting up of a new Appl ID.
Enables total control of any iDevice - iPhone/iPad/iPod Touch.
How to update the iOS version of an obsolete iPhone using FoneGeek iPhone Passcode Unlocker
Go to FoneGeek official site, download the free-trial version, and set it up on your computer (Windows or Mac).
After set up, open the program. Go to "Unlock Screen Passcode" option and select it. Get the obsolete iPhone and your computer connected. Click "Start" to initiate the process.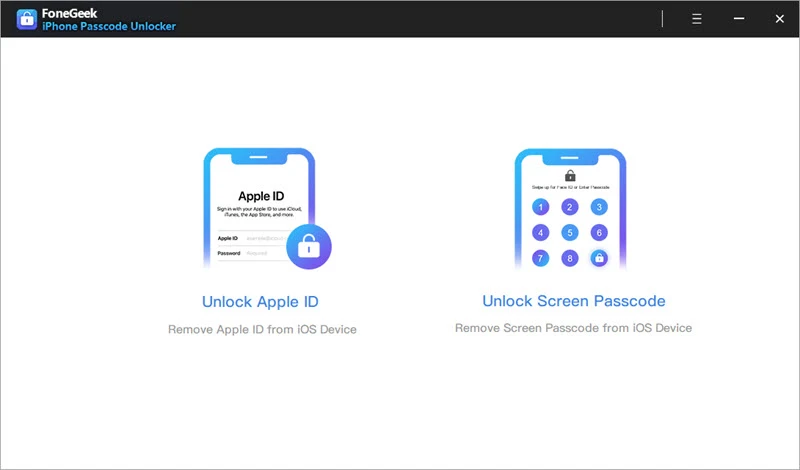 Wait for FoneGeek to recognize the iPhone. When it detects the device, it will show a firmware version for it. Click "Download" to get the firmware package and verify it.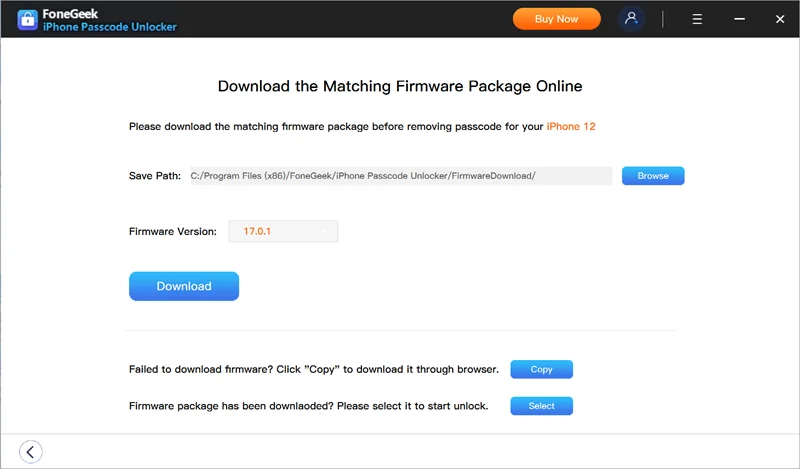 Hit the "Start Unlock" option and begin the unlock process which will unlock the screen passcode as well as update the obsolete device to the latest version.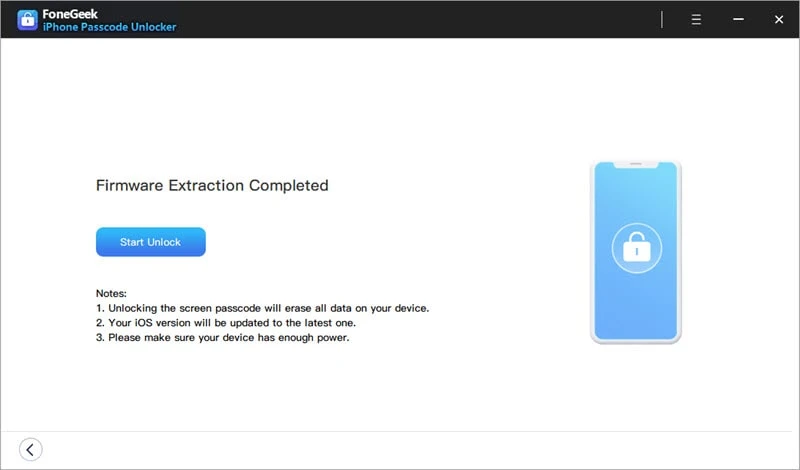 Conclusion
If you were never aware of iPhone obsolete state, now we believe you know what it is and the steps you can take to check if indeed your device is obsolete or just vintage. And you're now aware of how to deal with an obsolete iPhone, too. As we mentioned before, an iPhone being obsolete is not to say that it's useless or unusable. If your obsolete iPhone stopped getting updates and you don't know what to do, then we recommend you use FoneGeek iPhone Passcode Unlocker.
This top iPhone unlock software will not only instantly resolve any lock issue that the obsolete iPhone has, but will also update it to the latest iOS version. You'll be able to enjoy new software updates as well as get added features on your old iPhone, which will be now more secure than before. So, get FoneGeek iPhone Passcode Unlocker and give it a try today.