The protection offered by passcodes and other security locks like Touch ID and Face ID is really vital these days. However, despite making your phone secure, these locks can sometimes cause problems or inconveniences. One such time is when iPhone passcode changed itself. This is one issue that often hits iPhone users hard, with most unable to unlock their phones and others even getting their phones disabled after many attempts entering the wrong passcode.
It's a rare problem but it happens and when it does, it can be depressing. Fortunately, there are various ways to fix this issue and we're going to share the 7 most effective ones herein. But before we do that, it's good you know why your iPhone passcode changed itself in the first place.
Why Did My iPhone Passcode Get Changed By Itself?
In general, it's hard for an iPhone passcode to change by itself because of two main reasons. Firstly, Apple usually doesn't know or have your iPhone passcode when you set it up - it's encrypted on the phone only. Secondly, Apple does take data security seriously hence they don't usually have remote access to any of their iPhones.
Still, though, we've seen lots of iPhone users online reporting that their iPhone passcode changed itself. So, after carrying out thorough research, we've found three possible reasons.
Someone else changed the passcode - it might be that someone else (your child or friend) who has access to your old iPhone passcode could have changed it without informing you.
System issue or bugs on phone Itself - it's likely that system failures or some unknown bugs, glitches, or errors in the phone itself occurred and that's why the iPhone passcode changed by itself.
Recent iOS update - while this may be the only official reason, we don't actually think it could possibly happen. Before the iPhone 6 series was released and the iOS 9 came out, the iPhone passcode used to be 4 digits. With the release of iOS 9, Apple changed the standard 4-digit passcode of their iPhones to 6 digits so as to improve security. As such, if your iPhone model is older than the iPhone 6 series, then you'll have the iPhone passcode changed itself from the default 4 digits to 6 digits when you do a system update. Since it's currently extremely rare to find an iPhone model that is older than iPhone 6, we can say it's very unlikely for this to happen.
Ways of Solving iPhone Passcode Changed by Itself
Forget the Passcode and Then Recover It
One of the first methods you can try to solve this iPhone password changed itself problem is to recover the passcode. This method will only work if you have your iPhone associated with either an accessible email address or phone number. If you can access one of them, then it's possible to reset the password through the iPhone settings. Just follow these steps:
When you're asked to provide the passcode, head to the Forgot Password option instead and tap it. You'll get directed to a passcode recovery prompt where you should enter your Apple ID. Once you do that, tap Next.
Select your preferred reset option. You can choose to Answer Security Questions to be able to change the password or choose Reset by Email where you'll receive a link or a reset code in your email.
Answer the security questions asked or wait to get the recovery code or link on your email. Now simply change your passcode to a new one. You should be able to finally access your iPhone.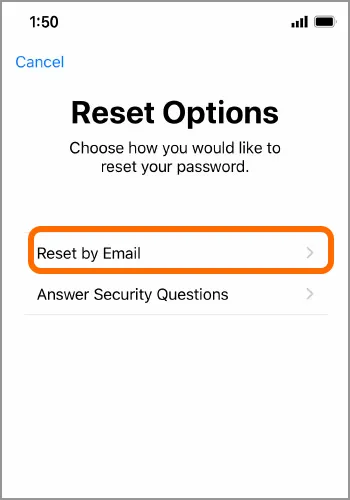 Reset the Passcode Using iCloud
Another way of getting rid of this iPhone passcode changed by itself problem is by using iCloud to reset the password. However, this method will result in all data getting removed from your iPhone memory but you can recover them through an iCloud backup. Here are steps to doing it.
Visit the iCloud website on a browser on a PC. Enter your Apple ID plus your password to log in.
Go to the All Devices button and expand it to view all associated devices. Click the iPhone device that changed its passcode.
Factory reset the phone by clicking the Erase iPhone option below. Allow the process to finish and then create the new passcode that you'll use when you open the iPhone again. Now, sign in to your Apple ID on your iPhone to retrieve your iCloud backup.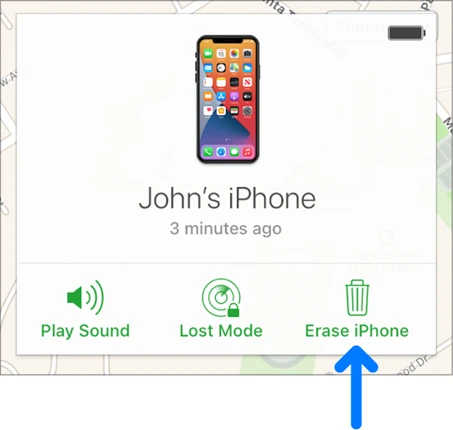 Backup Your iPhone Data and Then Erase It
It's possible to still access your iPhone using Touch ID or Face ID if you've set them up. Once you get in, you can erase the iPhone to eliminate this changed passcode inconvenience. Before proceeding, though, ensure you've first backed up your iPhone to prevent data loss. Follow these steps to do so:
Open Settings, go to your profile and tap on iCloud.
Next, select iCloud Backup and then enable Back Up This iPhone.
Finally, tap the Back Up Now option.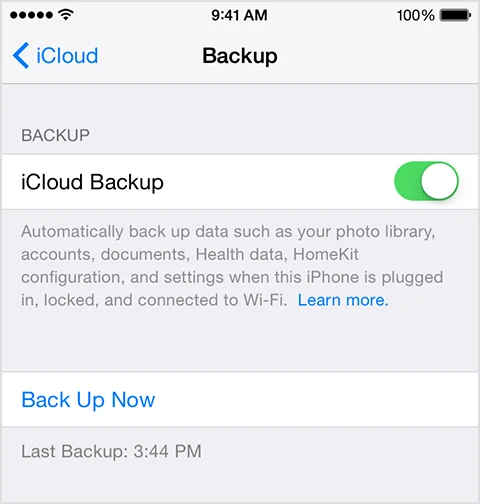 From there, the next step is to factory reset the iPhone.
In Settings, head to the General menu and tap "Transfer or Reset iPhone".
Now tap "Erase All Contents and Settings".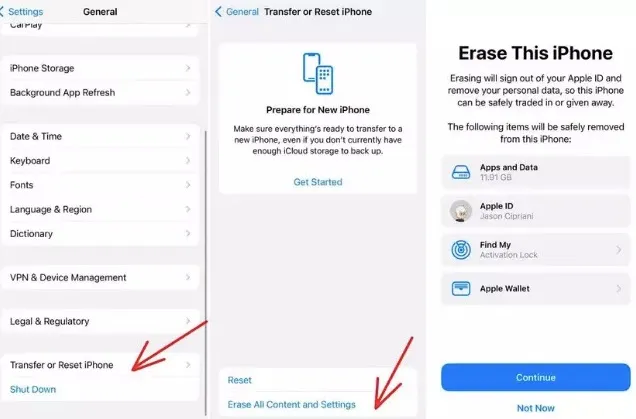 You'll then get asked for your passcode or the Apple ID password to proceed. If you can't provide the changed passcode, the process won't complete. As such, go to the iCloud website and Find My to erase the iPhone.
Use iTunes to Fix iPhone Passcode Changed Itself
Using iTunes to factory reset and restore your iPhone is also a viable solution to fixing iPhone passcode changed by itself. It's especially useful if you had your computer already synced with your iPhone as you won't require the passcode in order to log in to iTunes.
Like resetting with iCloud, this method will result in data loss hence if you recently backed up your iPhone before going ahead with this operation, then you're fine, otherwise, you'll need to back up your iPhone data first. If you've done that, use these steps to reset your iPhone passcode with iTunes.
Launch iTunes on either your Mac or PC.
Get the iPhone connected to the PC or Mac. Once you connect it, force-restart it.
Two options will be displayed on your screen - Restore or Update. Select the "Restore iPhone" option.
After the downloading process is done, set up the phone again and use it as usual.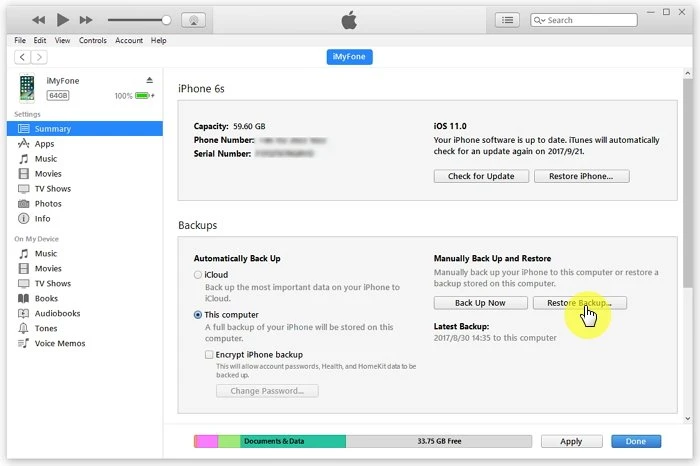 Note:
Ensure you make a backup in case you wish to save the information you have on the iPhone/iPad/iPod.
In case the downloading process takes longer than 15 minutes, you should force restart it once more.
If you didn't have your computer synced with your iPhone but you know your Apple ID, you can erase the iPhone by heading to iCloud.com and the Find My iPhone.
Resolve iPhone Changed Passcode by Itself Using Finder
If you upgraded your Mac computer to the macOS Catalina or a later version, then instead of iTunes, you have Finder as the program for managing your iPhone on Mac. However, the procedure to restore your iPhone with Finder is no different from that of iTunes. Plus, you'll still have to back up your iPhone before proceeding to restore it. Here's how to use Finder to solve iPhone passcode changed itself.
If you have the latest Finder on your Mac, open it and have the iPhone connected to the computer using a Type-C USB/lightning cable.
With the iPhone connected, Finder will automatically detect it and then display some information on the screen.
Head to the "Restore iPhone" option and tap it to begin restoring your iPhone.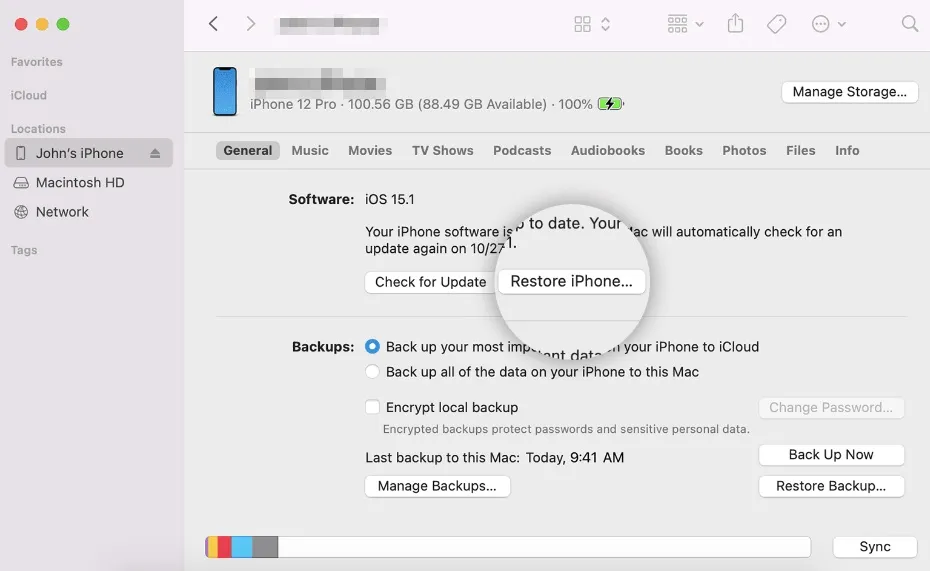 Fix iPhone Passcode Changed by Itself Through the iOS 15.2 Feature
This is a great option for resetting your iPhone without a passcode when you can't reach your computer quickly when your iPhone passcode changed itself. The only requirement is that you must have updated your iPhone to iOS 15.2 or a later version and you also have the phone connected to a network.
If you have all that sorted out, then this Apple feature will allow you to restore the iPhone without using any other device. What you need is just to know your Apple ID. So, if you've met all these conditions, simply follow these steps then:
Continue putting in the incorrect passcode until you see the "Erase iPhone" option comes up at the bottom right of the screen.
Go to the Erase iPhone option and tap it. Enter your Apple ID password into the field provided.
Choose the "Erase" option now. Wait for your iPhone to be restored and then go ahead to reset the passcode so that you don't face this issue again.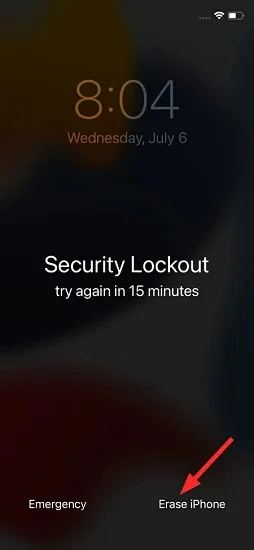 Unlock iPhone Without Passcode or Any Other Limitations
You can use iCloud or iTunes when you can't remember your iPhone passcode or if the iPhone passcode changed itself, but these two methods are quite limited. So, it's there any other option when you don't have your Apple ID or you can't access a synced computer? Yes, there is. The ultimate solution, in this case, is FoneGeek iPhone Passcode Unlocker.
This professional software for PC or Mac is able to immediately fix the issue of the iPhone passcode changed by itself. It's a very effective tool for bypassing the iPhone screen lock passcode. Many iPhone users utilize it to sidestep their screen lock without any passcode. It doesn't matter if you have your iPhone protected using a secret PIN code on the screen, Touch ID, or Face ID. This tool will be able to bypass all of them within no time.
FoneGeek iPhone Passcode Unlocker Main Features:
Remove the unknown screen lock passcode when the iPhone passcode changed itself.
Unlock 4-digit/6-digit passcode, Touch ID, or Face ID screen locks with just a few clicks.
Get back access to your locked, frozen, broken screen, and faulty button iPhone/iPad.
Clear old iCloud account without using any password.
Remove forgotten Screen Time passcode or other Restrictions without data loss.
Here are steps to unlocking your iPhone without any passcode using FoneGeek iPhone Passcode Unlocker:
Install FoneGeek iPhone Passcode Unlocker onto your computer by tapping the "Try It Free" link above Then select the "Unlock Screen Passcode" mode once you launch it.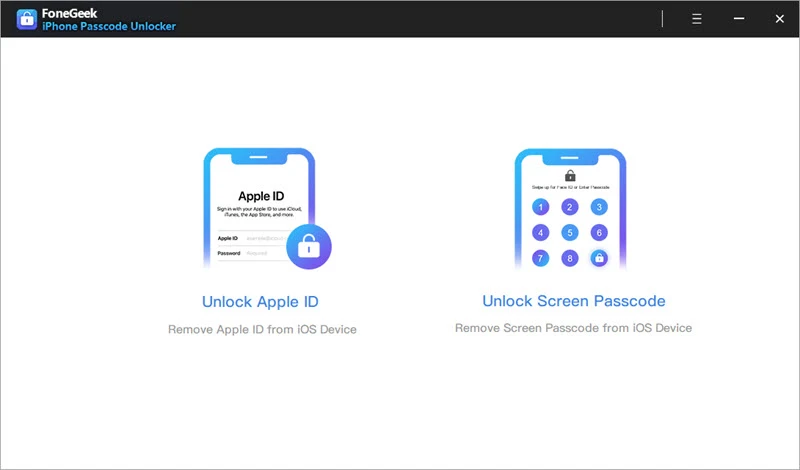 In the next window, tap "Next" and use a USB cable to get your iPhone linked to the computer.
Allow the FoneGeek to load your iPhone information. Confirm the details and click Download to proceed.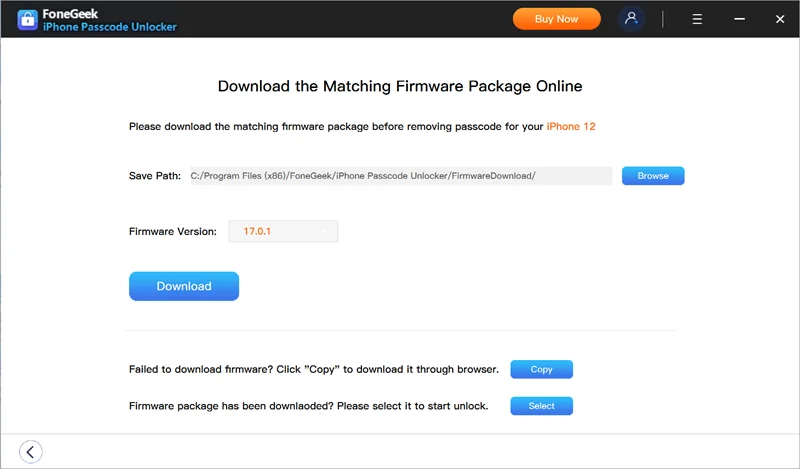 Verify the firmware after it's downloaded and then click "Start to Extract" when the next screen appears.
Click the "Start Unlock" button once the extraction is complete. Now allow FoneGeek to finish the unlock process, which should take just a few minutes.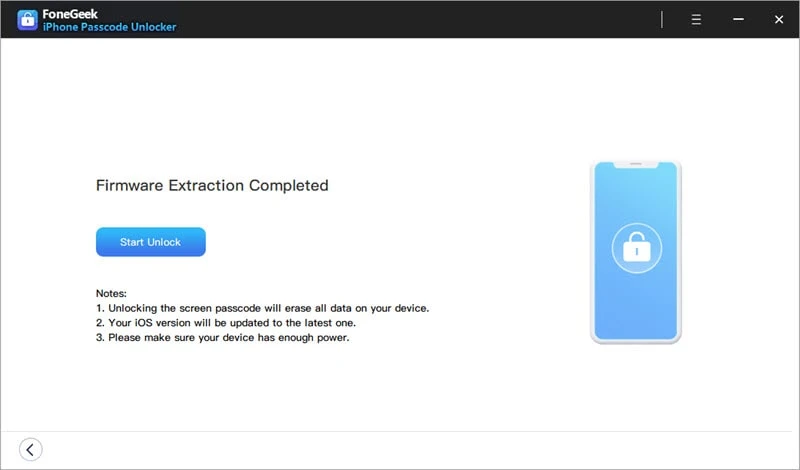 Frequently Asked Questions
Is it Possible for Someone to Change my iPhone Passcode?
Yes, it's very possible. If someone knows your iPhone passcode, they can definitely change it. But, the newer iPhone models as well as iOS versions make it hard to hack your password.
Can iPhone Passcodes Expire?
Of course not. An iPhone passcode never expires. It remains valid as long as you don't update or change it. Most often when your iPhone tells you that the password has expired, the cause is usually a third-party app or some email sign-ins.
Why does my iPhone Ask me for a 6-Digit Passcode?
This is often a bug that occurs after an update. It's possible that the update might have got corrupted or your iPhone could be experiencing software glitches or having bugs. There are ways you can fix such an issue like resetting the iPhone or entering the iPhone's default passwords.
Conclusion
Having an iPhone passcode changed by itself is quite annoying and while there are no preventive measures to stop this from happening, you can easily fix it yourself when it does by using the various methods we've provided above. If these methods also fail to work for you, we advise you to use the FoneGeek iPhone Passcode Unlocker program. It's the ultimate solution as it will help you instantly unlock your iPhone and reset your passcode to get rid of this issue.
Furthermore, unlike iTunes, iCloud, and other methods, you won't need your Apple ID or access to a synced computer in order to resolve the iPhone passcode changed itself with FoneGeek iPhone Passcode Unlocker. It works quickly and easily without any limitations. Download it and give it a try.