iToolab UnlockGo is a well-known tool for unlocking various types of locks on iPhone, iPad, and iPod touch devices. Since you are here, you must be wondering if it's a good idea to invest in this tool. Well, you have arrived at the right place.
In this write-up, we will provide you with a detailed iToolab UnlockGo review so that you can determine whether or not it is a good choice for you. We will also introduce you to a better alternative. Let's get started!
What is iToolab UnlockGo?
iToolab UnlockGo is a software that is designed to remove any lock that you have forget on your iOS devices. With the help of UnlockGo, you can easily remove different types of locks from your iPhone, iPod, and iPad device, including 4-digit/6-digit passcode, Touch ID, Face ID, iCloud activation lock, and much more.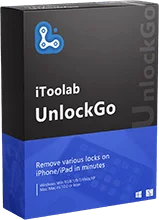 Available at an affordable price, UnlockGo has a better success ratio, making it an excellent choice for iOS device owners. Whether you want to bypass the screen lock or remove the Apple ID, you can do so quickly and efficiently without spending much.
Is iToolab UnlockGo Safe & Legit?
The iToolab UnlockGo is a safe and legit tool you can utilize without hesitation. It has been helping iOS device owners to unlock their devices for years. The tool is fully safe to use as long as you follow the required steps correctly.
Moreover, there are no chances of damage or any other issues to your iPhone or iPad. There is just one thing about which you should be aware, which is it will erase all the files and data from your device.
Is iToolab UnlockGo Free?
iToolab UnlockGo is not free. With their free version, you can only inspect if your device is compatible with the program. That means you will require purchasing its premium version to remove any lock from your device. It has several packages, which include monthly for $35.95, yearly at $39.95, and lifetime deal at $49.95.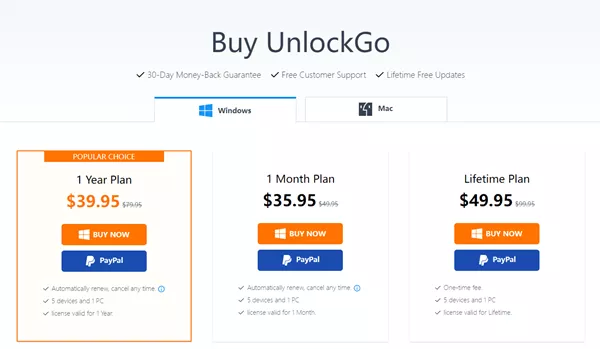 iToolab UnlockGo Pros & Cons
iToolab UnlockGo is one of the best iPhone unlocking tools in the market, equipped with top-quality features. However, just like any other tool out there, it has its fair share of issues. Let's dive deep into the pros and cons of iToolab UnlockGo.
Pros:
Enables you to eliminate different types of locks like Apple ID, screen lock, iCloud activation, MDM, and screen time passcode.
Lets you unlock the device successfully within a short time.
Well-thought and user-friendly interface for ease of use.
Works with most iOS versions and iPhone, iPad, and iPod touch models.
Cons:
The free version is very basic and limited while the premium version is very costly compared the similar tools.
You can only unlock Apple ID with UnlockGo on the Apple devices that run on iOS 11.4 or higher. And the devices must have 2-FA authentication and screen passcode turned on.
The MDM tool is comparatively new and it's not well optimized compared to the similar tools in market.
Many users have criticized the customer support of the tool.
You cannot be fully assured as the success is not guaranteed.
How to Use iToolab UnlockGo?
As we mentioned earlier, it's pretty easy to use the iToolab UnlockGo. Simply download and install the program from their official website, and you will be ready to roll. Let's explore the steps you need to follow to unlock your iPhone/iPad/iPod Touch screen with UnlockGo.
Step 1: Launch the program after downloading and installing iToolab UnlockGo on your PC. Select the appropriate mode from the screen. Since we want to unlock the screen, we will go for the identical option, which is "Unlock Screen Passcode."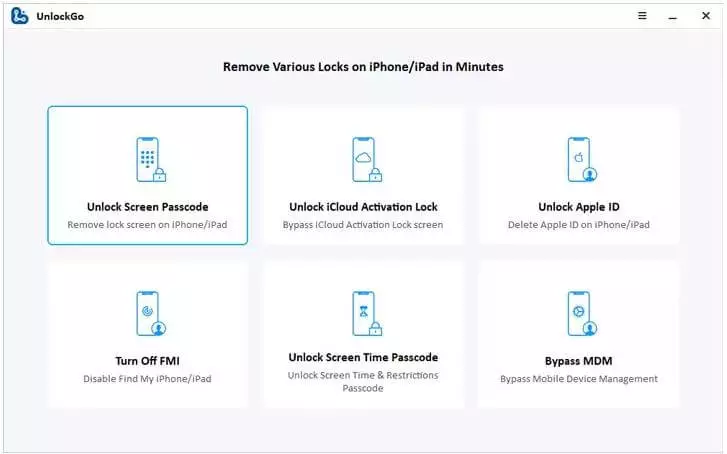 Step 2: Now, make use of a USB lightning cable to make a connection between your iPhone and PC. Once the connection is inaugurated, you will be asked to download firmware for the procedure. Choose "Download" and wait for the process to be completed.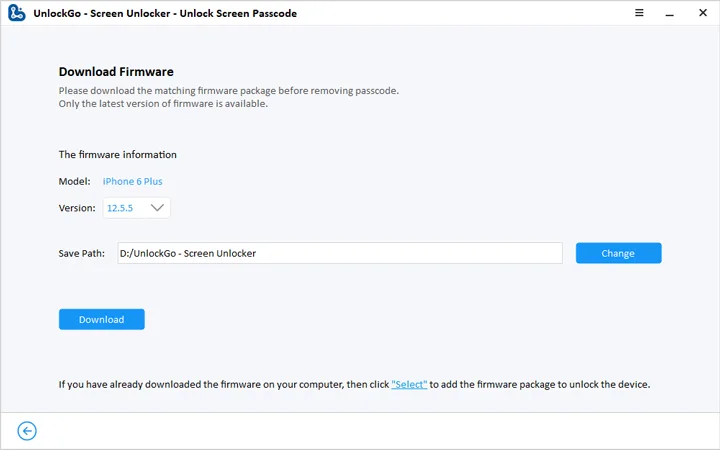 Step 3: Press "Unlock Now" to begin the unlock procedure once the firmware package is downloaded. Within a while, your device should be unlocked.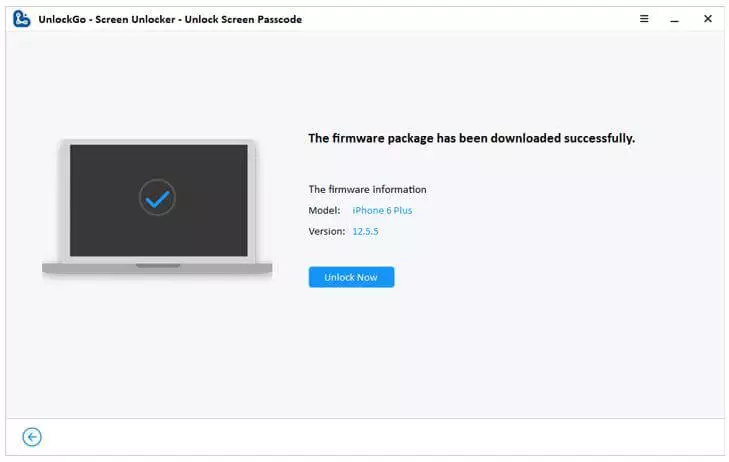 iToolab UnlockGo Best Alternative
iToolab UnlockGo is a good program, but that doesn't mean its your only option. There are many alternative programs that are even better and well-equipped to assure you an improved performance. FoneGeek iPhone Passcode Unlocker is one such tool.
It is designed to eliminate the passcode requirement in iPhone devices within a short time with just a few clicks. It works smoothly with different models of the iPhone, iPod, and iPad, as well as the different iOS versions. In addition, the program is very safe to utilize, with optimizations that assure your device and data will stay secured within the unlock.
One of the best things about FoneGeek iPhone Passcode Unlocker is it can unlock all types of passcode requirements from your iOS devices. So whether it is iCloud/Apple ID, Face ID, screen time passcode, 4/6 digit passcode, or MDM, the program efficiently unlocks them all.
Top Features of FoneGeek iPhone Passcode Unlocker
Remove all variations of locks from your iOS devices.
Equips latest and advanced technologies and is compatible with all iOS versions.
Easy to use for anyone; doesn't require any special technical skill.
Enables you to unlock broken and second-hand iPhone devices.
Works quickly to unlock devices with over 98% success.
Recommended by D-addicts, GetDroidTips, Twitgoo, iLounge, Knowtechie, etc.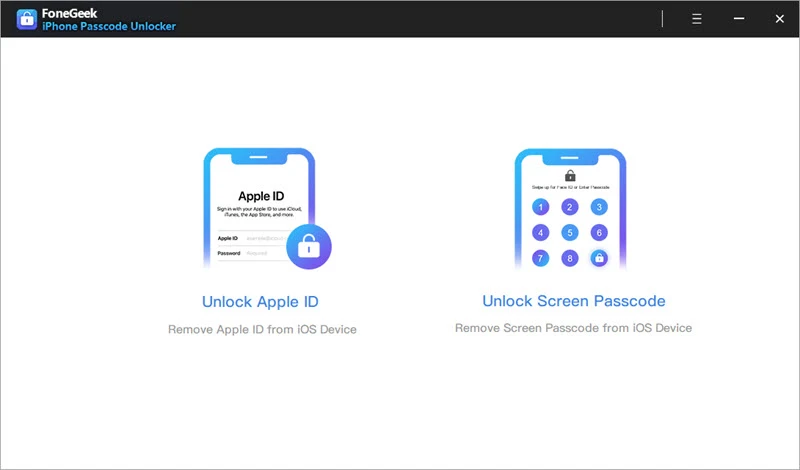 Conclusion
It can be a hassle if you forget the passcode of your iOS device and cannot use it because of that. iToolab UnlockGo is a pretty good tool for unlocking your iPhone. However, if you want to go for an alternative without cutting the pocket, consider going for the FoneGeek iPhone Passcode Unlocker. You will be glad that you did. Best of luck with unlocking your device!