Jailbreak is quite advantageous. It lifts the software limitations set by Apple hence allowing your iPad to perform tasks it previously couldn't perform. You can tweak the appearance of your device, install unofficial apps, add lots of useful new features, etc. However, the procedure itself does involve significant risks and it has always required a computer to implement.
That's not the case, though, because nowadays you can easily jailbreak iPad without computer and that's the focus of this article. Below we'll not only give you more insight into jailbreak and why it's such a valuable procedure but we'll also show you exactly how to jailbreak iPad without computer. There are actually several methods that can help you do that and we'll look at all of them herein. So, keep reading to check them out.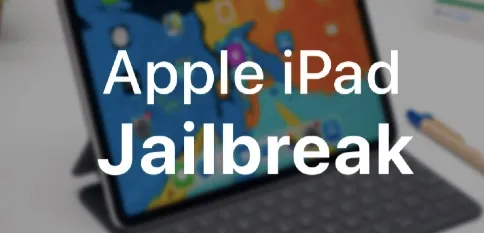 What You Need to Learn about Jailbreak
Now before we get to the method of jailbreaking iPad without computer, let's first learn what jailbreak means. Jailbreak is basically a procedure that removes all the restrictions set by the manufacturer hence giving you complete access to a device's software. It has several benefits but it's actually a double-edged sword. While it truly offers some major benefits, jailbreaking has pretty significant downsides. Therefore, before you proceed to jailbreak your iPad, it's good you learn about these downsides and benefits.
Benefits:
You can tweak the iPad to your preference. You can completely customize its appearance and even install custom themes since there won't be any limitations whatsoever.
Normally, it's impossible to install custom apps on the iPad if they're not verified by Apple. After the jailbreak though, you can install unofficial apps without much trouble.
You'll get complete access to the core programming of your iPad. You'll have more control over it than before jailbreak.
Downsides:
Jailbreaking iPad has significant risks. It can easily make your iPad a brick.
After the jailbreak, Apple's warranty will become obsolete. In case you damage your iPad, you will have to pay for the repair cost from your pocket.
You may not be able to access some contents stored on your iPad.
Your iPad security will get completely compromised.
How To Jailbreak iPad Without Computer
Jailbreak iPad Using Electra
This method of jailbreaking as you may already know involves using third-party software. You have to install the software onto your iPad and then, there are several steps that you have to follow to perform the jailbreak. Keep in mind though that once you do this you would be entering into unregulated iOS territories, so proceed with caution.
Visit https://www.tweakboxapp.com/ on a browser and tap the apps option. Next, tap the Tweakbox Apps. The Electra jailbreak option should be on the first page, In case you don't see it, tap the search icon and then search for Electra 11.3.1.
Once it shows up on the screen, just tap on it. Tap install and after the popup, tap install once more. It should be on the interface on your iPad. Should it get stuck on loading, tap it, and from there, it will begin installing right away.
The next step is to grant Electra jailbreak access. To do that, tap the Electra jailbreak app. A notification popup will appear. Note the profile as it will make it easier and fast to find the profile. Once you do that, open Settings. Tap General and then tap Device management. Find the Electra jailbreak's profile. Tap trust and tap trust again. You're good to go now.
Open the Electra app. Enable the tweak option once you're on the app. Tap jailbreak, then wait until you see restarting. When it shows restarting, right away your iPad will reboot.
Once your iPad restarts, relaunch the Electra app. Tap jailbreak and allow the device to reboot (will take about 30 seconds). After it reboots, the Cydia app will be beside the Electra app. Now you can open the Cydia app without any issue.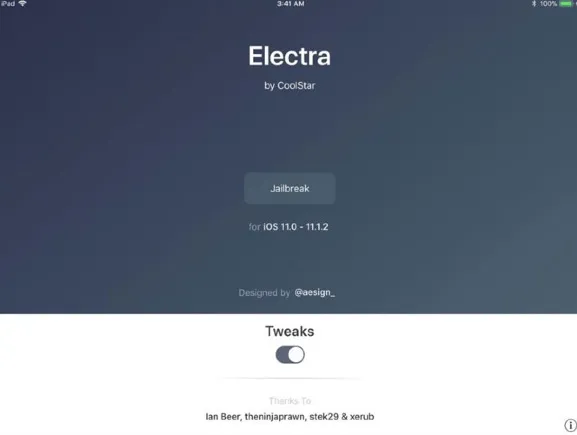 Note: For you to keep your iPad jailbroken, make sure you don't update the iPad and most importantly, ensure you don't delete or uninstall the Electra app since each time you reboot the iPad, you'll need to turn on Cydia from the Electra app. In other words, you need the Electra app in order to use Cydia.
Using Unc0ver Jailbreak Tool
Unc0ver jailbreak tool offers another viable method that allows you jailbreak iPad without computer. It's an effective tool that's very simple to use. The following are steps on how to jailbreak iPad without computer using unc0ver.
Go to the jailbreakme.app website. When you're there, tap on the Download option.
When the download is done, open it. You'll see a message on the screen that says, 'Untrusted Enterprise Developer'.
Head to the Settings app on your iPad and tap the General option. Tap the 'Profile & Devices management' option and then trust the app.
You'll see the app icon on your iPad's Home screen. Restart the iPad and launch the app. Tap the Jailbreak button.
Can I Jailbreak iPad That's iCloud Locked?
You now know how to jailbreak iPad without computer using the proper tools that are already available. We've also explained a tool that you can use should you want to jailbreak your iPad using a computer. However, we have a more efficient recommendation that offers the easiest operational procedure.
FoneGeek iPhone Passcode Unlocker is one excellent tool that's not only capable of bypassing the iCloud lock but it can also help you to effectively jailbreak your iPad. Therefore, if you could not implement the jailbreak procedure because your iPad is iCloud-locked, then don't fret. FoneGeek iPhone Passcode Unlocker will no doubt handle the iCloud bypass as well as the iPad jailbreak. Just follow these steps to jailbreak your iCloud-locked iPad using FoneGeek iPhone Passcode Unlocker.
Download the FoneGeek iPhone Passcode Unlocker and run it once you install it. Click 'Unlock Apple ID' mode on the interface of the program.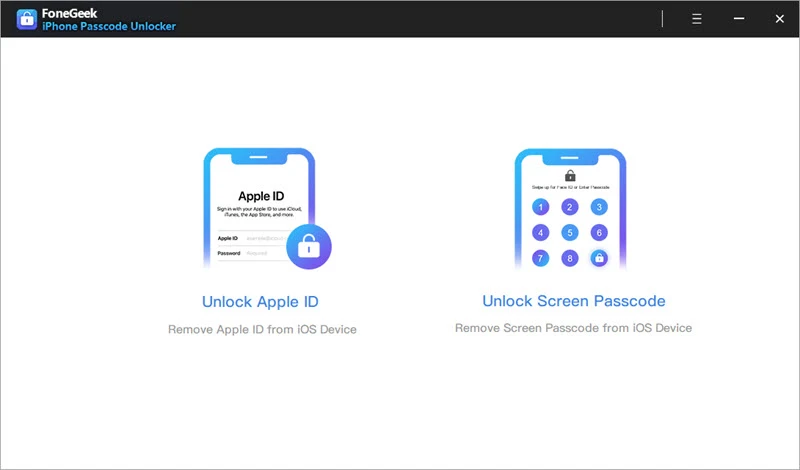 Get your iPad connected to your computer. Once it's successfully connected, click 'Next' to do that.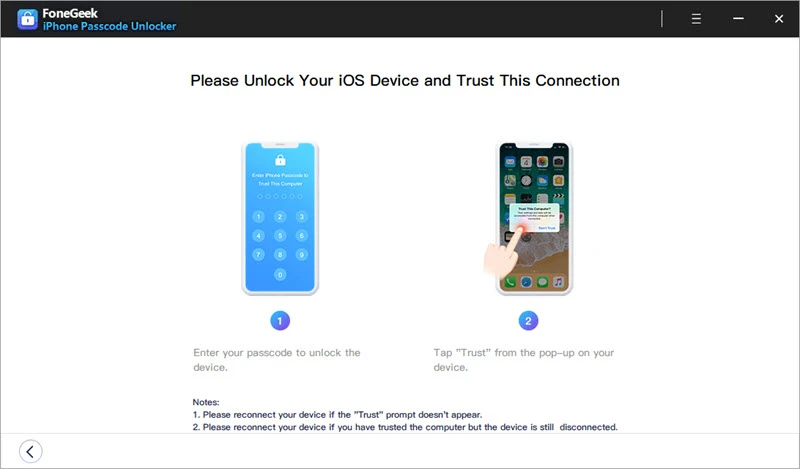 You should confirm your iPad information now and then click 'Start Remove'.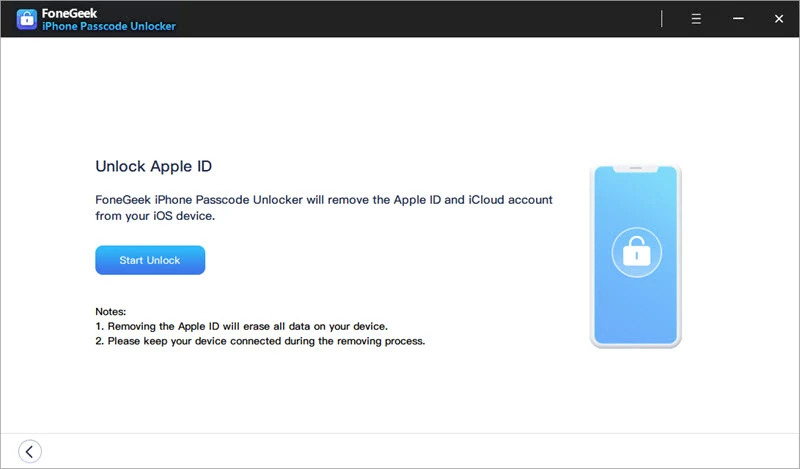 The program will remove the Activation Lock within just a few minutes.
If the iCloud lock is giving you trouble such that you can't jailbreak your iPad, then the Tenorshare 4MeKey should help you remove the lock and successfully jailbreak your iPad.
FAQs about iPad Jailbreak
Is Jailbreaking an iPad Illegal?
It's not quite clear if jailbreaking an iPad is illegal but there are many bloggers that claim it's not illegal yet Apple advises against performing jailbreak. To be honest, it's hard to tell whether it's legal or not but when you think about it, if Apple won't help fix a jailbroken iPad, then it definitely must be illegal.
Many bloggers state that the jailbreaking law varies from country to country. There are countries that allow it and some that don't. India and New Zealand are examples of countries that allow jailbreaking. So generally, whether performing a jailbreak is illegal or not is not really clear.
Is It Free to Jailbreak an iPad?
Jailbreaking involves significant risks and also invalidates your warranty. In case you're not sure if jailbreaking is really safe for your Apple device or not, then we recommend you consult an expert first. Furthermore, it's possible that jailbreaking is not allowed in your area, hence ensure that you also check the law enforcement in your area before proceeding with the jailbreak procedure.
Should you decide to go ahead with the jailbreaking procedure, ensure that you take all necessary precautions to protect not just yourself but also your data. Make sure you only use safe methods and always back up your iPad before proceeding. Keep in mind though that your warranty will become invalid when you jailbreak your iPad, plus the performance and security of your device may decrease or get compromised.
Does Performing the Jailbreak Reduce Battery Life?
The battery life and experiences when performing a jailbreak is different for different users. For some, their battery life gets reduced slightly during jailbreak while for others, there's no significant change in their battery life. In general, it all comes down to the usage pattern and also the device type of each user.
Conclusion
As you've seen above, you can indeed jailbreak iPad without computer. We've also discussed an alternative way you can jailbreak your iPad using a computer. You can use either method and you'll be able to successfully jailbreak your iPad. However, if you're unable to jailbreak the iPad because of the iCloud lock, then we highly recommend your use Tenorshare 4MeKey. This excellent tool will be able to bypass the iCloud lock and also allow you to successfully jailbreak your iPad. It's the safest and easiest way to jailbreak an iCloud-locked iPad. So, try it out!