People sometimes forget their iPhone/iPad password and end up being unable to access their device. If you are experiencing this problem, do not worry; there are several tools that can be used to unlock your iPhone.
These tools remove the password from your iPhone/iPad, thereby making it accessible again. It is important to note that these tools differ in their own way; they do not possess the same efficiency level.
One such tool is Mobitrix Lockaway. In this article, we will review this tool and discuss its effectiveness and reliability. This full Mobitrix Lockaway review will also give you information about the best alternative available.
What is Mobitrix Lockaway?
Mobitrix Lockaway is an excellent tool for erasing passwords from an iPhone or iPad. Using this tool saves you the stress of fretting over being unable to remember your password. This tool is very convenient and secure to use. And the process of unlocking iDevice is safe and user-friendly, as most people will find it easy to navigate the tool.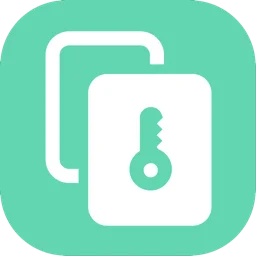 There are various passcodes that can be unlocked with the Mobitrix Lockaway, they include the Apple ID, iDevice screen passcode, MDM lock, and ScreenTime passcode. Mobitrix Lockaway is a powerful tool that helps you bypass various passcodes. It also has the functionality to repair your iTunes related issues on your PC.
Key Features of Mobitrix Lockaway
Now let us look into the main features of Mobitrix Locakway:
Unlock various passcodes: The Mobitrix Lockaway tool helps users unlock passcodes of any kind. You can unlock passcodes such as Screen Time, Apple ID, and the screen password of your iPhone and iPad.
Compatibility: Users derive joy in having one tool that supports all devices. No one wants to go through the stress of getting different tools for different devices. The Mobitrix lockaway is compatible with various iPhone devices, from iPhone 5s to the latest iPhone 15/14.
Bypassing: This tool also works as a bypasser for locks on your iPhone and iPad. If you are having difficulty bypassing your MDM lock on any iOS device, you should try using this tool.
Modes: With the Mobitrix Lockaway tool, you can choose to use the Recovery Mode or switch to the Normal Mode of the devices.
Does Mobitrix Lockaway Work?
It is normal to be skeptical about the functionality of a tool and the safety of your device when using a third party tool. Mobitrix Lockaway is excellent for the management of iCloud and Apple ID. Individuals that have used the tool can confirm that Mobitrix Lockaway provides leading solutions in the industry while unlocking iDevice.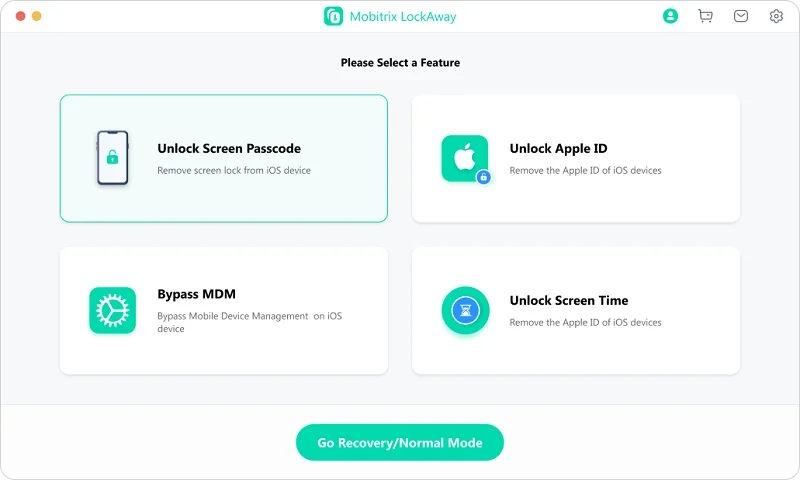 Pros & Cons of Mobitrix Lockaway
We have tested the tool, so we are in a good position to speak on the pros and cons of Mobitrix Lockaway.
Pros
This tool is easy to use. The developers of this application ensured that users would be able to unlock their iDevices without technical knowledge.
The tool is very affordable. You sure weren't expecting the app to be free, but you can get it at a lower price.
When you download the app, you can try it before proceeding to the paid version. The trial version has been made available for those who are not ready to pay.
Cons
You have to pay an additional fees to use it on multiple devices.
You might get stuck while trying to use this tool to unlock your iPhone.
Your data on the iPhone might be lost in the unlocking process as well.
Once a transaction has been completed, customers will not be able to request a refund for any reason.
Using this can invalidate you iPhone's warranty and create compatibility issues with carrier services and applications.
Is Mobitrix Lockaway Free?
Mobitrix Lockaway is free with the trial version, but the function is limited. To get the all-inclusive features, you can purchase any of the packages available. The Mobitrix Lockaway tool has 3 packages:
1-Quarter: $29.95
1-Year: $35.95
Lifetime: $45.95
Is It Safe to Download Mobitrix Lockaway Crack?
Search online, you will find many Mobitrix Lockaway crack versions, which are used to bypass payments on the application. If you purchased a used Apple device without knowing how to unlock it. The cracked version of this application can help to bypass the device's passcode. You can remove screen time, bypass MDM login screen, and erase Apple ID with the app.
Is Mobitrix Lockaway crack safe to use? Regardless of the perks, there are certain risks involved with crack:
Chances are you will experience data loss in the process of bypassing your device.
The cracked version is not entirely safe and you might encounter malware attacks.
Since the unlocking process is slow, you have to wait longer for results..
Best Alternative of Mobitrix Lockaway
The best alternative to Mobitrix Lockaway is FoneGeek iPhone Passcode Unlocker. This tool is great for effortlessly removing screen locks from your Apple devices. In the absence of technical skills or support, your iPhone can be unlocked without passcode in few simple clicks.
This alternative tool can also bypass the MDM lock, screen time passcode, and Apple ID. It supports various devices including the latest iOS 17/16 and iPhone 15/14.
Does FoneGeek iPhone Passcode Unlocker Work?
FoneGeek iPhone Passcode Unlocker is a reliable tool for unlocking devices. It is fast, efficient, and has a high success rate compared to other tools available in the market. One of its best features is the safety and security. The program has been used by millions of people worldwide without causing any damage to their devices. Moreover, if you are not satisfied with its performance, you can process a refund and get your money back.
Tutorial on how to unlock iPhone screen passcode
Below is a step-by-step instruction on how to unlock your iPhone's password with FoneGeek iPhone Passcode Unlocker:
Step 1: Download the FoneGeek iPhone Passcode Unlocker tool and install it on your PC. Launch the program and select "Unlock Screen Passcode" mode.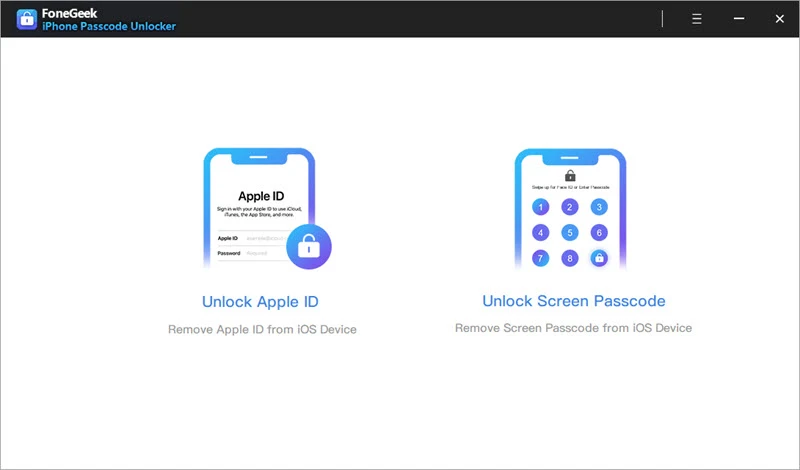 Step 2: Click on "Start" and connect your iDevice to the PC. The software will automatically detect the most suitable firmware version for your device and start downloading it.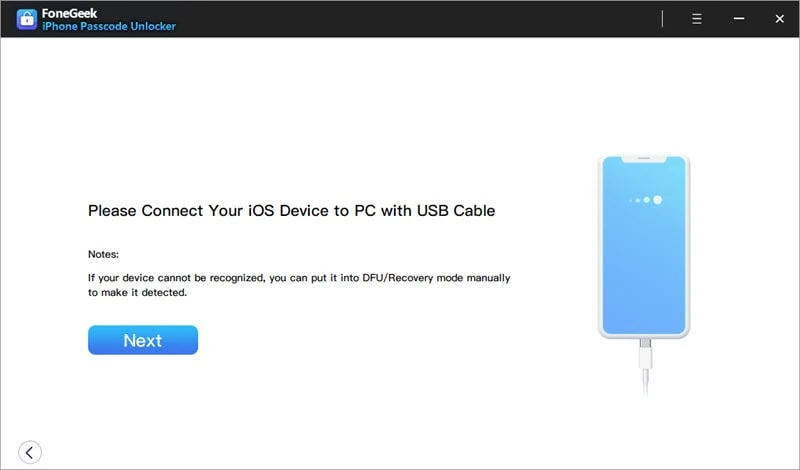 Step 3: Wait for the firmware package to download and hit "Start to Extract". Then click on "Start Unlock" to begin removing the passcode of your device.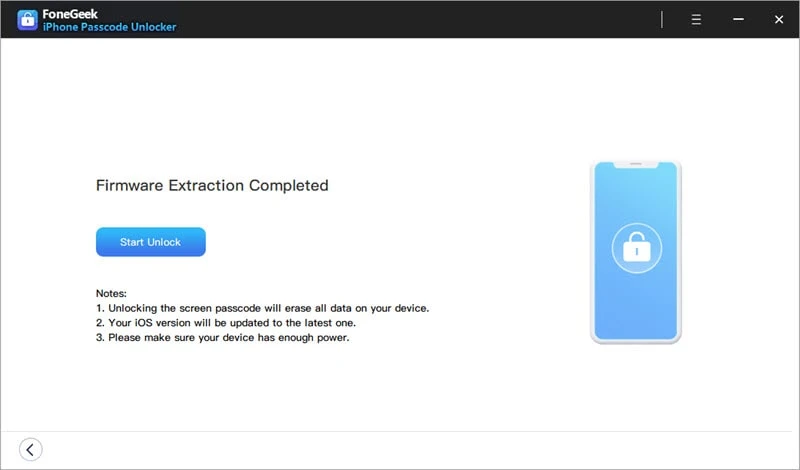 Step 4: Confirm your actions and press "Unlock" to initiate the process. Wait for the tool to complete the passcode removal process.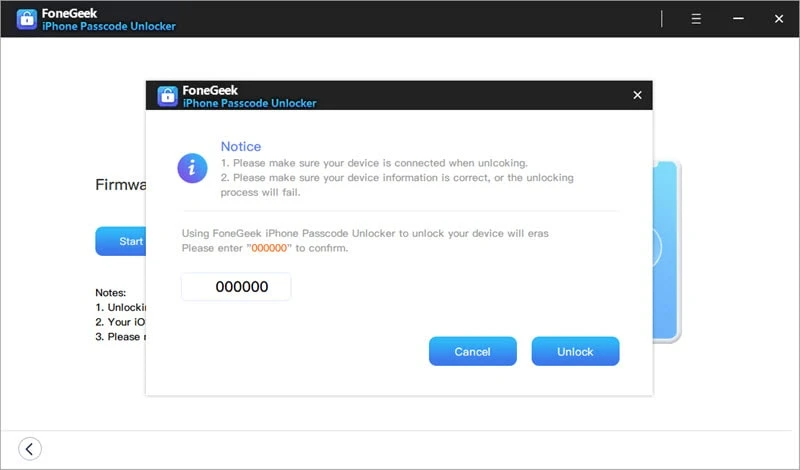 Once done, you can use your iPhone without any form of restriction.
Enjoy A Big Discount Today Before You Leave
A big discount awaits you when you download and use FoneGeek iPhone Passcode Unlocker. Users who are new to the app gets a whopping 20% discount coupon that can be used during orders. You can enjoy 20% off with the Promo Code: UNLOCKCODES20.
Conclusion
Mobitrix Lockaway offers a solution to remove your iPhone passcode, but the tool has room for improvement in terms of reliability and trustworthiness. Fortunately, there's a better alternative, which is FoneGeek iPhone Passcode Unlocker. Trusted by millions of users worldwide, FoneGeek is a highly reliable and secure tool. You don't need any technical knowledge to use it, and you won't be putting your device's safety at risk. Best of all, you can try it out for free by downloading the trial version.