With the release of iOS 16.3, iPadOS 16.3, and macOS 13.2, Apple introduced security keys for Apple ID which was basically an advanced security feature designed to offer extra protection to users' Apple ID accounts. This robust new additional security is able to effectively prevent hackers and attackers from getting into your Apple account and accessing your personal data.
In this article, we'll explain everything you need to know about these security keys for Apple ID including what they are, why you might need them, how to set them up, how to use them, and many more. So, if you need that extra protection for your data and Apple account or just want to learn more about these security keys, then keep reading.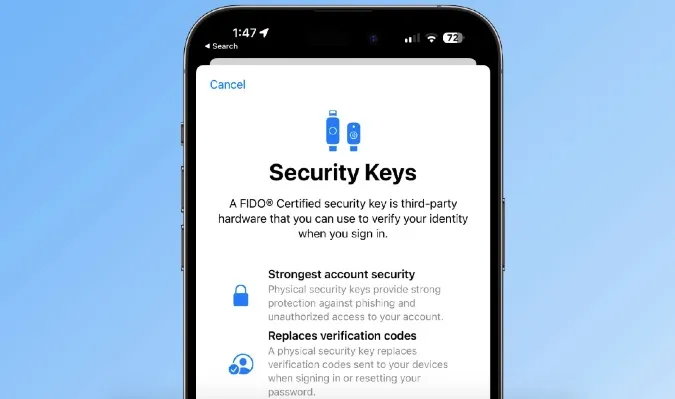 What Do Security Keys for Apple ID Mean?
The security keys for Apple ID were introduced by Apple as an optional new security feature made purposely for those (members of government, journalists, and celebrities) looking for extra advanced protection for their accounts against targeted attacks like social engineering scams and phishing.
The security key itself is a small external third-party hardware device that's almost like a tag or thumb drive, which you connect to your computer or iPhone and then use to confirm your identity when you're signing in to your actual Apple ID account using two-factor authentication.
This physical key acts as the six-digit verification code that are often used in two-factor authentication. It actually replaces these codes, meaning attackers can't intercept or request such information.
Why Use These Security Keys for Apple ID to Protect My Account?
As mentioned earlier, Apple states that the security keys designed for Apple ID accounts are a new optional security feature meant for people that want an additional layer of protection for their accounts, particularly from targeted attacks like phishing. This advanced extra security measure ensures that your Apple ID account is safe from hackers and attackers.
But, in a press release, Apple says too that it designed this feature for users such as journalists, celebrities, and members of government who often face concerted threats to most of their online accounts because of their public profile.
Generally, due to some of the constraints that come with using a security key, it's not really a feature that just everyone can use. Therefore, if you're a member of the government, a journalist, or a celebrity, then you can definitely use a security key for Apple ID to protect your account. Otherwise, it may be a good idea to avoid it.
What's Required in Order to Use a Security Key for Apple ID?
For you to set up the security for any Apple ID account, there are some things you'll need which include:
Two or more FIDO-certified security keys - the security keys should work with all your Apple devices and should be at least two in case one gets lost. Having several more as backups is even safer because once you've set up the security key on your Apple ID account, you can't access it using any other way. Fortunately, Apple allows you to link up to six keys to your account.
Your devices where you've signed in using your Apple ID must be running macOS Ventura 13.2, iPadOS 16.3, iOS 16.3, or a later version. If your devices are old and can't run these operating systems, then you can't protect your account. Note that the security key is designed to protect the account but not the individual devices. Therefore, if there are older Apple devices that you use often, try creating a different Apple ID account for them - note that sharing content and services with them won't be possible.
You must set up two-factor authentication for your Apple ID - some Apple services already require this, but in case you've not yet activated it, you should do so.
Use a modern web browser - Safari on Apple devices is the most suitable option as it's usually up-to-date. However, if you use a different web browser, you may have problems signing into Apple services.
You must have an iPad or iPhone that supports security keys to sign into Apple TV, HomePod, or Apple Watch after setting up security keys. Even with your Mac, you won't be able to sign in to these devices using only your Apple ID and the security key you've set up without also having an iPad or iPhone.
What Are the Limitations to Use Security Keys for Apple ID?
There are various limitations when it comes to using security keys for protecting your Apple ID account. Some of these limitations include:
You can't use iCloud for Windows. Signing into iCloud for Windows won't be possible. Therefore, if you often use Windows computers, and rely on iCloud, then don't create a security key for Apple ID.
You won't be able to sign in to any of your older devices that can't run a software version that can work with security keys. The best approach here, as mentioned earlier, is to create a different Apple ID account for these older devices.
Managed Apple IDs and Child accounts aren't supported. Apple designed the security keys to work with individual accounts only.
If your Apple Watches have been paired with the iPhone of a family member, they won't be supported. You have to first pair the Apple Watch with your own phone.
How Can I Add Security Keys to My Apple ID Account?
If your devices run on macOS Ventura 13.2, iPadOS 16.3, and iOS 16.3, you can easily add a security key to your Apple ID account. You can even buy a security key. To do that, though, you must ensure that your device is compatible. Note that Apple only allows the use of security keys that meet the FIDO2 or WebAuthn standards. If you have all the requirements set, you can add the security keys for Apple ID account on both your iPhone and Mac by following these steps.
On iPhone:
Launch Settings and tap your profile (right at the top).
Tap on "Password & Security".
Navigate down to "Add Security Keys" and tap it.
On the next screen, tap on "Add Security Keys" again and follow the displayed instructions.
When asked to add two security keys, do so. After entering the keys, they will replace the usual six-digit verification code that Apple sends during the two-factor authentication process.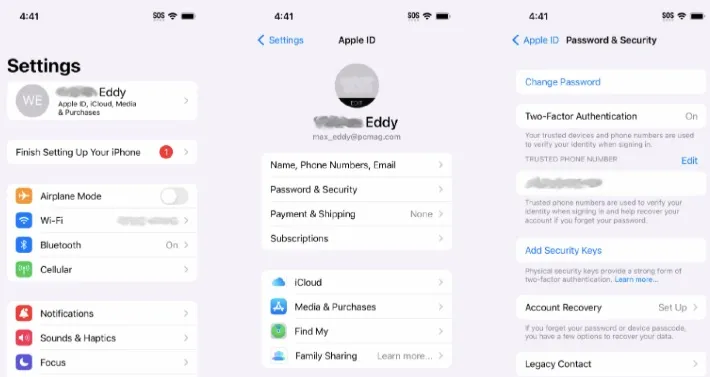 On Mac
Go to System Settings and click your name. Head to "Password & Security" and click on it. Navigate down to the "Security Keys" section and click Add. A pop-up message displaying how the security keys work will come up.
Now, click on "Add Security Keys". A box displaying why you should add two security keys will come up. Just click on "Continue" when it does.
Some inactive devices will be displayed. You'll need to sign out of all of them to continue the process. When finished, type in your password to proceed with the process.
The following window will ask you to add the first security key. Do so and then click Continue. Finally, make sure you press the security key button in order to activate it.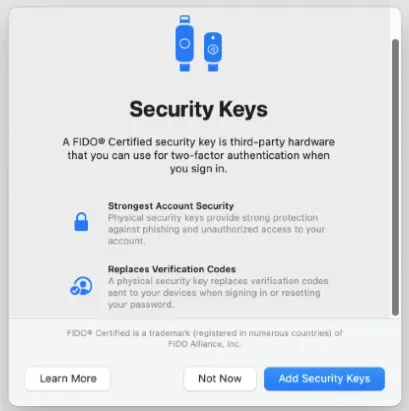 That's how easy it is to add security keys for Apple ID accounts on iPhone and Mac.
How to Remove Security Keys for Apple ID
You can have a maximum of six security keys paired with your Apple ID. However, if you exhaust this limit and still wish to pair additional keys, you have to remove at least one of the already paired keys. Once you do that, you can replace the removed keys at any time using these steps:
Open Settings, tap on your name at the top, and then tap on "Password & Security".
Go to Security Keys and tap it.
If you wish to remove all keys, simply tap on "Remove All Keys" and then tap Remove.
If you wish to remove individual keys, just tap the particular ones you wish to remove and tap Remove Key.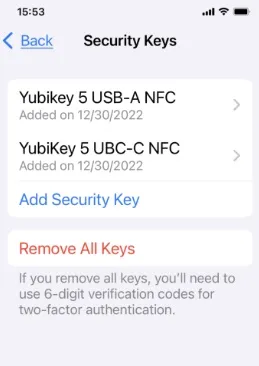 NB: Once you remove all the security keys from your device, the device will return to the six-digit verification codes that it normally uses for two-factor authentication.
Unlock Apple ID Using a Security Key
If you make six consecutive unsuccessful attempts at signing into your Apple account or if your phone detects some suspicious activity, a notification message will pop up on your iPhone's screen to inform you that your Apple ID account is locked. If this happens, then you can easily unlock the account using your security key by following these steps.
Tap on Unlock Account option and follow the displayed instruction on the screen to unlock the Apple ID.
In case you suspect that your account was locked because someone else probably knows your password, tap on Change Passwordinstead, and then create a new one.
Now tap Done.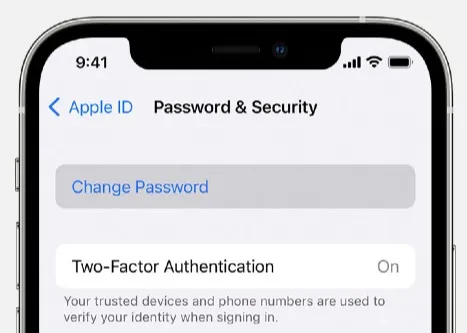 How Do I Remove Apple ID In Case I Forgot Password?
You can do this easily using FoneGeek iPhone Passcode Unlocker. This is a highly recommended (by around 34, 459, 123 users across the world) tool that's effective, easy to use, and works with all the latest devices, even the iPhone 14 series. It's able to do so much more than removing the Apple ID when you forget the password, like bypassing iCloud Activation Lock or MDM lock, removing the screen passcode, turning off the Find My iPhone feature without a password, etc. Here is how you can use this FoneGeek iPhone Passcode Unlocker to remove your Apple ID if you forgot your password.
Open the FoneGeek program on your PC once you install it. Select "Unlock Apple ID" from the main window.
Next, click the "Unlock" option to begin deleting the particular Apple ID that's linked to your iOS. Ensure that you've enabled the two-factor authentication and also that you've unlocked your phone to proceed with the process.
In the next window, you'll need to download an appropriate firmware package for your device. So, click the drop-down menu, select the ideal firmware, and then click the blue "Download" button. After the firmware is successfully downloaded, hit the "Unlock Now" button to remove your Apple ID.
Now the Apple ID will be deleted and you can set up the device once more by simply following the on-screen instructions.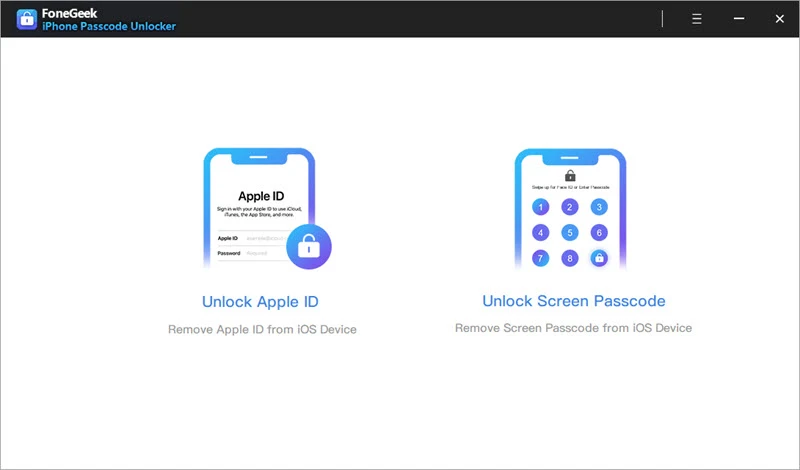 Conclusion
We've covered almost everything there is to know about the security keys for Apple ID, including how to use it. Therefore, if you want to add that extra protection to your Apple ID account and data, you can set up the security keys by following the instructions we've provided above. In case you can't remember your password but you wish to delete your Apple ID, we recommend you download FoneGeek iPhone Passcode Unlocker. It's an effective Apple ID remover that's easy and quick to use. It will get rid of your Apple ID in no time without requiring any password.