There are times when you can enter your Apple ID credentials and instead of signing in to your device you get the message "the Apple ID cannot be used to unlock this iPhone". If you've faced this error, then it's likely there's an issue with your Apple ID or it's just something else completely.
The outcome of it is that you can't use your device normally. That doesn't mean though that you need to buy a brand new one. This is an issue you can fix and this guide offers several methods that can help you achieve that. First, let's learn the reasons behind this error.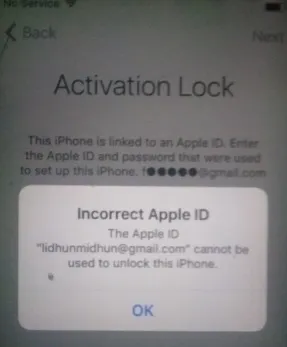 Why Does the Apple ID Cannot be Used to Unlock this iPhone?
iPhone and even iPad usually only ask you to enter your Apple ID once and that's when you're setting up the device for the first time. Therefore, if your iPhone prompts you again to enter your Apple ID and password, then it's activation locked (iCloud Activation Lock is enabled). Probably you or someone else might have reset the iPhone and didn't turn off Find My iPhone.
If the Apple ID and password you entered are correct and linked to that iPhone, then it should unlock and you can access it. However, if you still get the message "the Apple ID cannot be used to unlock this iPhone", then the reason could be:
A different Apple ID is linked to the iPhone hence you can't unlock it using your own Apple ID.
The iPhone might have an iOS bug that's preventing it from accepting your Apple ID and password even despite them being correct.
Recover Apple ID
In most cases, you'll see this Apple ID error message when you enter the wrong Apple sign-in credentials. If you've forgotten the actual Apple ID, you can check it up on Apple's website and then enter it on the iPhone to unlock it. Follow these steps to recover the Apple ID.
Open your web browser and go to Apple ID Official Support website.
Under "Apple ID Support", click the "Visit your Apple ID account page" option.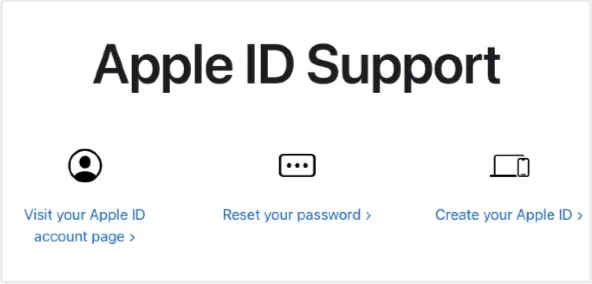 Click Sign in and then "Forgot Apple ID or password" option.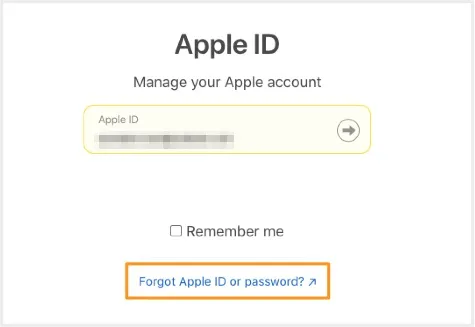 On the resulting page, there's a link that says "look it up", just above the Continue button. Click that link to recover your forgotten Apple ID.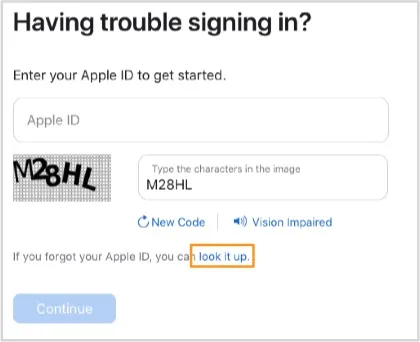 Simply enter the information asked, which includes your first and last names as well as the email address that's linked to your Apple ID. After providing the information, just click the Continue button and you'll get your Apple ID.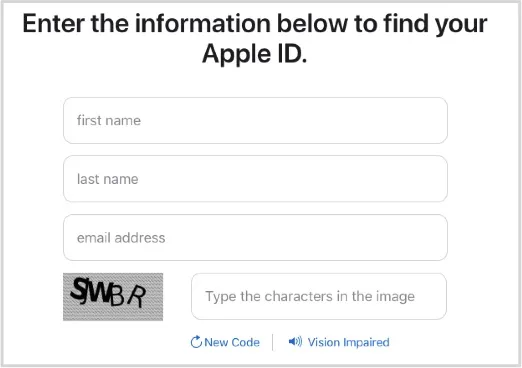 Reset Apple ID Password
It's possible that your Apple ID is correct but your password isn't and this is what is causing "the Apple ID cannot be used to unlock this iPhone" prompt. Resetting your Apple ID password should be able to fix this then. When you create the new password, you can use it now on your iPhone and unlock it.
Launch your browser and head to Apple ID website. On the Sign in page, click the link "Forgot Apple ID or Password".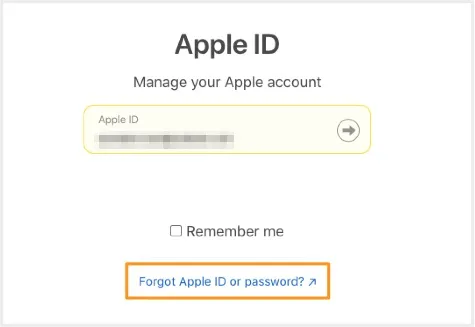 On the resulting page, input your Apple ID, then click the "Continue" button.
You'll be prompted to verify your account. Enter the necessary information (the phone number as asked) to do that and then click the "Continue" button.
If you have your Apple ID linked with other devices, then a prompt will appear on those devices too, so just check any of the prompts and tap Allow. From there, Apple will allow you to reset the password. Once you create the new password, enter it on your iPhone to remove the activation lock.
Remove iPhone from Apple ID
In case the iPhone was a gift or you bought it from a friend, family member, or another person, ask them for help. This way you won't have to bypass the iCloud Activation Lock. Call them and ask them to login into iCloud and remove your iPhone from their account.
On the browser, head to iCloud.com and log in (using their credentials).
After signing in, click the "Find iPhone" option.
At the top section of the "iCloud Find My iPhone" page, click on "All Devices", then select the specific iPhone they sold/gifted you.
Next, click on "Remove From Account" and the selected iPhone will be deleted from their iCloud account.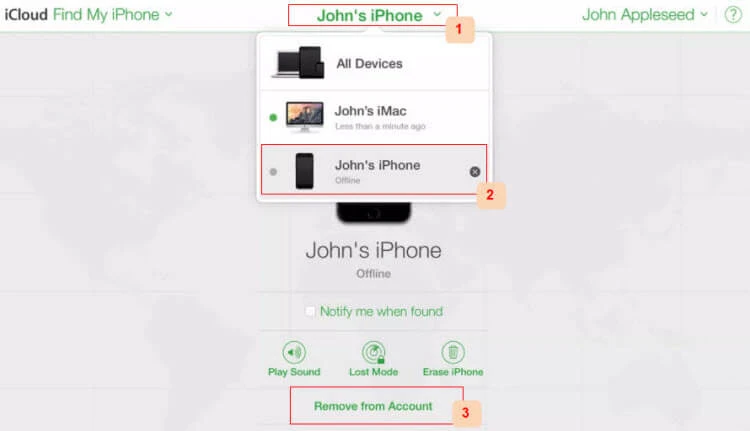 When that's done, you can restart your iPhone. It won't ask you for any Apple ID and password, so you can set it up with your own Apple ID. If you're able to reach the previous owner, then it will be quite convenient as there won't be any need of jailbreaking the device or having to bypass the Activation lock.
Remove Apple ID with FoneGeek iPhone Passcode Unlocker
The alternative option if you can't contact the previous owner is to remove the Apple ID using a professional tool such as FoneGeek iPhone Passcode Unlocker. This is a dedicated iPhone tool that's specifically designed to remove various locks including Apple ID, and different screen locks. It will help you effectively remove the Apple ID, allowing you to access your iPhone normally. No need to look for the previous owner.
Remove Apple ID without requiring a password.
Remove different screen locks on iPhone/iPad - Touch ID, Face ID, 4/6-digit passcode.
Fix disabled touch on iPhone/iPad/iPod without iCloud or iTunes.
Broad compatibility - supports iOS 7 to iOS 16, iPhone 6 Plus to iPhone 14, and other iDevices.
Steps to remove Apple ID using FoneGeek iPhone Passcode Unlocker.
Step 1. Start by downloading and installing the software on your computer. Launch it and click the "Unlock Apple ID" option on the home screen.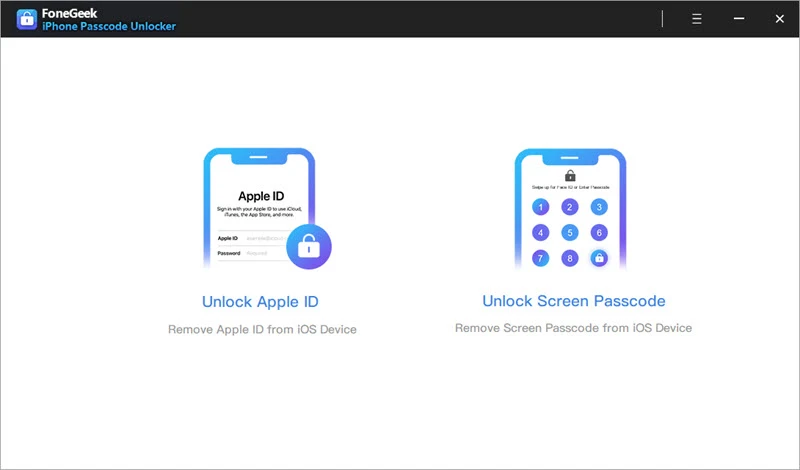 Step 2. Have your iPhone connected to the computer using your iPhone's original USB cable. You'll need to unlock the screen, then tap "Trust" on your iPhone if prompted by the program.
Step 3. On the resulting screen on the program, click the blue "Start Unlock" button. This will instantly initiate the process of removing the Apple ID as well as the iCloud account linked to your iPhone/iPad.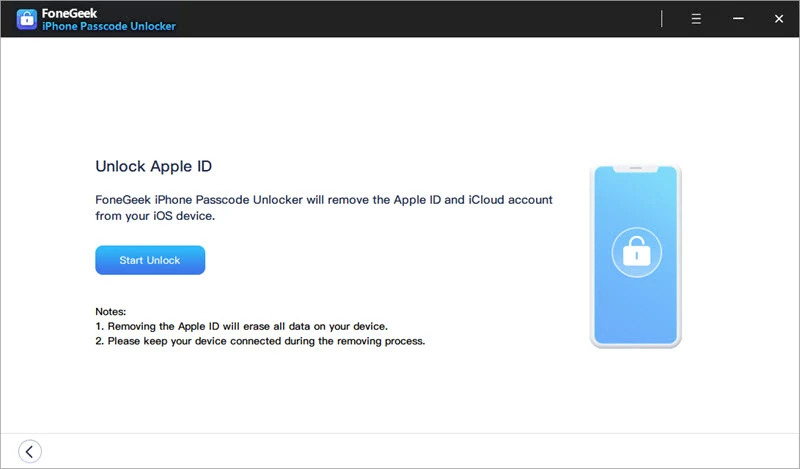 Step 4. Give the process a few seconds to complete. Once it's done, the program will inform you that the Apple ID is successfully removed. So, just click the "Done" button. That's it!
Unlock the Activation Lock with Screen Passcode (iOS 11 and Above)
You can unlock your iPhone in another way if it runs iOS 11 or above. You don't have to bypass the activation lock. Any iDevice that runs on iOS 11 or higher has the two-factor authentication option besides using the iCloud login. When you enable this special feature, you can turn off the activation lock using your screen passcode.
You'll see "Unlock with Passcode" option on the Activation Lock page. Click the option and simply enter your passcode to get rid of the activation lock.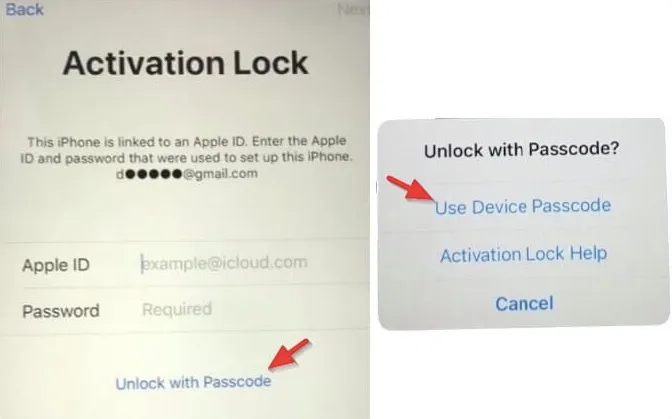 The caveat of this method is that you must know the correct passcode. Otherwise, it won't work. So, if it's your iPhone and you've reset it, then it will work if you remember the passcode. If it's a second-hand iPhone, it won't work.
Tips for You
If you enabled the Find My iPhone function on your device, you'll always be prompted to provide your Apple ID login details after restoring. Therefore, turning off this function before you reset or restore your iPhone can help you avoid the Apple ID error message. Follow these steps to disable Find My iPhone on your device.
Head to Settings, then click your Apple ID account.
In the resulting list, tap iCloud.
Locate Find My iPhone option and click it. Turn it off using your Apple ID password.
Conclusion
You can certainly resolve "the Apple ID cannot be used to unlock this iPhone" on your own using any of the above solutions. We would highly recommend though using the FoneGeek iPhone Passcode Unlocker to remove Apple ID efficiently, especially if you try the other solutions with no luck or if you can't get in touch with the previous owner. You won't see the Apple ID error anymore.