Screen time allows you to control the amount of time your iPhone's screen remains active. You can also establish limits that will prevent you from using particular functions on your iPhone.
This feature will come in handy if you're one of those people who cannot control themselves and would benefit from some external force.
When you try to install or access this feature on iPhone, you'll be prompted to create a passcode to protect it from unauthorized access. You will also be prompted to enter the passcode that you established previously each time you want to use your Screen Time Features.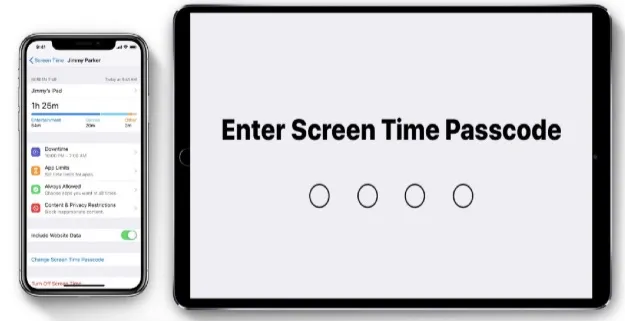 How Does Screen Time Work?
If you use any of the time-sucking apps on your iPhone, this feature is beneficial. You can use the feature to block those apps, and your device will no longer allow you to use them.
If you don't want to disable an app, you can limit how long you use it. You may set a time limit for how long you can use an app, ensuring that you don't waste hours on a useless app on your iPhone. The future's primary goal is to help you maintain a healthy balance of activities on your iOS device by preventing you from using it excessively.
Screen Time requires a passcode, and you can only access its settings pane and make changes thereafter by entering the correct passcode. It's a security feature that prevents unauthorized users from accessing and changing your Screen Time preferences.
While most users will remember their passcodes, it is possible that you have forgot your passcode and were unable to remember it no matter how long it takes. Without a passcode, how can you turn off Screen Time? Without entering your device's passcode, you can disable this feature in a few ways.
How to Turn Off Screen Time without Passcode for Free
Your iPhone has built-in security features that can let you retrieve or unlock Screen Time passcode with minimal data loss. Here are some straightforward instructions that will help you if you aren't a regular iPhone user.
2.1 Log Out of iCloud to Turn Off Screen Time Passcode
Because screen time without passcode iOS 17/16 requires your iCloud to be active, you will be able to turn it off by signing out of iCloud. You can later reactivate Screen Time by signing in with your Apple ID.
Under your Profile Name of iCloud settings, click "Sign Out" under iCloud settings.
After that, when requested, enter your Apple ID password, then touch "Turn Off".
Data from iCloud that you want to maintain a copy of on your PC should be backed up.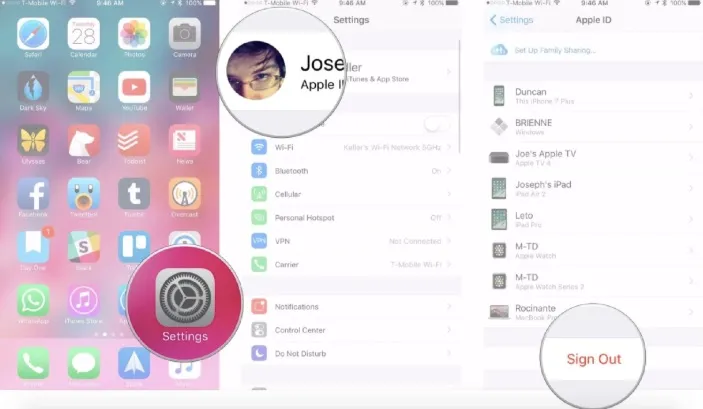 On your iOS device, go to the settings app.
To turn off Screen Time, open Screen Time and select "Turn off Screen Time"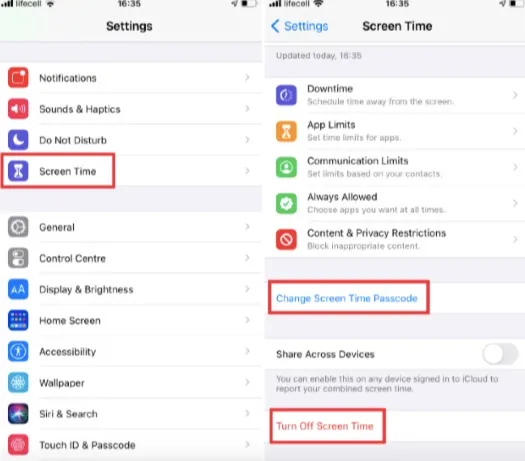 2.2 Reset Screen Time Passcode by Using Free Passcode Recovery
If you forget your passcode, this is probably the quickest way to turn off screen time on your iPhone.
Go to the iOS device's Settings and select Screen Time from the menu.
Open the "Change Screen Time Passcode" option. Then press "Forgot Passcode".
A pop-up window for Screen Time Recovery will appear. Then input your Apple ID as well as your passcode.
Finally, the Screen Time Passcode must be reset.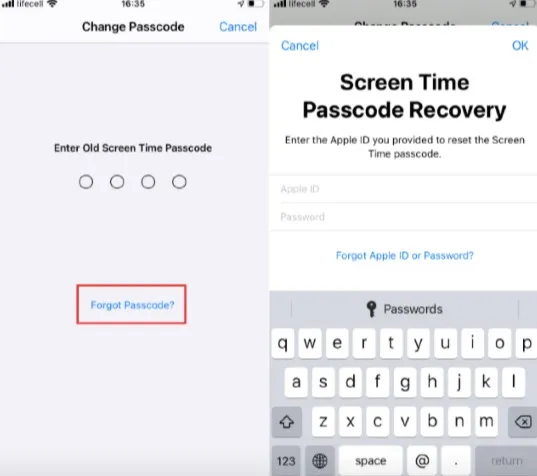 How to Turn Off Screen Time without Passcode via Third-party Tool
If what you need is to turn off screen passcode without passcode, you can use FoneGeek iPhone Passcode Unlocker, which can be used to remove screen time passcode and keep your device data. Besides that, FoneGeek also allows you to remove various screen locks, such as 4-digit/6-digit passcodes, Touch ID, and Face ID, in minutes. Then you'll be able to access your locked iOS devices again.
Here are the steps to remove screen time with the FoneGeek iPhone Passcode Unlocker;
Step 1. Download FoneGeek iPhone Passcode Unlocker and install it on your computer, then launch and select the "Unlock Screen Time Passcode" function from the home screen.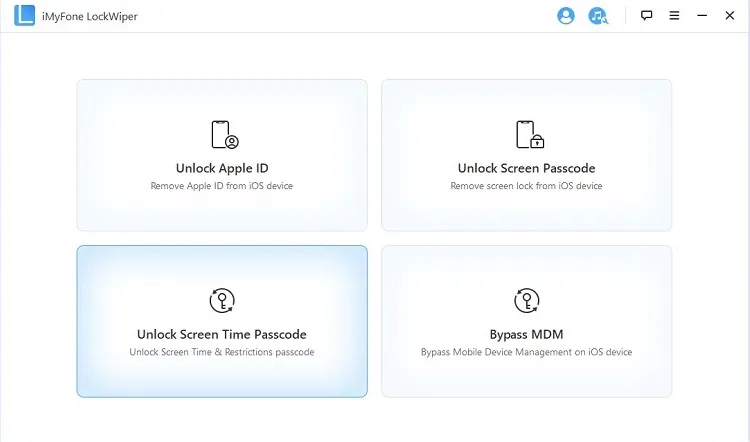 Step 2. After that, you should use a USB cord to connect your iPhone to your computer. If you haven't previously done so, the software will ask you to unlock the device and tap "Trust''.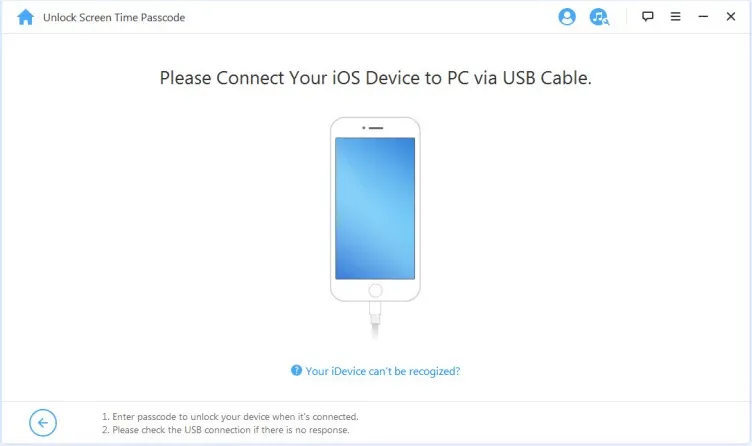 Step 3. To remove the screen time passcode, press the "Start Unlock" button.
How to Avoid Forgetting Passcode?
Passcodes can be difficult to remember, especially with all the websites we visit every day. Due to the number of times we have to fill out login forms daily, most of us are guilty of forgetting passcodes or using the same passcodes for each login.
It will not only take a long time to recover a passcode but will also cost a lot of money. You won't believe how pricey some data is. The cost of data can sometimes be higher than the cost of an iPhone.
Unfortunately, losing a passcode is unavoidable at times, therefore making a backup of this information is critical.
Here are a few pointers to help you create more unique and memorable passcodes that will protect your data while also being easier to remember.
Make a List of Helpful Hints: Using a tip sheet provides hints as to what your passcode might be while avoiding having a list of passcodes exposed to the public. Never write down your passcode in a place where it could be seen by others.
Disguise Your Passcodes If You Write Them Down: It may be the first letter of your passcode, followed by a clue as to what the rest of the passcode is. It could also be a word or phrase that rhymes with your passcode. Maybe it's merely an abbreviation to help you remember something.
Make Use of Shortcuts: You can construct a memorable and secure passcode by using the website's name or the colour of its logo as a starting off point. You might use F or FB as the first or last letters in your Login details, for example.
Make Your Code: Replace a few characters with numbers, misspell things on purpose, or use symbols as tiny 'code' tactics to make your passcode more distinctive and difficult to guess. Replace similar letters with similar special symbols or numbers, or simply avoid specific letters entirely. Remember that your passcode is private, therefore no one will double-check your spelling.
Make a Phrase Out of a Remarkable Sentence: Coming up with a sentence and turning it into an abbreviation is a wonderful method to come up with a memorable passcode. Create something meaningful to you or an inner joke that makes you laugh.
Why You Should Choose FoneGeek iPhone Passcode Unlocker?
FoneGeek is the tool to use if you need to defeat iPhone locks in a matter of minutes. With FoneGeek installed on your Windows or Mac PC, you won't have to be concerned or nervous every time your children pick up your iPhone for fear of entering the wrong passcode and locking it.
Advantages of FoneGeek iPhone Passcode Unlocker
You don't need to know your Apple Passcode to unlock your iPhone. It makes no difference whether or not your iPhone is linked to the internet.
When purchasing a used iPhone that is password locked or disabled, FoneGeek is quite useful.
When you unlock the parental control passcode, it assures that no data will be lost.
It guarantees the fastest unlocking time for your iPhone, with only a few minutes required.
It also guarantees a 100% success rate and complete security.
It's great for eliminating all kinds of passcodes, including face ID and Touch ID.
Conclusion
These methods on how to turn off Screen Time on iPhone without a passcode are simple to follow and will not erase any data from your device. To turn off Screen Time on your iPhone, you do not need to know your passcode. This article has shown you how to do so without straining your mind to remember your passcode.