If you set a very complicated password on your iPhone 8, you may have the trouble of forgetting iPhone password and being locked out of the device. So, how to unlock iPhone 8 without passcode? Take it easy, this post lists 3 useful and available solutions to unlock the device without password.
In short, FoneGeek Phone Passcode Unlocker enables you to unlock iPhone 8/8 Plus without password and iTunes. It is the best method if you want to gain access to your locked device within minutes.
If you choose the service of iCloud to unlock your iOS devices, you must ensure that "Find My iPhone" is turned on before you don't have any access to the device, and the device should be connected with stable internet.
For the last method to unlock using Recovery Mode, it only works when the device has been synced to iTunes before, or the device will be put into recovery mode and result in data loss.
Just jump to the solution that you like:
1. Unlock iPhone 8/8 Plus without Passcode Using FoneGeek iPhone Passcode Unlocker
If you forgot your iPhone 8 password, there are some suggestions you can follow. To save your time and help you choose the most appropriate one, we have did some test and finally proven that FoneGeek iPhone Passcode Unlocker is by now the most efficient tool which provides the easy-to-use interface allowing you to remove the passcode in one click.
Core Features of iPhone Passcode Unlocker:
Unlock All Screen Passcodes: All types of lock (4-digit, 6-digit passcode, Touch ID and Face ID) can be easily locked.
Remove Apple ID without Password: iCloud/Apple ID account can be removed without entering the password.
Supports all iOS Devices: Besides iPhone, iPad and iPod touch could also be unlocked without password.
How to Unlock iPhone 8 with iPhone Passcode Unlocker
Step 1. This desktop tool should be downloaded on your pc. Launch it and select the unlock mode of "Unlock iOS Screen".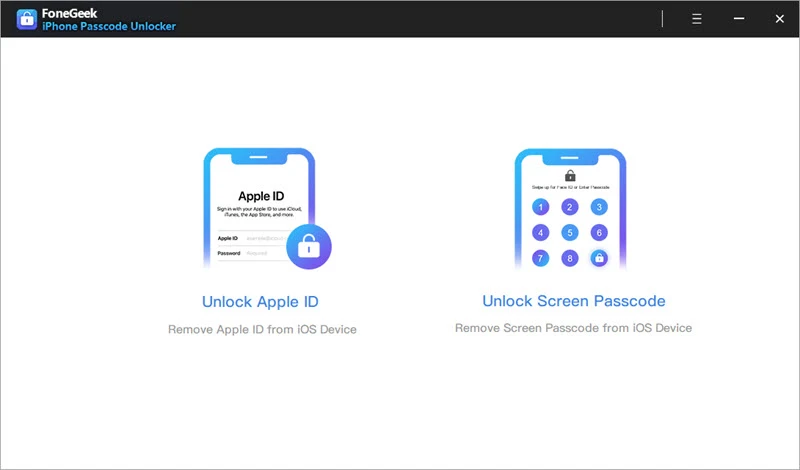 Step 2. Connect the locked iPhone 8 to the computer and the program will detect it. Then click "Start".
Note: If the locked iPhone 8 cannot be connected or detected, just put it into DFU or Recovery mode. You can do that by following the instructions on the screen.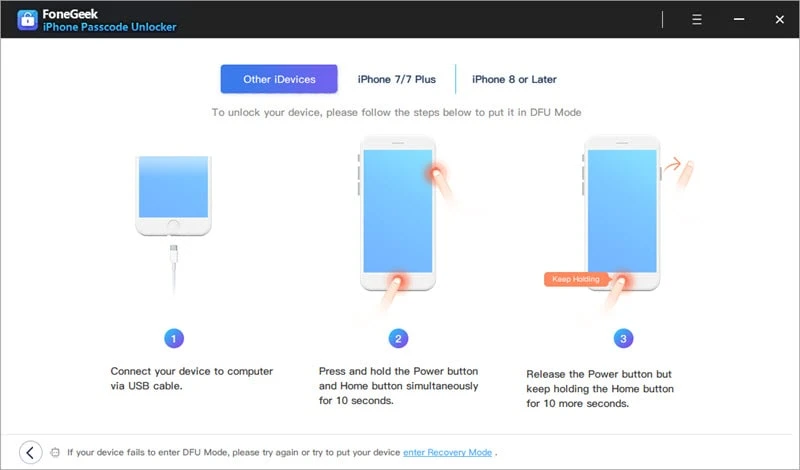 Step 3. Before removing the passcode, you need to select the firmware package that suits the iOS version and click on "Start".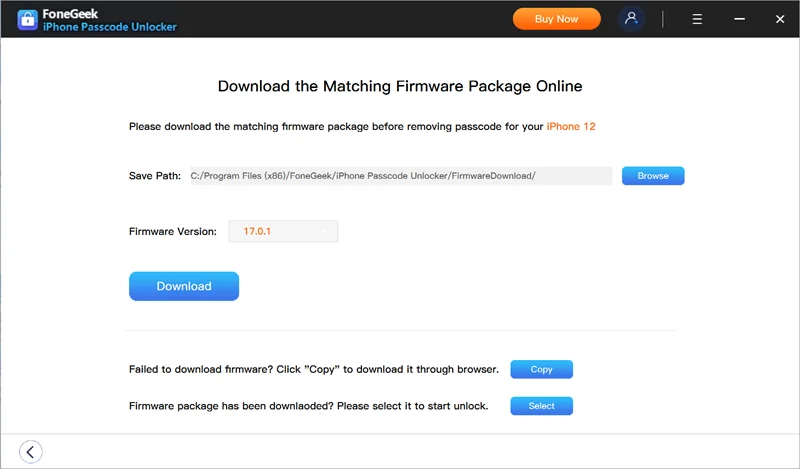 Step 4. After finishing to download the firmware, click "Unlock Now" button to begin the unlocking process.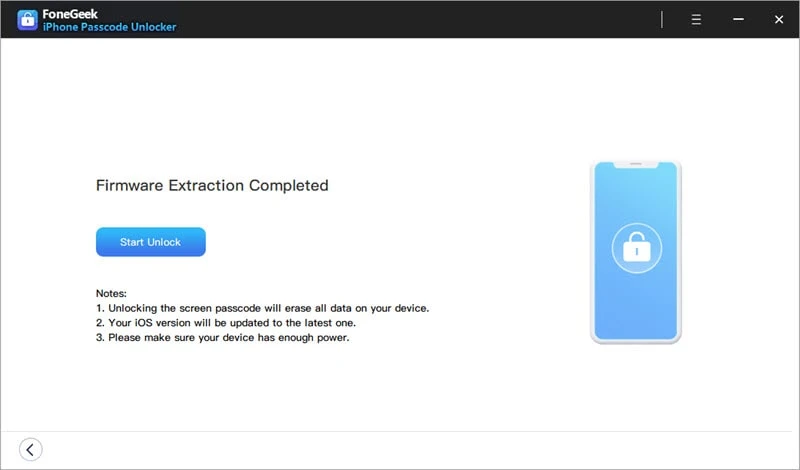 The whole unlocking process will take a few minutes. After that, the passcode will be removed and you will then be able to set a new passcode.
2. Unlock iPhone 8/8 Plus without Passcode via iCloud (Find My iPhone Should Be Enabled)
If the "Find My iPhone" feature enabled on your iPhone 8 or iPhone 8 Plus, you can try this method as following steps:
Step 1. Log in to iCloud on other accessible devices or directly go to the site of www.icloud.com on your computer and log in to your Apple account.
Step 2. Click [Find My iPhone] under [iCloud Settings] and enter your password.
Step 3. Select [Erase iPhone] to unlock the iPhone 8. After that, you can directly restore the data if there is an iCloud backup. If there is no backup, the data on the device will be completely erased.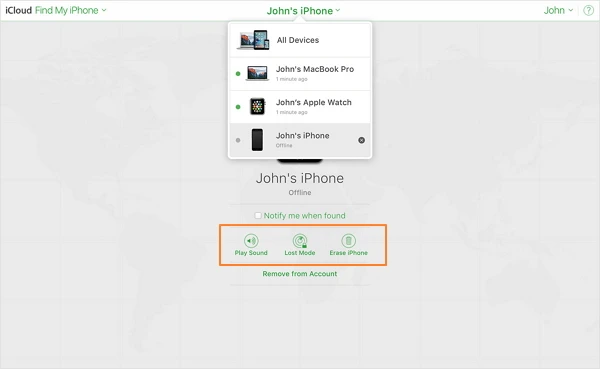 3. Using Recovery Mode to Unlock iPhone 8/8 Plus without Passcode
First, you need to download and install iTunes on your computer, then connect the iPhone 8 to your computer and open iTunes.
Step 1. When iTunes recognizes the iPhone 8, click on the iPhone icon in the window.
Step 2. If the iPhone 8 is not backed up yet, click the "Backup Now" button in the iTunes management interface to back up the data in the phone.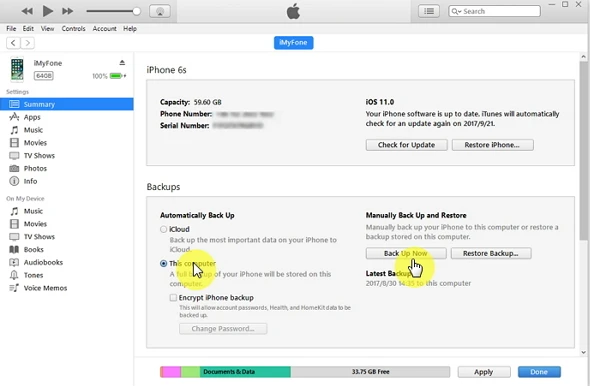 Step 3. After the backup is completed, press the power button to turn off the mobile phone, press and hold the power button for 3 seconds, then press and hold the volume down button at the same time, press and hold for about 10 seconds at the same time, release the power button to keep the volume button.

Step 4. When iTunes prompts you that there is an iPhone in recovery mode, release the button and select the downloaded firmware to restore. After that, your iPhone 8 or iPhone 8 Plus password will be cleared and you can now re-activate it.
Summary
As you know, there are 3 methods to unlock iPhone 8 without passcode. You can try the most best one according to your needs. What we recommend here is using iPhone Passcode Unlocker. After all, it can not only unlock disabled iPhone/iPad/iPod touch but also remove Apple ID for these iOS devices with ease.

Joan J. Mims is interested in researching all tips about iPhone, iPad and Android. He loves to share useful ideas with all users.

Home
>
Unlock iPhone
>[2022 New] 3 Solutions to Unlock iPhone 8/8 Plus without Passcode Efficiently