One of the things about the iPhone is it often arrives with a carrier lock. That means you can only use the iPhone with a particular cellular network. But what if you can remove the lock to use the iPhone on different carriers?
This article will introduce you to some of the top online iPhone Unlocker services. Let's get started!
Part 1. Is It Possible to Unlock My iPhone Online?
It's possible to unlock your iPhone online using the third-party services available. You will find abundant third-party providers offering the unlock service. However, we advise you to proceed cautiously as not all the providers are reliable. So, be sure to choose the right service provider who is known for trustworthy service.
Part 2. Best Online Services to Unlock iPhone Online
Here are some of the top online iPhone unlocker services:
iPhone IMEI
As the name suggests, iPhone IMEI basically lets you check the IMEI online for free. It also allows you to unlock iPhone devices. The iPhone IMEI team claims they have direct contact with Apple, so they can help you unlock the device legally. That means there is no need to jailbreak the device or void the warranty. It works with most versions of the iOS versions and models.

Official SIM Unlock
Official SIM Unlock enables you to unlock your iPhone for a lifetime. Whether you want to visit a different country or just want to change the cellular service provider, the Official SIM Unlock can do it all. The best part is it's very easy to use. It works with most of the iOS versions and iPhone models.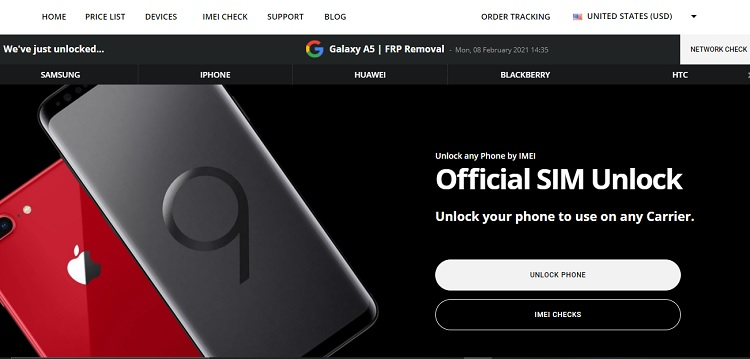 Direct Unlocks
Direct Unlocks is a free service that claims to unlock your iPhone. It can unlock the iPhone in 3 easy steps by simply entering the information of the iPhone along with the network and country. After that, you will have to share the tool on social media to receive an unlock code on your email as well as instructions to unlock it.
Sometimes it's fail to unlock your iPhone and in such situations, you might find it hard to get the refund. It can require multiple days for their customer service to give you the refund.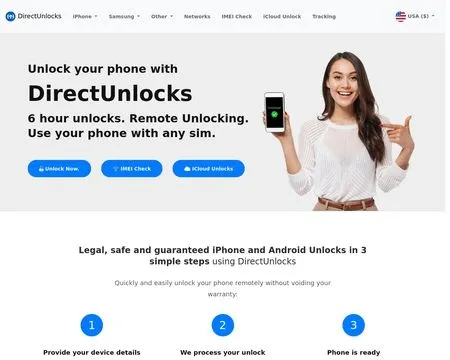 CellunLocker
CellunLocker has an intuitive interface that lets you purchase the unlock service for the iPhone. The best thing about the tool is it also works with other Apple devices, including the iPad, Macbook, Apple Watch, etc. It's easy to use and requires around one week for the unlock.
The customer support team of this tool is not very active. That means you might have to wait a few days to get a reply of your question. Moreover, their refund procedure also requires a good amount of time, which can be very frustrating.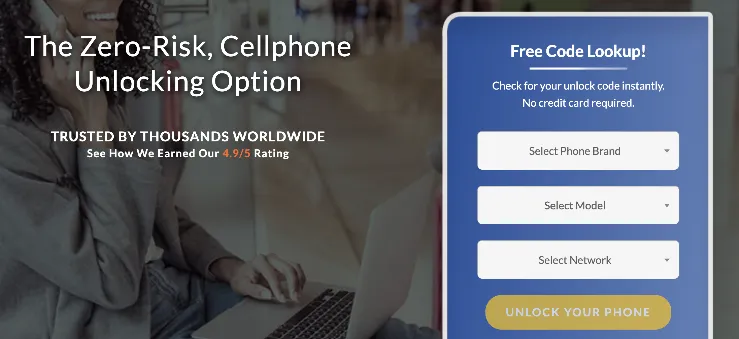 iPhoneUnlock.Zone
iPhoneUnlock.Zone is a free service that lets you unlock your locked iPhone and use it with your preferred carrier. The unlock service is done through iTunes. To use this, you will need to enter your iPhone's IMEI code and other details. If you are verified and ensured as eligible for unlock, they will send you instructions through email. You won't need any additional software/hardware for the unlock, and it's permanent.
FreeUnlocks
As the name implies, FreeUnlocks is a free iPhone unlock service. It allows you to unlock your iPhone without any software within a few minutes from online. All you have to do is enter the iPhone's IMEI code and the carrier information to begin the process. Once you enter these information, they will whitelist your iPhone's IMEI code on the online server and unlock the device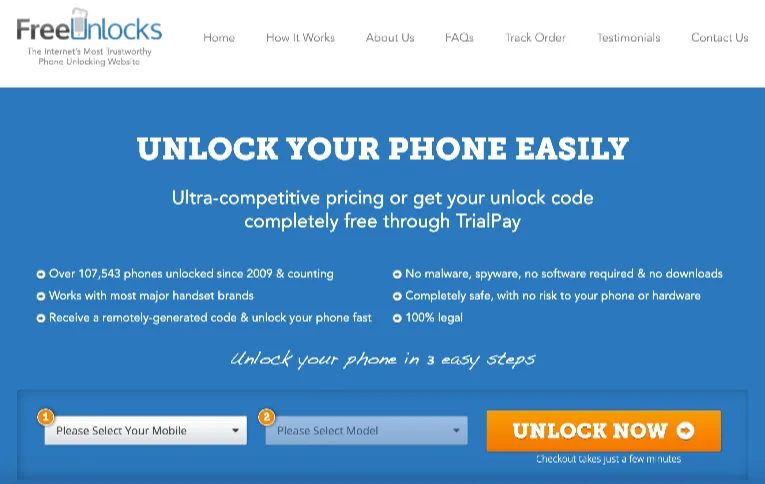 DoctorSim
DoctorSim is another excellent service to unlock your iPhone online. The tool is designed to be easy to use so that anyone can utilize the service. Even newbie users can easily utilize the tool to unlock their iPhones using the straightforward and intuitive interface. As some sources suggest, it lets you unlock the device with more precision compared to other tools.
Although it comes with an easy to use interface and works efficiently, there are many complaints about this tool. The complaint is mostly about the tool failing to unlock devices. Specially, if you use iPhone 6 or earlier model, this tool might not be the best option.
AppleiPhoneUnlock
AppleiPhoneUnlock's service is available throughout the world, and it supports unlocking most variations of iPhone available out there, starting from iPhone 4 and 4s. It also allows you to unlock iCloud services along with carrier unlock without downloading anything.
This platform is not clear about the charge for the unlock. It may become a problem for users who want to unlock their phone from them and then end up paying more for the full service. Also, it seems their packages are pretty expensive.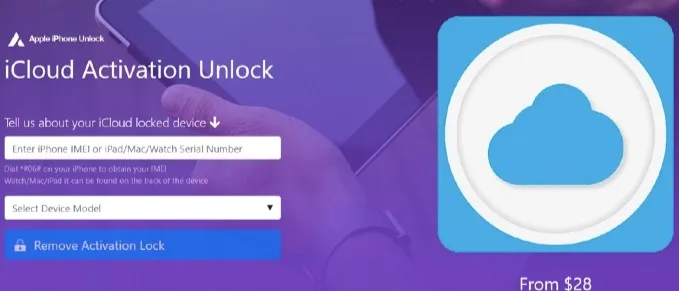 MobileUnlocked
MobileUnlocked enables you to unlock your iPhone through their online service. It unlocks your iPhone with IMEI, so you can move to any carrier you prefer without restriction. You don't require any technical skills to use the tool. Moreover, it claims to be safe and quickly unlocks the device.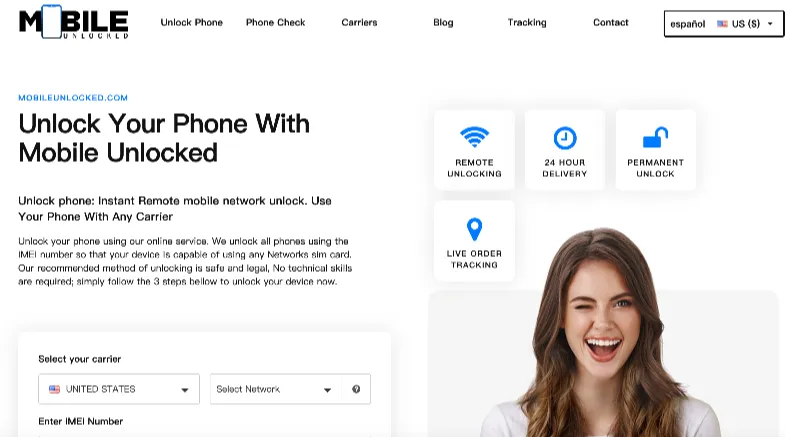 UnlockBoot
If you want to unlock an older version/model of the iPhone, consider using UnlockBoot. It can unlock your iPhone for free. Please note that you can't unlock iPhone 14 or the newer models using this, according to some sources. You can consider using their online unlock service for older devices like iPhone 13 or prior.
Part 3. Possible Risk of Online iPhone Unlocking Services
As shown above, plenty of iPhone unlock services are available that claim to unlock your iPhone online without downloading any software. However, it is vital to grasp that these apps come with potential risks.
Many of these services can be scams, and they can take your money but never unlock your device. Some apps take your personal and financial information instead and sell them. Another risk is there are chances of ending up with a hacked device after trying to unlock it through these services.
Because of the associated risks, we don't recommend using these iPhone unlock services. Instead, you can consider something like the iMyFone LockWiper tool. It enables you to unlock your iPhone safely and efficiently.
Part 4. Unlock iPhone with a Safe & Secure Tool
There are many tools out there to unlock your iPhone, but not many are trustworthy and reliable. Moreover, some of these require a long time to unlock the device. If you are looking for a reliable tool that can efficiently unlock your iPhone, FoneGeek iPhone Passcode Unlocker is the best tool for you.
FoneGeek iPhone Passcode Unlocker can unlock different types of iPhone locks, including the iCloud lock, without a password. It's an easy-to-use program available for all the latest iPhone models and iOS versions.
Top features of the app include:
Let you eradicate the Apple ID without a passcode.
Remove various types of locks, including iCloud, Touch ID, Face ID, and more.
Let you get rid of screen time passcode easily.
Remove the MDM lock to prevent remote management of the device.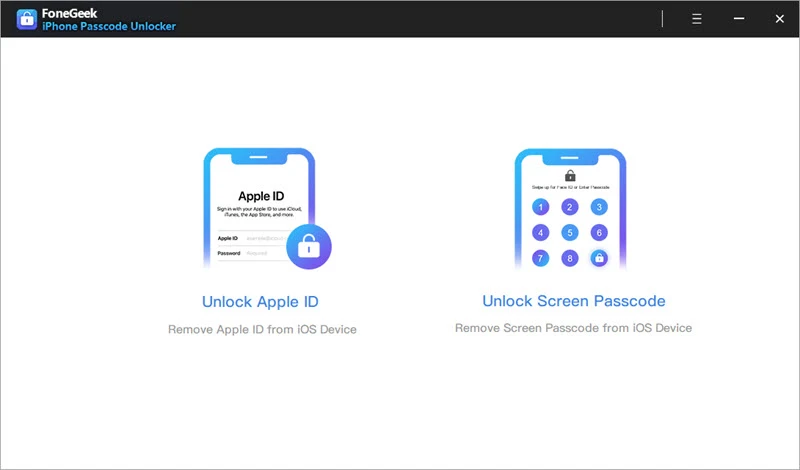 Part 5. FAQs on Unlock iPhone Online
Some of the most frequently asked questions about unlocking iPhone online are answered below:
Q1. How does iPhone Online Unlock Services Work?
These unlock services work by adding your iPhone's IMEI to Apple's database to lift off the lock and utilize the device from any carrier. That is why you will need to provide your IMEI address to unlock it. It is available in the iPhone's settings. After you give them the IMEI code, they will verify it and send you a quote for the unlock.
Q2. Is it secure to unlock my iPhone through online services?
The safety will depend on the unlock service you choose. As not all of them are reliable, you will need to pick the one that is known for reliably and smoothly unlocking your iPhone online.
Q3. How can I find a good unlock service?
It is crucial to pick an unlock service that is reliable. You can find a good unlock service by reading the review online as well as researching a bit about their reputation. Try to understand the feedback of their customer.
Conclusion
As explored in the article, there are different online tools to unlock your iPhone. However, it is important to remember that these platforms do not always work as intended, and there are even some risks associated with them. So, utilizing well-known tools like FoneGeek iPhone Passcode Unlocker is always recommended for a quick and smooth unlock of your iPhone. Be sure to check this tool out.