iPhones offer a lock screen feature and different kinds of password options including alphanumeric, pattern, 4-digits, and 6-digits. However, none of these options is truly hands-free, even the advanced Face ID lock of iPhone X and the other latest models. Once your face is detected, the lock screen still has to be swiped up to access the home screen which may be time-consuming.
So, to unlock iPhone without swiping up actually makes everything faster, easier, and much more comfortable since it's truly hands-free. In this article, we'll share several ways you can do this so that you can always have quick access to your iPhone whenever you want. Let's get started.
What Does 'Swipe Up to Unlock' Mean?
It's good we first learn what "swipe up to unlock" actually means before proceeding to ways you can unlock iPhone without swiping up. Generally, this is an action that results in transitioning from the lock screen to iPhone's home screen. It's the standard action in almost all the latest iPhones. If you've set your lock screen to use a passcode, then you'll need to first swipe up the screen and then enter your passcode to access the home screen.
On the other hand, if you use the Face ID lock, you have to first unlock the iPhone using your face and then swipe up the screen so as to access the home screen. Either way, having to do this every time you need to unlock your iPhone it's not only tedious but also time-consuming, especially if you need to open your iPhone right away. Being able to unlock your iPhone with Face ID or passcode without swiping up would be much faster and more convenient.
Why iPhone Mandatory Swipe to Unlock?
The "Swipe Up to Unlock" feature is included in iPhone models for various reasons. It's a default feature mainly because:
It ensures you actually intend to unlock your iPhone - prevents unintentional unlocking.
It provides further security - stops Face ID from passively bypassing the Lock Screen immediately after the iPhone is unlocked.
It helps prevent accidental dials and errant typing.
It allows reading and even acting on notifications without having to unlock the phone.
So, how can you unlock iPhone without swiping up? Well, check the methods below.
How to Unlock iPhone without Swiping Up
Enable the "Tap Back" Feature
The "Tap Back" functionality is one easy way of using the Face ID to unlock your iPhone and gain access to the home screen without swiping up. Follow these steps to enable this feature:
Open Settings, head to Accessibility, and tap the Touch option.
Navigate down to the "Back Tap" option and tap it.
You'll see two options; Double Tap and Triple Tap. Tap the one you prefer.
You'll again see several options, tap on "Home" to set your suitable action to Home.
Now you can unlock your iPhone. No need of swiping up.
Just double/triple tap on your phone's back once you unlock it with Face ID.
It will take you straight to the home screen without swiping up.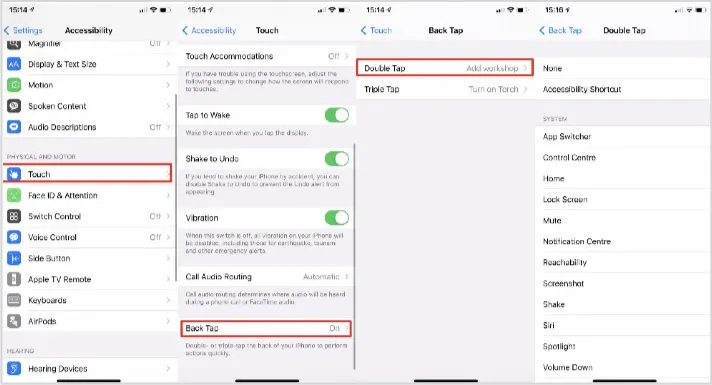 Add New Switch
This is yet another simpler method of getting your Face ID to unlock without having to swipe up your iPhone 14/13/12 screen every time, and also without having to jailbreak it. Here's how you can add a new switch that'll enable you unlock iPhone without swiping up.
Open Settings. Head to Accessibility.
Locate "Switch Control" down the list and tap it.
Tap Switches and then "Add a New Switch".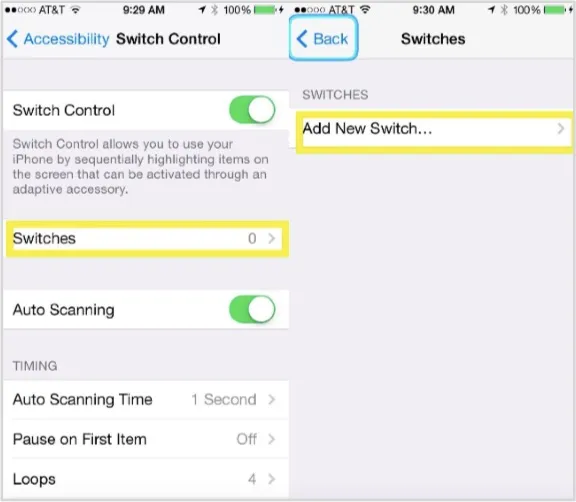 Next, choose camera. Under Switch, Set Right Head Movement to home. Do the same for the Left Head Movement option.
Doing so will trigger your iPhone's lock screen when you move your head to right or left.
Tap the Recipes option (under Switch Control) and then delete them.
Now, tap Scanning Style option (under Timing). Change it to single switch if it's auto.
Adjust the dwell time all the way to the lowest option.
Turn all the other settings off under the Switch page.
Now save the switch and head back to the bottom part. Tap "Accessibility Shortcut".
Here, select the triple-tap option for the "Switch Control".
Head to Home screen and activate the switch by triple-tapping on the side button.
Lock the screen. Wait a few seconds, wake it up but without looking into it directly.
Slightly tilt your iPhone to one side, then look into it to unlock it using Face ID.
Next, tilt the phone at least three times, then instantly press the side button three times.
This will unlock your iPhone right away without any swiping up.
Using FoneGeek iPhone Passcode Unlocker
The simplest and stress-free way you can unlock iPhone without swiping up is using a professional iPhone unlocker tool. There are many of them in the market but the FoneGeek iPhone Passcode Unlocker stands out the most. It's not only easy to use but it's also quite effective at removing all kinds of iPhone password protection. It doesn't matter how your iPhone is locked or disabled, or what kind of screen lock it used, it can remove all of them easily and supports even the latest iPhone models and iOS versions.
Key Features of FoneGeek iPhone Passcode Unlocker:
Helps unlock iPhone without swiping up using just a few clicks.
Remove Face ID and other screen passwords (Touch ID, 4-digit/6-digit passcode, etc).
Remove the Apple ID without using the password.
Resolve disabled iPhone or iPad touch without iCloud or iTunes.
Supports most iOS versions (up to iOS 17) and iPhone models (up to iPhone 15).
Steps to using FoneGeek iPhone Passcode Unlocker:
First, download, install, and launch the FoneGeek iPhone Passcode Unlocker program on your computer. Select the "Unlock Screen Passcode" option. Click "Start" and then "Next."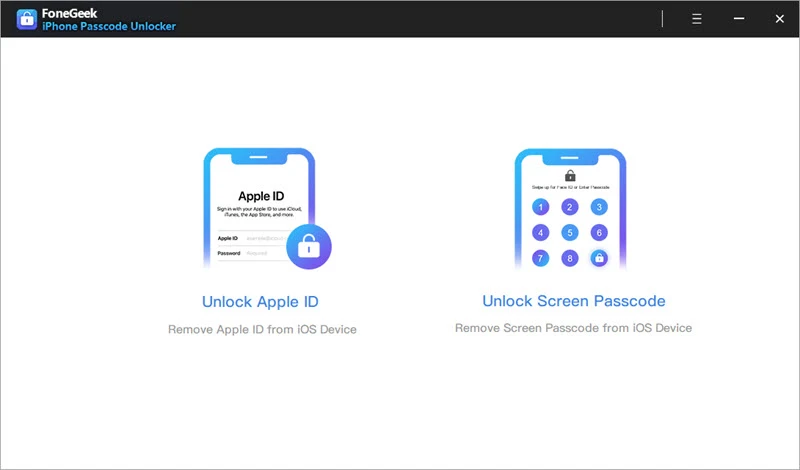 Now, using the original iPhone USB capable, connect your locked iPhone to the computer. Follow the on-screen instructions once your iPhone is detected in order to boot it in DFU/Recovery Mode.
When your device enters in DFU/Recovery mode, the FoneGeek program will show your iPhone model as well as various available system versions for it. Select your preferred firmware version and then just click "Download". The firmware package will start downloading.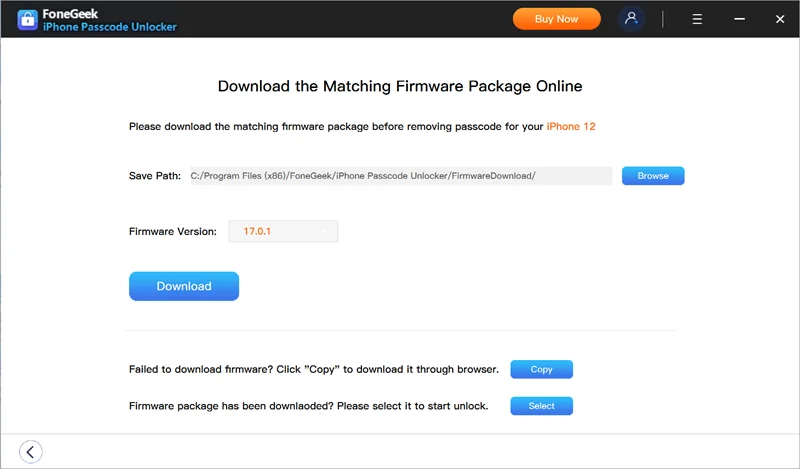 Once the firmware package finishes downloading, click the "Start Unlock" button. The program will begin removing the iPhone screen passcode. Once the process is successful, the program will alert you that the iPhone is successfully unclocked.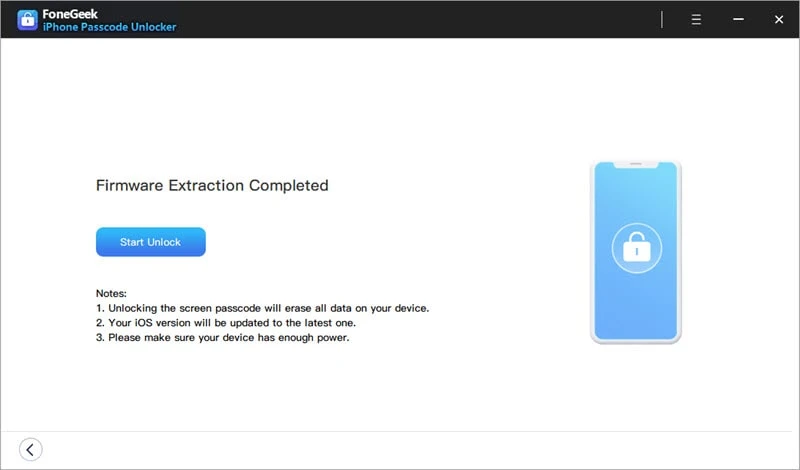 Unlock iPhone Using Touch ID
Face ID lock is an advanced feature that's offered by most of Apple's newer iPhone models. However, older models like the iPhone 8 and others came with the Touch ID option which serves as a home button as well as the finger printer scanner. These iPhones that feature the Touch ID button don't need swiping up to unlock. When you press your finger right onto the Touch ID button to unlock the iPhone, you're taken directly to Home screen. Therefore, if you own an iPhone 8 or any of the older models (iPhone 7, 6, and SE series), then just use Touch ID to avoid the swiping-up step.
Unlock iPhone with AutoUnlockX
You can avoid the swipe-up gesture altogether while unlocking your iPhone by just using AutoUnlockX. No need to jailbreak it either. Here's how to do it:
You need to first add an external repository like Sileo or Cydia to your iPhone to act as an emulator. It won't automatically add to your application. You have to do it manually.
Download the repo from the spark dev website (it's not available on App Store).
Head to Sources inside your iPhone's Settings.
Select edit and then manually add the external repo to Cydia or Sileo.
Head to the Search page on Sileo or Cydia. In the search bar, type "AutoUnlockX".
Immediately the tweak shows, select it and then tap "Get (Sileo)" or "Install (Cydia)".
Confirm the selected repo by tapping the Confirm option. Let the tweak install.
After it's installed, just tap "Restart SpringBoard" for the download to complete.
As soon as the iPhone resprings, the next step is enabling AutoUnlockX.
Head to Settings, tap App, and then tap AutoUnlockX. Tap Enable Auto Unlock.
Select the other settings as you prefer by tapping on them to toggle them on or off.
When you're done, just tap the "Respring" option below to effect your changes.
Finally, unlock your iPhone using your Face ID.
That's it: You can now unlock iPhone without swiping up.
Disadvantages of unlocking iPhone with AutoUnlockX:
It can just stop working randomly and cause a mess.
It could cause damage to your device.
It's not permitted.
Bonus: Set Face ID on Your iPhone for Better Use
Face ID is usually the best alternative in case you don't want to use the swipe up functionality or you can't use it. Whatever the case, this section will take you through the steps you can take to set Face ID on your iPhone and also to modify other settings. Here's how to do it:
Open Settings and head to the Accessibility Option. Tap it. You'll see several options. Tap Touch and then tap the Wake option.
Head back to Settings again. Navigate all the way down to "Display and Brightness" option and tap it. You'll see "Raise to Wake" option. Turn it on.
Finally, once you have both options turned on, swiftly switch on your device and enable Face ID passcode. From there, you can select the other options you prefer.
Conclusion
With the methods herein, you should no longer have to swipe up to unlock your iPhone. Try each of them to see which one works best for you, although all of them will work. If you're still unable to do it or can't pass Face ID, don't worry. Use the FoneGeek iPhone Passcode Unlocker. It's the easiest and most effective method of unlocking you iPhone without swiping up when compared to the rest. It will remove the Face ID, giving you instant access to your iPhone.