User Concern
"My iPhone 12 is running iOS 16. It asks for my passcode constantly (this has been happening for at least three weeks). It would be great if it would just unlock with Face ID, as it's supposed to. Please help!"
iPhone arrives with multiple layers of security measurements that consist of the Passcode, Face ID, Touch ID, and much more. Although these features are very beneficial for your safety and privacy, they can also be annoying sometimes. Such as, if you leave the iPhone unused for a few hours, you may encounter "Your passcode is required to enable Face ID" issue when unlocking your iPhone.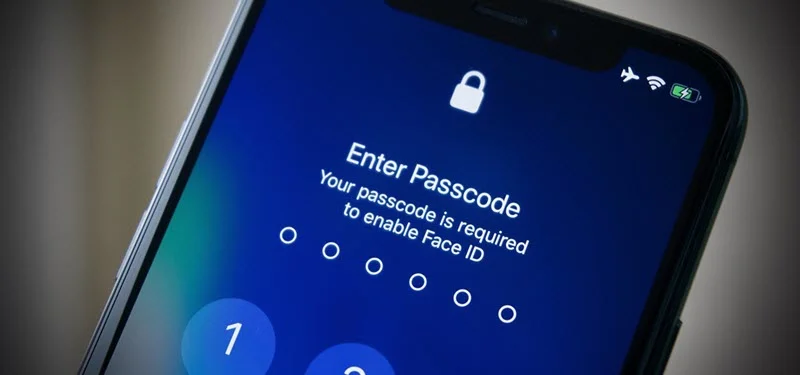 It's basically a security feature to prevent unauthorized access to your iPhone. If you want to know what you can do to fix this, keep reading the guide. Below, we will discuss why you are often asked to enter the passcode to enable Face ID and what you can do to fix it.
When Do Your Need to Enter Passcode to Enable Face ID?
Many people prefer to use Face ID as it allows them to unlock the iPhone easily. However, sometimes you might be asked to enter the passcode for enabling Face ID. It mostly happens when the device cannot recognize you. It will also occur in some other situations, which we will discuss below:
When booting your iPhone for the first time or restarting the device, you will be asked to enter the passcode.
If your iPhone has been locked for more than two days or 48 hours in a row.
If you lock the iPhone remotely through the iCloud account or turn on the Find My iPhone service.
After five unsuccessful attempts to unlock the iPhone through Face ID.
If there is a significant change in your face, such as shaving the beard or wearing a face mask.
After turning off the iPhone and leaving it in the Emergency SOS mode.
Apart from these occasions, you will require the passcode to enable Face ID if you didn't use Face ID in the last four hours or the passcode in the previous six and half days.
How to Fix If Your Passcode Is Required to Enable Face ID?
As discussed above, you will require entering the passcode to enable Face ID in various situations. However, if you think you are encountering this excessively, try the below fixes;
Fix 1: Make sure that your iPhone's front TrueDepth camera is free from any obstruction. Sometimes the screen protector covers the camera partially or fully, which can cause this issue. You may also encounter this if your hands cover the camera while unlocking the phone.
Fix 2: Are you using an old iOS version on your iPhone? The outdated iOS causes many ridiculous system issues, including this one. Upgrading to the latest iOS version may help to solve the problem.
Fix 3: Is the Face ID on your iOS turned off? If the feature is off, it is very normal to encounter the problem. Make sure that Face ID is enabled. You can check it from the "Face ID & Passcode" section on the Settings page.
Fix 4: As mentioned earlier, sometimes the device might fail to detect your face due to a change. In such a case, you should register the altered face as an Alternate Appearance. Open "Face ID & Passcode" and go to "Set Up an Alternate Appearance" to add a new face.
Fix 5: If you see "Your passcode is required to enable Face ID" for the other reasons we discussed above, you will simply need to enter the passcode to get rid of this. If you cannot remember the password, don't worry. You will find the process of iPhone passcode recovery in the next section.
What To Do If You Forgot Your Passcode to Enable Face ID?
If you enter the wrong passcode several times, you will be locked out and need to recover the password. There are several methods to reset your iPhone passcode. You can utilize the official process by Apple, which is a bit lengthy and time-consuming. However, if you are seeking an easy and quick solution, we will recommend the FoneGeek iPhone Passcode Unlocker.
FoneGeek iPhone Passcode Unlocker is a powerful tool that lets you solve various lock issues in your iPhone. You can employ it to remove the iCloud Lock, Face ID, Touch ID, and passcode easily. Some other features of the tool include:
Erase any screen lock like passcode, Face ID and Touch ID from your iPhone within minutes.
Remove the Apple ID attached to the iPhone or bypass iCloud Activation Lock without password.
Enjoy all iOS features and services without restrictions after removing the passcode.
It works well with all iPhone, iPad, iPod touch and iOS versions, including iPhone 14/13/12 and iOS 16/15.
This program is highly recommended by D-addicts, GetDroidTips, Twitgoo, iLounge, Knowtechie and many other media sites.

Now let's see how you can use FoneGeek iPhone Passcode Unlocker to unlock iPhone without passcode or Face ID:
Step 1: First, you need to download and install FoneGeek iPhone Passcode Unlocker on your Windows or Mac computer. Then launch the program.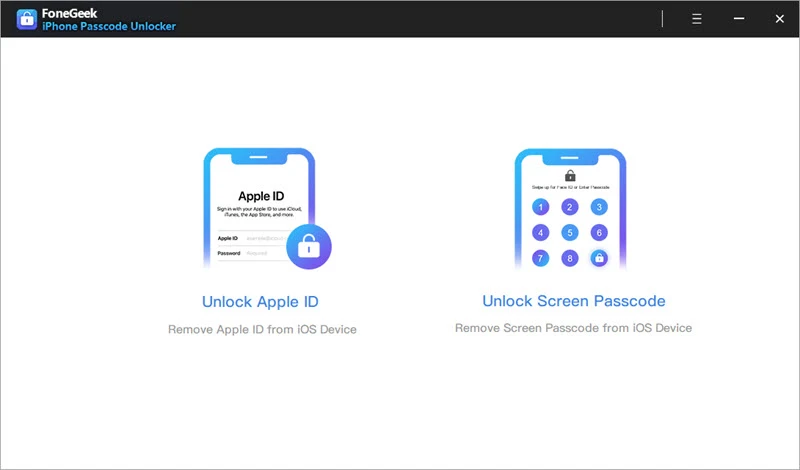 Step 2: Choose "Unlock Screen Passcode" on the app interface. Then, press "Next". After that, connect the locked iPhone with the PC through a USB.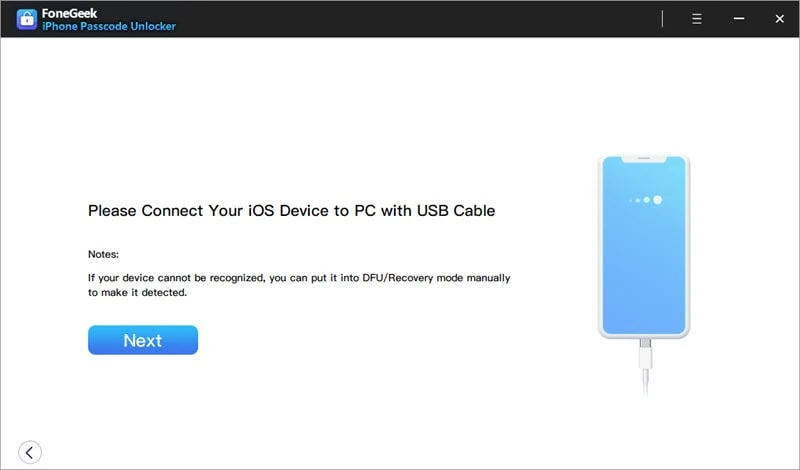 Step 3: Now, you will need to boot your iPhone to the DFU or recovery mode. Simply follow the guidance on the FoneGeek app interface to do this.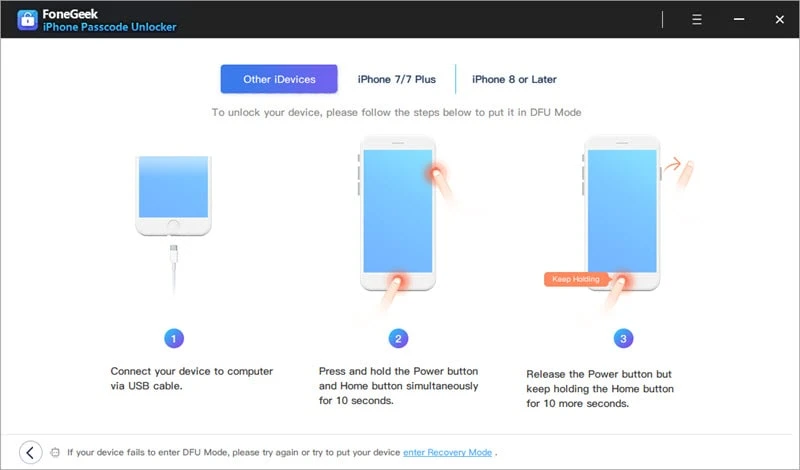 Step 4: After completing the above steps, you will see the iPhone model and available system versions. Select your preferred version and "Download" the firmware package.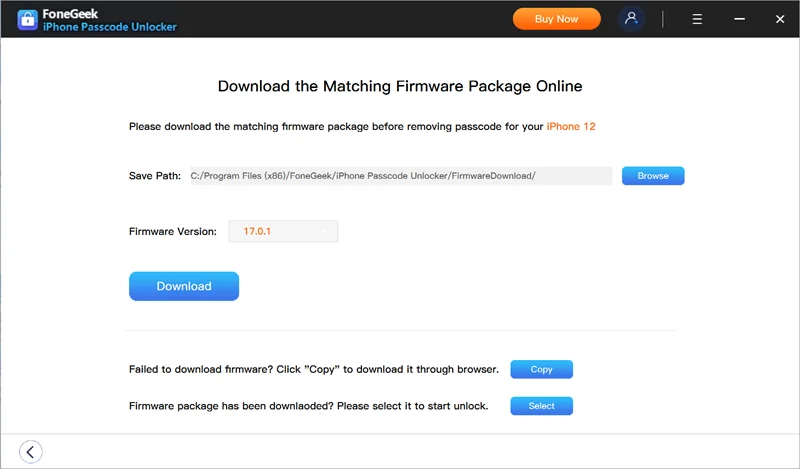 Step 5: After the download is complete, you need to press "Start Unlock" to remove the passcode. It will take a few minutes, and then you will be able to set a new passcode.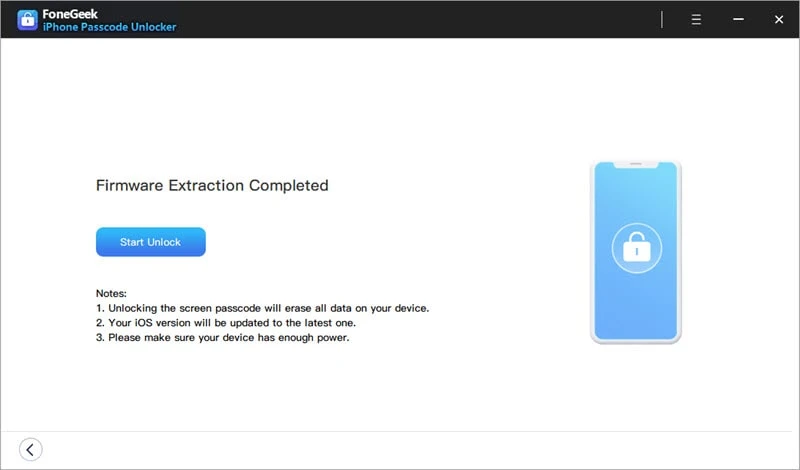 Bonus: How to Improve Your Use of Face ID on iPhone
Face ID is a popular security feature of iPhone devices that consist of sensors and other components. While creating the Face ID, iPhone's TrueDepth camera accurately captures your face data through advanced technologies and saves it. It is matched with your real-time face every time you want to unlock the iPhone through Face ID.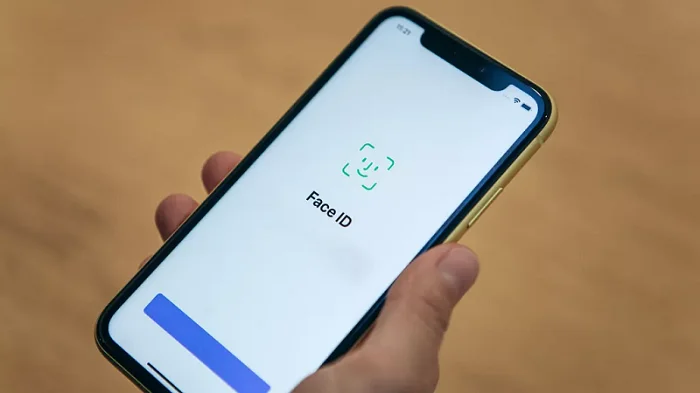 Here are some tips that might help Face ID to recognize you easily:
Always keep the camera clean and free from obstructions.
Put away your sunglasses while unlocking the iPhone.
Make sure to set up an alternate face if you have bread and want to shave it.
Hold the device 10 or 12 inches away while unlocking.
Keep the Attention Detection option on Face ID & Passcode settings.
Hard restart your iPhone if the Face ID is malfunctioning.
Reset all settings if the Face ID got disabled in iPhone.
The Verdict
Face ID is by far the easiest way to unlock your iPhone. But it can be a hassle if you often need to enter a passcode because of "Your passcode is required to enable Face ID" error. We hope the above information will help you to solve this disturbing issue. And, if you forget the password and have a hard time unlocking the device, consider using FoneGeek iPhone Passcode Unlocker to remove the password easily.