User Concern
"I cannot reset my iCloud user name because I've changed my phone number that was not updated in my account. How do I delete the iCloud account without a password?"
You need an iCloud account for almost every feature on your iPhone and connect your device's content with other iOS devices. However, there are certain situations where you might need to delete an iCloud account from your iPhone.
If you have multiple iCloud accounts or decide to change your iCloud account emails, you may want to remove the existing iCloud account on your iPhone and replace it with another. Deleting the account is straightforward as long as you enter the correct password for your Apple ID.
But what if you forgot your password? Don't worry; removing your iCloud account without knowing the password is still possible. This article will provide some easy methods to accomplish it quickly.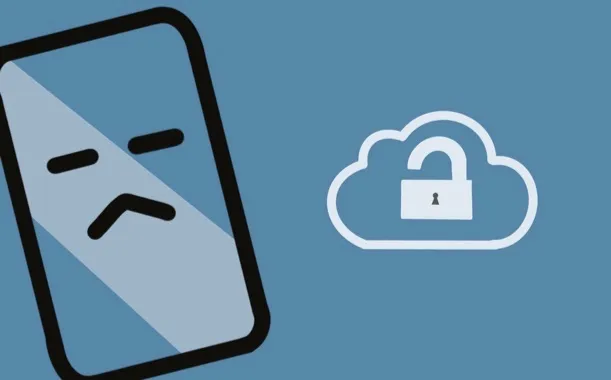 Important Tips Before Removing iCloud Account
Removing your iCloud account is a significant action, and it's important to take certain precautions before doing so. Here are some essential steps you should follow:
Transfer your iCloud data to your computer: Before removing your iCloud account, it is highly recommended to back up and transfer all your important data from iCloud to your computer. This will help ensure you don't lose any data associated with the account.
Keep your device passcode handy: After deleting your iCloud account, there may be instances where you'll need to enter your device passcode.
Back up your iPhone data with iTunes: Before removing the account, performing a full backup of your iPhone using iTunes is a good idea. You can easily restore data from the backup if you lose data during the process.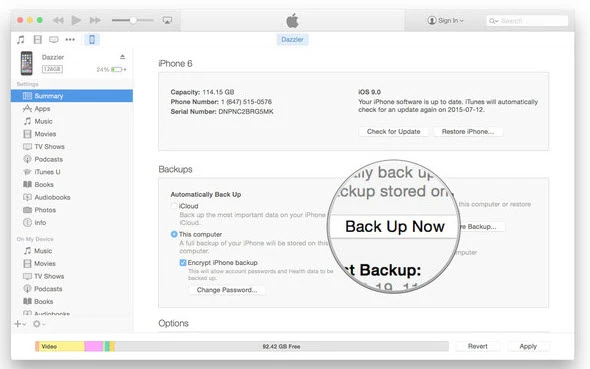 How to Delete iCloud Account from iPhone without Password
Once you have backed up the data on your iPhone, use one of the following solutions to remove your iCloud account without a password:
Using Professional iPhone Unlocking Tool
The best and easiest way to remove iCloud account without password is to use a third-party iPhone unlocking tool. The best tool for this task is the FoneGeek iPhone Passcode Unlocker (iOS 17/16 supported). It will make the whole process easy and relatively seamless.
To celebrate the release of iOS 17, we are offering a 20% OFF coupon code for this software. You can copy the coupon code below to enjoy all the features at the cheapest price.
UNLOCKCODES20
To remove iCloud account without password, follow these simple steps:
Step 1: Download and install the FoneGeek iPhone Passcode Unlocker on your computer and launch the program. Click "Unlock Apple ID" and connect the device to the computer using a USB cable.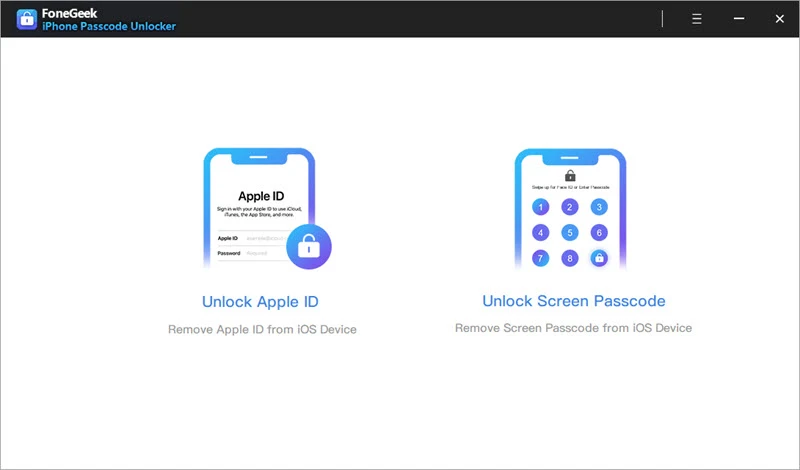 Step 2: Unlock your iPhone and trust the connection on the device's screen. Once the program detects the device, click "Start Unlock" to begin the process.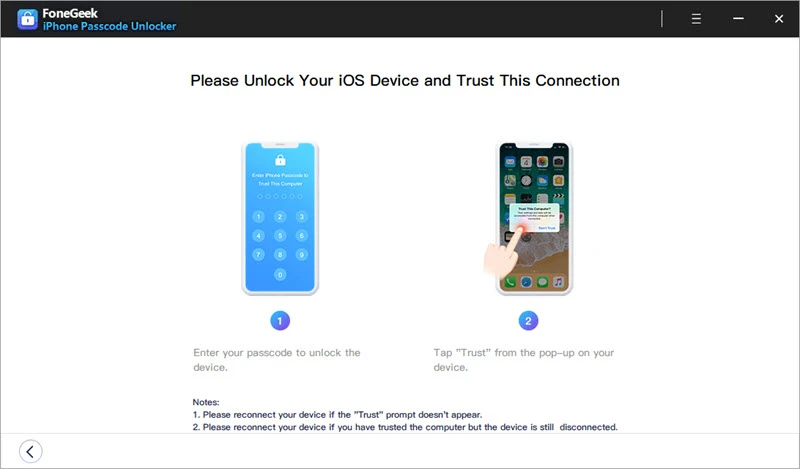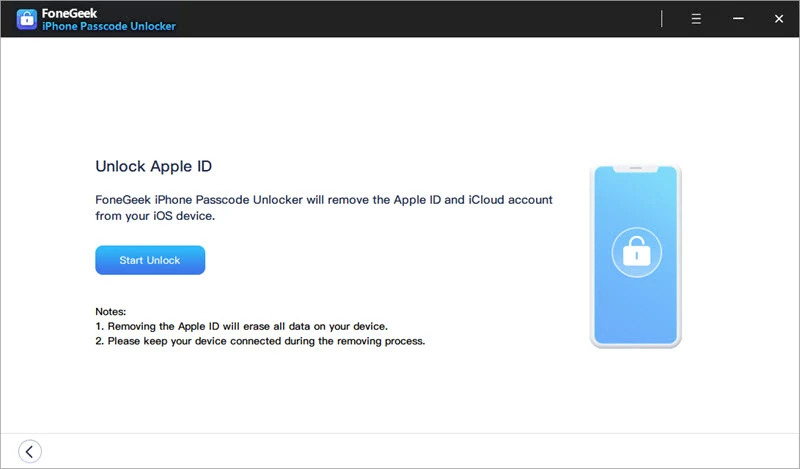 Step 3: The program will automatically begin removing the Apple ID. Keep the device connected to ensure success.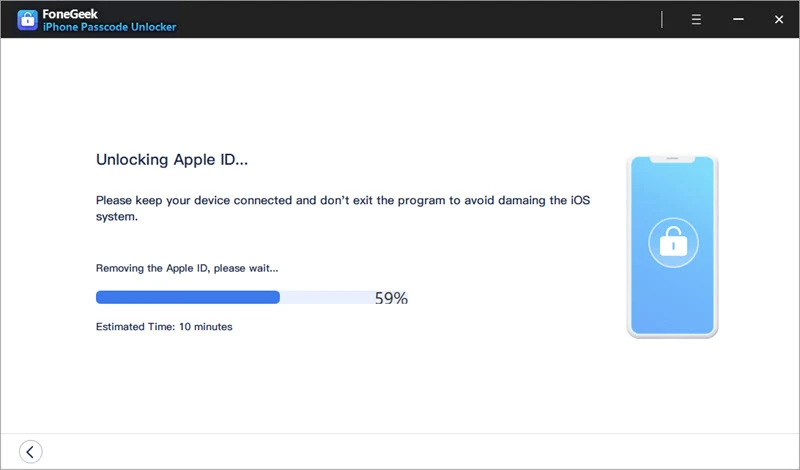 The following are just some of the remarkable features FoneGeek brings to the table:
Easily delete iCloud account without password, email, or security question from iPhone/iPad.
Allows you to essentially separate the device from an Apple ID, making it difficult to track, block, or erase the device remotely.
Remove the screen passcode if you are locked out of iPhone, iPad, or iPod touch.
Numerous media sites have posted positive reviews for this software, including D-addicts, GetDroidTips, Twitgoo, iLounge, Knowtechie, etc.
Your iCloud/iPhone data will not be exposed when using FoneGeek software.
It is 100% secure to use. Some of our users have left positive reviews on Trustpilot.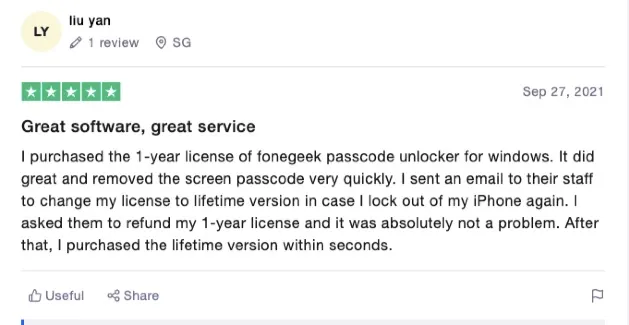 Remove iCloud Account from iPhone Settings
You can also remove iCloud account without password using the device's Settings. Here's how to do it:
Step 1: Open "Settings" on your iPhone and tap "iCloud". When prompted to enter a password, enter any random number.
Step 2: Tap "Done" and when iCloud tells you that the password is incorrect, tap "OK" and then "Cancel" and you'll go back to the iCloud screen.
Step 3: Tap "Account", erase the description, and tap "Done". This should take you back to the iCloud page without entering the password and "Find My iPhone" will be turned off.
Step 4: Scroll down to tap "Delete".


Note
This method is a great choice if you would like to delete iCloud account without downloading any software. However, it only works when you know the iPhone passcode. So, it is not feasible if you are using a second-hand iPhone.
Delete iCloud Account without Password Online
DoctorUnlock.net is an online solution that allows you to remove iCloud account on iPhone without password. The process can take up to 3 days to complete and cost you about $42, but it is highly effective. Here's how to do it:
On any browser, go to the official site of DoctorUnlock.net and select the model of your iPhone.
Enter the IMEI number and click "Unlock Now".
Place the order, and your device will be unlocked a few days later.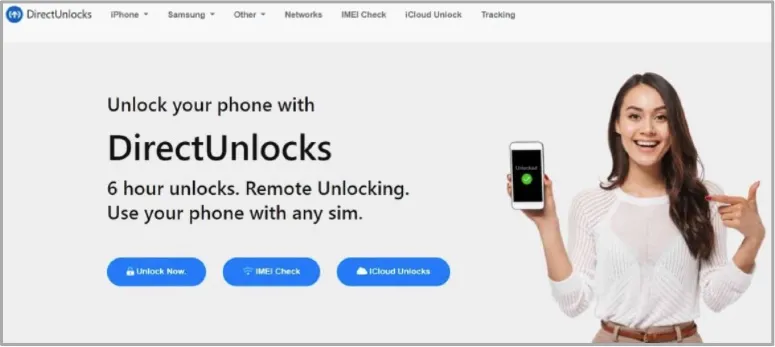 Pros:
This online tool can unlock devices from iPhone 5 to iPhone 11. When you remove the lock, you can use your iCloud account to log into the iPhone.
Cons:
Some users have left reviews on the tool, saying that this tool is not that reliable. You may wait weeks to unlock the iCloud account when you pay for the service.
How to Delete iCloud Account from iPhone with Password
If you somehow find back your iCloud password, you can permanently delete the iCloud account from the iCloud website. Follow these simple steps to do it:
On any browser, go to https://www.icloud.com/ and sign in with your Apple ID.
Click on "Find iPhone". Under "My Devices", find the devices whose iCloud account you want to delete and click on it.
Click "Remove from Account" to delete the iCloud account on that device.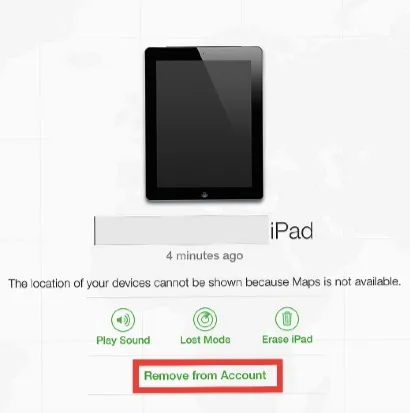 Forgot iCloud Password? Create a New One
If you have simply forgotten the password to your iCloud account, it may not be necessary to delete it. You can simply create a new password to regain access to the account. Here's how to do it:
Go to https://appleid.apple.com/ on any browser and click "Forgot Apple ID or Password".
Enter your Apple ID and then click "Continue".
Enter the phone number you use with that ID and follow the instructions in the message Apple sends you to create a new password.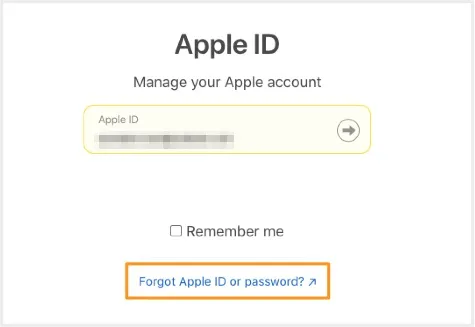 FAQs about Removing iCloud Account
Why does my iPhone keep asking me for my old Apple ID?
If your old Apple ID keeps coming up, it may be that the old account was not successfully removed. If the Apple ID keeps popping up, you can delete it from your iPhone again.
Why does my Apple ID have someone else's name?
If your Apple ID has somebody else's name and keeps asking you for the password, it may be the issue that your iPhone was signed into someone's Apple ID. You may need to remove iCloud account without entering the passcode.
Does factory reset remove iCloud account from iPhone?
NO. Factory reset iPhone will never remove the iCloud account. It only erases the device's data and settings, but your iCloud account remains linked to the device. To completely remove iCloud account from your iPhone, you need to sign out of iCloud in the device's settings and choose to remove the account.
Conclusion
Hope that you have learned how to remove iCloud account from iPhone without password. We recommend choosing FoneGeek iPhone Passcode Unlocker and following the instructions to delete your iCloud account easily and quickly. If you have any questions or ideas regarding this topic, feel free to comment below.