User Concern
"I got locked out of my iPhone 14 and the only way to verify is through my phone number to get a verification code. But I can't access the code because the phone number is on the phone that's locked. Is there a way AT&T can help me with this process??"
One of the most common ways to ensure the safety of your iPhone is to lock it with a passcode of your choice. What if you forgot your passcode for some reason and locked out of your iPhone?
Locked Out of iPhone or iPad
If you get permanently locked out of iPhone, the only way to gain access to your Locked iPhone is to remove its Lock Screen Password by erasing all the data on your device.
You will be able to recover data, only if a backup of iPhone is available on iCloud or you had previously downloaded a backup of iPhone to your Mac or Windows computer. If the iCloud backup is unavailable, you'll need to set up your iPhone as a new device.
With that in mind, let's take a look at the methods you can employ to unlock disabled iPhone and regain access to the device.
Part 1. How to Get Locked out of iPhone without Passcode
All these methods given below will help you get out of a locked iPhone or iPad, however, each method has its own strong and weak points.
Are You Really Locked out of iPhone?
It's not a problem if you enter the wrong passcode forless than 5 times. After attempting for 6 times, you will receive a notification that "iPhone is Disabled". You can enter the passcode again after 1 minute. The 7th incorrect passcode will get you locked out of iPhone for 5 minutes, the 8th is for 15 minutes, the 10th is for 1 hour.
If you try again, the iPhone will display "iPhone is Disabled; Connect to iTunes or iPhone is Disabled; Connect to a Mac/PC", which means all the data will be lost, you'll have to move to the next step.
Unlock Disabled iPhone with iPhone Unlocking Software
Let's start with the easiest and hassle-free method you can use to reset your iPhone when locked out of it. FoneGeek iPhone Passcode Unlocker is a powerful tool that can help you reset and unlock iPhone or iPad, then you're able to access to the locked device without knowing the passcode. It is available for both Windows and Mac computer, just download the right version and have a try.
Key Features of FoneGeek iPhone Passcode Unlocker
Unlock iPhone and regain access to the device without iTunes or iCloud.
Remove various types of screen lock from iPhone like 4-digit/6-digit passcode, Touch ID, Face ID, etc.
Very simple to use, no special knowl edge requires to get into a locked iPhone.
Secure and reliable to use, ensures up to 99% success rate.
Works well with almost all iOS devices, even the newest iPhone 15/14/13 running iOS 17/16.
Highly recommended by iLounge, JustWebWorld, iGeekPhone and many other media sites.
Here's how to unlock disabled iPhone or iPad without password:
Step 1: Download FoneGeek iPhone Passcode Unlocker and install the software on your computer. Launch it and then click on "Unlock Screen Passcode".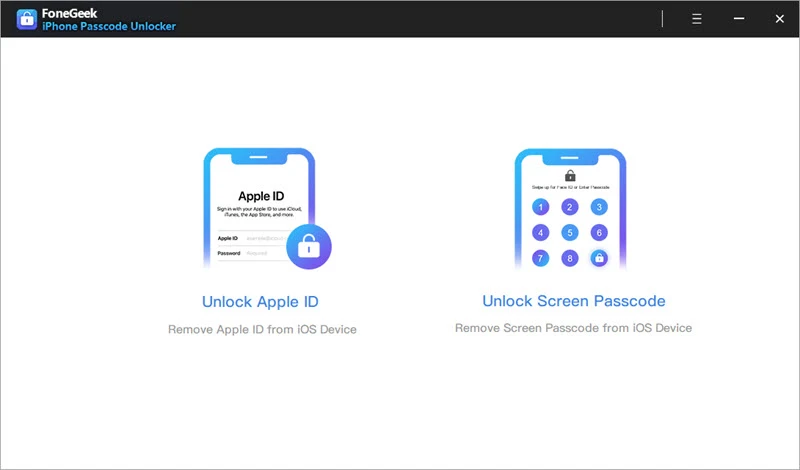 Step 2: Connect your locked iPhone or iPad to the computer and wait for the software to detect it automatically, then click "Next" to continue. If your device can't be detected, you should follow the onscreen steps to put it into Recovery/DFU mode.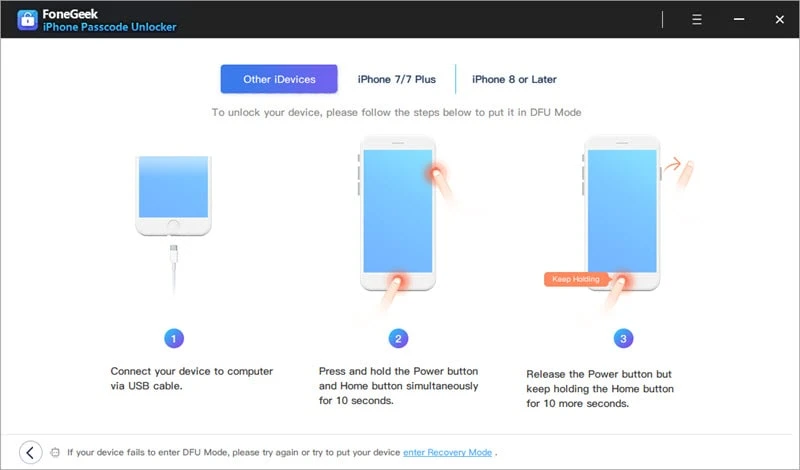 Step 3: Now this tool will prompt you to download the latest firmware package, just choose a save location and click "Download".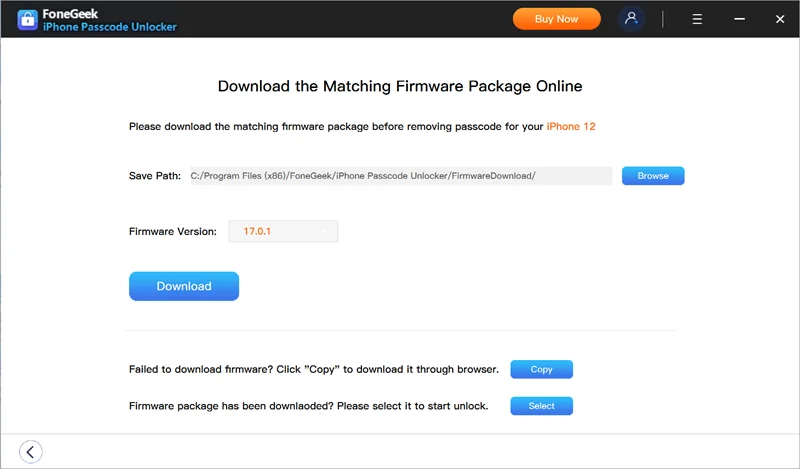 Step 4: When the download process is complete, click on "Start Unlock" to resetting the locked iPhone.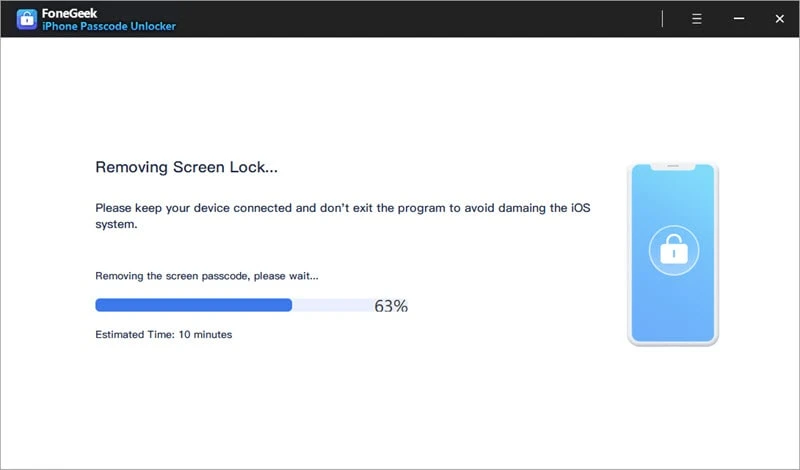 Remotely Unlock Disabled iPhone via Find My iPhone
You can also use iCloud to unlock iPhone when you're unfortunately locked out of it. Please note that this method only works if you've signed into iCloud before and Find My iPhone is activated on your locked iPhone.
Go to iCloud official website on another iDevice if available.
Sign into iCloud with your Apple ID and password, then click on "Find iPhone".
Click on "All Devices" at the top corner of the window and select the device you want to reset.
Click on "Erase iPhone", then enter your Apple ID password to confirm your choice and wait for the process to finish.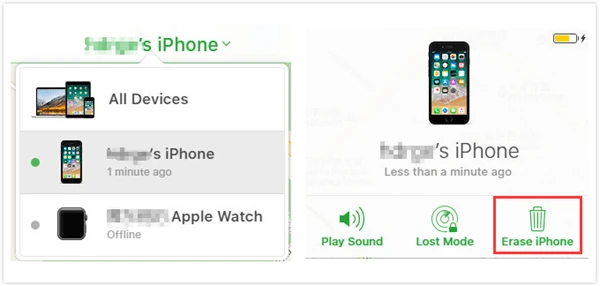 When the device data is erased, the iPhone will start with the 'Hello Screen', requiring you to reset the device.
Follow the steps on the screen and you will reach the 'Apps & Data' screen. Choose the option of 'Restore from iCloud Backup' if you have created an iCloud backup before or choose 'Set Up as New iPhone' if there is no any backup.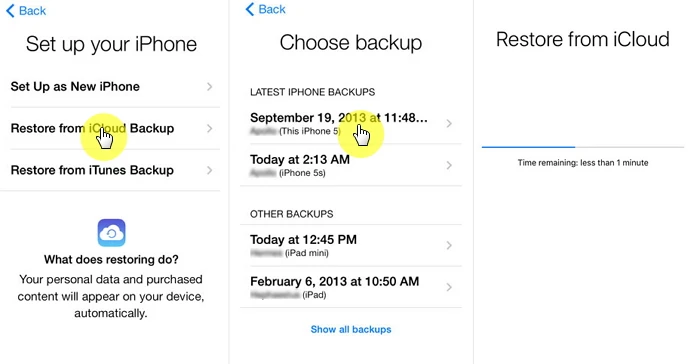 When you restore your iPhone, you will have access to the locked device without entering the passcode.
Note: If you wish to restore from iTunes backup, you should ensure that there is an iTunes backup on your computer.
Access Locked iPhone by Restoring iPhone with iTunes
iTunes is not only useful for music and media activities, but also come in handy when you're locked out of your iPhone or iPad. If you used iTunes to sync and back up your iPhone, you can also use it to ditch the passcode and unlock the device.
Connect your locked iPhone or iPad to the computer you've previously synced it with, then launch iTunes.
Wait for the device to automatic sync and back up. If however, it requires a passcode, try another computer you've synced with, or skip to the Recovery Mode solution described in the latter part of this post.
When the syncing is done, you can click on "Restore iPhone" to reset and unlock your device.
Once the restore process is complete, you can set up your iPhone/iPad like a new device or restore from a backup.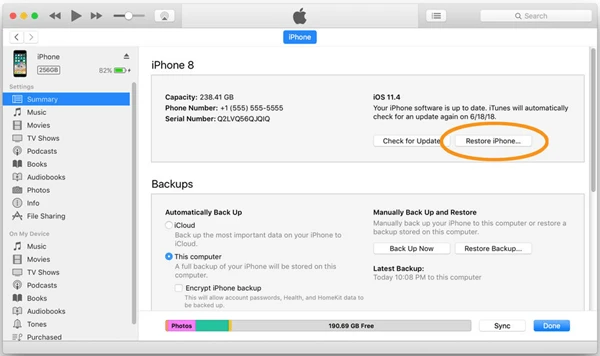 Get Back into iPhone with Apple's Official Recovery Mode
This way is workable only if you've previously synced your iPhone with iTunes and the Find My iPhone should be disabled. You can force your locked iPhone into Recovery mode and restore it to its factory default settings, then erase data on the device including the lock screen password. You can still use iTunes to regain access to the device. However, you will need to first erase the iPhone by entering into Recovery mode.
Step 1. Turn off your iPhone first
Step 2. Put the device into Recovery Mode
iPhone X or later, iPhone 8/8 Plus: Plug the iPhone into computer and pressing the Side button at the same time. Keep holding this button until you can see 'connect to iTunes' on the device screen.
iPhone 7/7 Plus:Plug the iPhone into computer and pressing the Volume down button. Keep holding this button until you can see 'connect to iTunes' on the device screen.
iPhone 6S and earlier: Plug the iPhone into computer and pressing the Home down button. Keep holding this button until you can see 'connect to iTunes' on the device screen.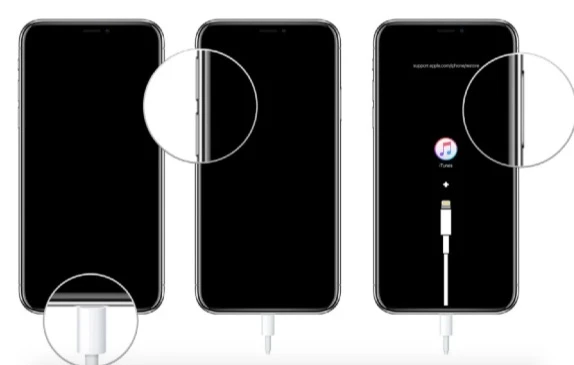 Step 3. Restore iPhone in recovery mode with iTunes
When your phone is in recovery mode, you will see an iTunes prompt on your computer providing the option to Restore or Update the device. Click on the "Restore" option and waif for iTunes to download the necessary software, the follow the onscreen instructions to restore the device.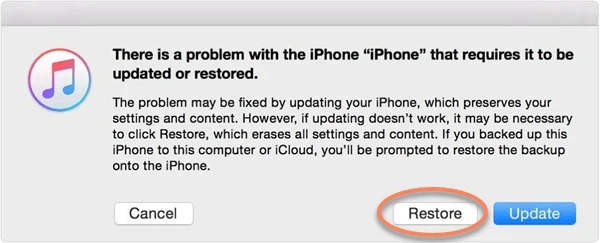 Step 4. Set up your iPhone
When the restore process is finished, you'll see 'Hello Screen' on the device screen.
When you reach the Apps and Data screen, you will see different options to restore the locked iPhone.
If the iTunes or iCloud backup is available, you can pick the option of Restore From iTunes Backup or Restore From iCloud Backup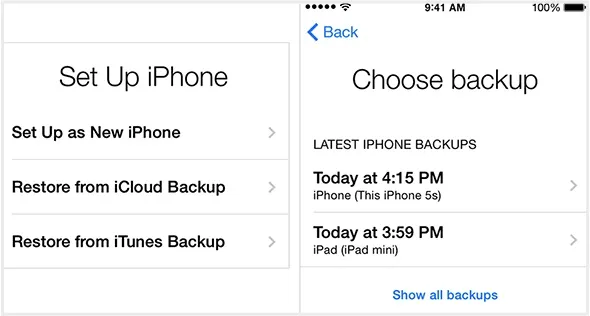 Note:The whole process is a bit complicated, and you may end up with your iPhone stuck in recovery mode and won't restore.
Bypass iPhone Passcode via Siri Command
When you search Google, you will see a trick to bypass iPhone passcode via Siri command. But we don't guarantee that this method will work.
Activate and ask Siri to open an app that you haven't installed. Click on the Apple Store icon and click the Home button twice.
Ask Siri to open the clock app and click the app to show the alarm ringtones. Click on 'buy mode tunes' and the Home button.
Ask Siri to turn off the Cellular data and change the passcode.
The content above are the details of the 6 method. If you are not sure which method to choose, you can look at the comparison form of these methods below:
| | | | | |
| --- | --- | --- | --- | --- |
| | Works when "Find My iPhone" is Turned off | Works when "Find My iPhone" is Turned on | Donesn't require Apple ID password | Success rate |
| FoneGeek | | | | Very high success rate |
| iCloud | | | | Works when the device is connected to stable network |
| iTunes | | | | May not work when the device storage is full |
| Siri | | | | Only work for old iOS devices |
Part 2. How to Avoid Being Locked out of iPhone
Do not get yourself into hot water in the future. We can back up everything before we are locked out of iPhone:
Go to Settings on iPhone, click your name and tap the device from the list of the devices connected with the Apple ID.
Click on iCloud Backup to turn it on.
The most convenient way to prevent iPhone lockouts is to set security features such as Face ID and Touch ID. If you set Face ID or Touch ID before, you can unlock your iPhone even if you cannot remember the password.
Set up Face ID: Go to Settings > Face ID & Passcode, then enter the passcode to complete the face canning.
Set up Touch ID: Go to Settings > Touch ID & Passcode, click Add a Fingerprint and follow the instructions on the device screen.
Conclusion
Getting locked out of your iPhone can be infuriating and can practically grind your activities to a halt. Luckily, that won't be the case with you thanks to this post. When next you've been locked out of your iDevice, you can confidently employ any of the methods above to reset your locked iPhone/iPad and regain access to your device ASAP! We recommend using FoneGeek iPhone Passcode Unlocker to enjoy an easy fix of the locked out of iPhone problem.