[2021 Update] Locked Out of iPhone? 4 Ways to Reset It
Fay J. Melton
Last updated: Friday on Feb 19, 2021, 15:29:23
Unlock iPhone
Apple provides a series of security functions to protect your iPhone or iPad. And one of the most common ways to ensure the safety of your iDevice is to lock it with a passcode of your choice. To keep your iPhone/iPad protected, entering the wrong password too many times will lock the device. This security measure is helpful but sometimes causes troubles. What if you forgot your passcode for some reason and locked out of your own iPhone? Don't worry, we've got you covered. Here this guide will include four methods you can employ to reset a locked iPhone and regain access to the device.
Which Solution Should You Use?
All these solutions given below will help you get out of a locked iPhone or iPad, however, each has its own strong and weak points. Before resetting your locked iPhone, let's first look at some limitations for each method.
Now, let's dive in into the solutions.
Way 1: Locked Out of iPhone? Reset It without Password
Let's start with the easiest and hassle-free method you can use to reset your iPhone when locked out of it. FoneGeek iPhone Passcode Unlocker is a powerful tool that can help you reset and unlock iPhone or iPad, then you're able to access to the locked device without knowing the passcode. It is available for both Windows and Mac computer, just download the right version and have a try.
Key Features of FoneGeek iPhone Passcode Unlocker
Unlock iPhone and regain access to the device without iTunes or iCloud.
Remove various types of screen lock from iPhone like 4-digit/6-digit passcode, Touch ID, Face ID, etc.
Very simple to use, no special knowledge requires to get into a locked iPhone.
Secure and reliable to use, ensures high success rate.
Works well with almost all iOS devices, even the newest iPhone 12, iPhone 11, iPhone 11 Pro/11 Pro Max.
Fully compatible with the latest iOS 14 and iOS 13.
Here's how to reset a locked iPhone or iPad without password:
Step 1: Download FoneGeek iPhone Passcode Unlocker and install the software on your computer. Launch it and then click on "Unlock Screen Passcode".
Step 2: Connect your locked iPhone or iPad to the computer and wait for the software to detect it automatically, then click "Next" to continue. If your device can't be detected, you should follow the onscreen steps to put it into Recovery/DFU mode.
Step 3: Now this tool will prompt you to download the latest firmware package, just choose a save location and click "Download". When the download process is complete, click on "Start Unlock" to resetting the locked iPhone.
Way 2: Locked Out of iPhone? Reset It with iTunes
iTunes is not only useful for music and media activities, but also come in handy when you're locked out of your iPhone or iPad. If you used iTunes to sync and back up your iPhone, you can also use it to ditch the passcode and unlock the device.
Here's how to reset a locked iPhone or iPad using iTunes:
Connect your locked iPhone or iPad to the computer you've previously synced it with, then launch iTunes.

Wait for the device to automatic sync and back up. If however, it requires a passcode, try another computer you've synced with, of skip to the Recovery Mode solution described in the latter part of this post.

When the syncing is done, you can click on "Restore iPhone" to reset and unlock your device. If you're notified that Find My iPhone should be disabled first, then skip to the iCloud Method below.

Once the restore process is complete, you can set up your iPhone/iPad like a new device or restore from a backup.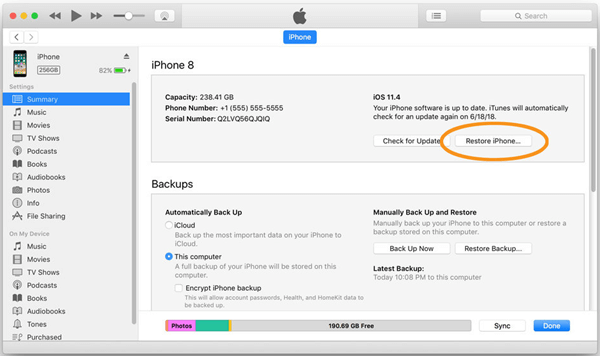 Way 3: Locked Out of iPhone? Reset It with iCloud
You can also use iCloud to reset and unlock your iPhone when you're unfortunately locked out of it. Please note that this method only works if you've signed into iCloud before and Find My iPhone is activated on your locked iPhone.
Here's how to reset a locked iPhone or iPad using iCloud:
Go to iCloud official website on your computer or another iDevice if available.

Sign into iCloud with your Apple ID and password, then click on "Find iPhone".

Click on "All Devices" at the top corner of the window and select the device you want to reset.

Click on "Erase iPhone", then enter your Apple ID password to confirm your choice and wait for the process to finish.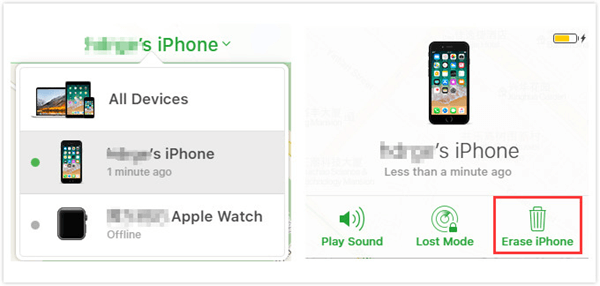 Way 4: Locked Out of iPhone? Reset It with Recovery Mode
If you've never backed up your iPhone with iTunes and don't have Find My iPhone enabled, you can force your locked iPhone into Recovery mode and restore it to its factory default settings, then erase data on the device including the lock screen password. You can still use iTunes to regain access to the device. However, you will need to first erase the iPhone by entering into Recovery mode.
Here's how to reset a locked iPhone or iPad using Recovery mode:
Using a USB cable to connect your locked iPhone/iPad to a computer and open iTunes.

Pressing and holding down a combination of buttons on the device until the recovery mode screen with an iTunes icon appears.

When your phone is in recovery mode, you will see an iTunes prompt on your computer providing the option to Restore or Update the device.

Click on the "Restore" option and waif for iTunes to download the necessary software, the follow the onscreen instructions to restore the device.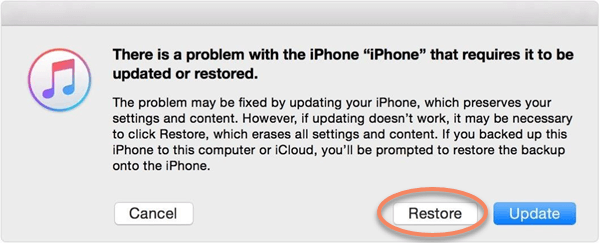 Conclusion
Getting locked out of your iPhone can be infuriating and can practically grind your activities to a halt. Luckily, that won't be the case with you thanks to this post. When next you've been locked out of your iDevice, you can confidently employ any of the methods above to reset your locked iPhone/iPad and regain access to your device ASAP! We recommend using FoneGeek iPhone Passcode Unlocker to enjoy an easy fix of the locked out of iPhone problem.

By Fay J. Melton
Posted on Sep 09, 2019, 19:57:44
Fay J. Melton has explored the area of technology and software for more than 5 years and he is enthusiastic about helping users solve various technology issues.