It is very easy to forget important things if you have too many things to deal with. It has nothing to do with age. You could even forget the lock screen password of your own iPhone. This is a bit difficult since the security of Apple's devices is still very strong.
You will be locked out of the iPhone if you input the incorrect password for 6 times. A message will pop up reminding you that your iPhone is disabled. In this situation, you must wonder how to reset iPhone when you forgot iPhone passcode. Don't despair, the solutions in this article will factory reset iPhone without password.
What You Should Know Before Resetting Locked iPhone
It is not hard to reset iPhone when locked. However, it is a dangerous thing since reset iPhone will erase all the data and settings on iPhone.
What's more, when you use the iPhone again, you will be asked to enter the Apple ID and password to activate the device, or you will not have access to the device settings.
How to Reset iPhone When Locked
1. Reset iPhone When Locked with iTunes (Synced with iTunes Before)
There is no need to unlock your iPhone if it is previously synced with the iTunes installed on your computer before it is disabled. iTunes will automatically detect the locked iPhone. Just follow the steps to reset locked iPhone with iTunes.
Use the USB cable to connect the iPhone to the computer as you usually do.
Download and install the latest iTunes on the computer.
Run iTunes and click Back up now. iTunes will sync with the iPhone and fully back up the data on the iPhone.
Wait patiently for the backup to complete, then click the Restore button to restore to the iPhone to factory settings.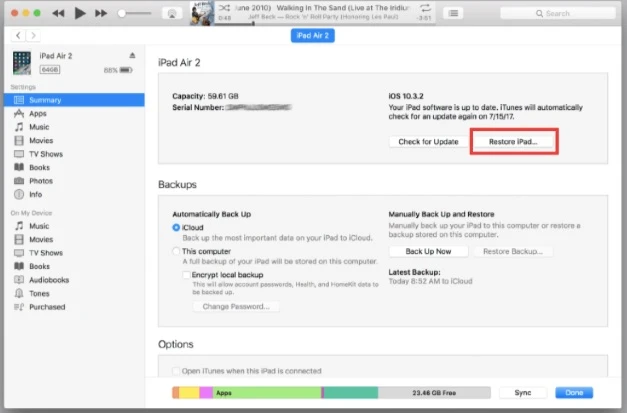 After that, you will find that the iPhone has been restored and is not unlocked.
2. Reset Locked iPhone with iTunes (Never Synced with iTunes)
This solutions will be available if you have never synced your iPhone with iTunes before.
Step 1. Connect the iOS device to iTunes on your computer. At this time, "iTunes cannot connect with iOS device" will appear on the computer. Then you can remove your iPhone from the computer first, then turn off the iPhone.
Step 2. Then, you can continue to hold the iPhone's "Home" button and reconnect the iOS device to the computer, the device will automatically boot. You can release the "Home button" until the "Connect to iTunes" icon appears on the screen.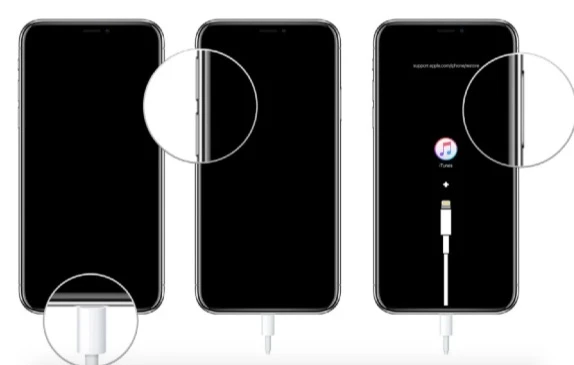 Step 3. After iTunes pops up, it will display "iTunes detected an iOS device in recovery mode. To use it with iTunes, you must restore iOS device.", just press "OK".
Step 4. Press "Restore" button in iTunes and you can restore your iPhone now. After the iOS device is restored, the iPhone will be reset the screen passcode will be removed.
3. Reset iPhone When Locked without Password
By now, you may fall into difficult circumstances if you fail to reset your locked iPhone using iTunes. One of the most professional unlocking tool here is FoneGeek iPhone Passcode Unlocker. It is proved to be 100% working to reset your iPhone when locked.
Main Feature of FoneGeek iPhone Passcode Unlocker:
Remove iPhone Screen Passcode: quickly remove 4/6-digit passcode, touch id, face id when your iPhone, iPad, iPod Touch is locked.
Fix All iOS Issues: More features of this program is to fix iOS system issues such as iPhone is disabled connect to iTunes, forgot iPhone password, iPhone broken screen ,etc.
Remove Apple ID without restore: It can also remove iCloud account from activated iOS devices.
How to Reset iPhone without Password Using FoneGeek iPhone Unlocker:
Step 1. After downloading and opening FoneGeek iPhone Passcode Unlocker on your Mac or windows, choose the mode of "Unlock Screen Passcode" on the home interface.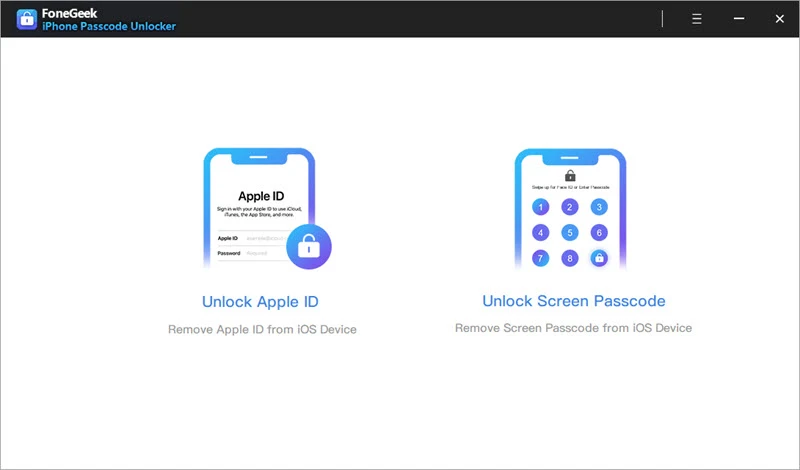 Step 2. Connect your locked iPhone and click on "Start". Normally, your iPhone will be recognized by the unlocking program. If it is not auto-detected, then put the iPhone into recovery mode and the device will then be detected.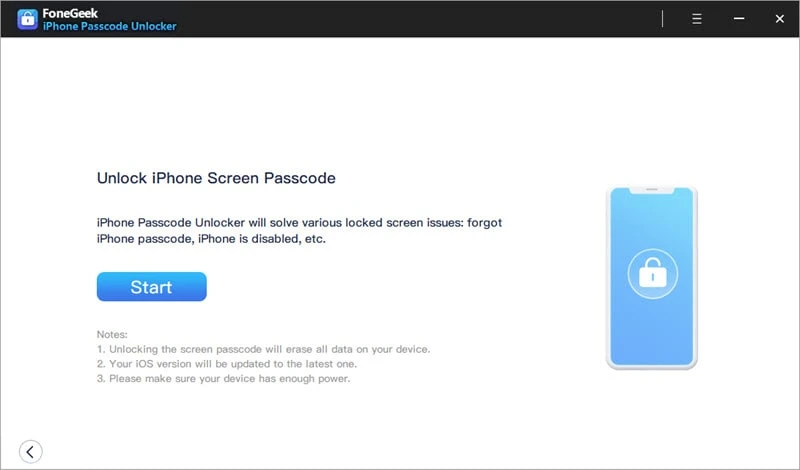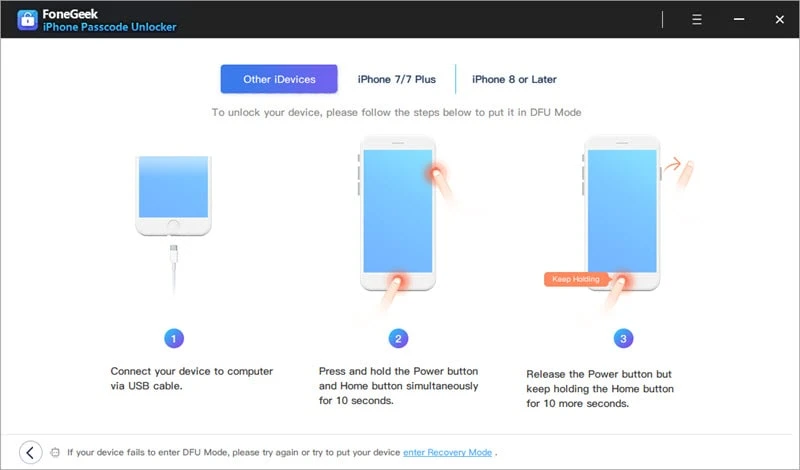 Step 3. The firmware package files of different iOS version will be displayed. The firmware can be used to reset your iPhone. Choose one that suits the iPhone best and click "Download" to verify and install the firmware on your iPhone.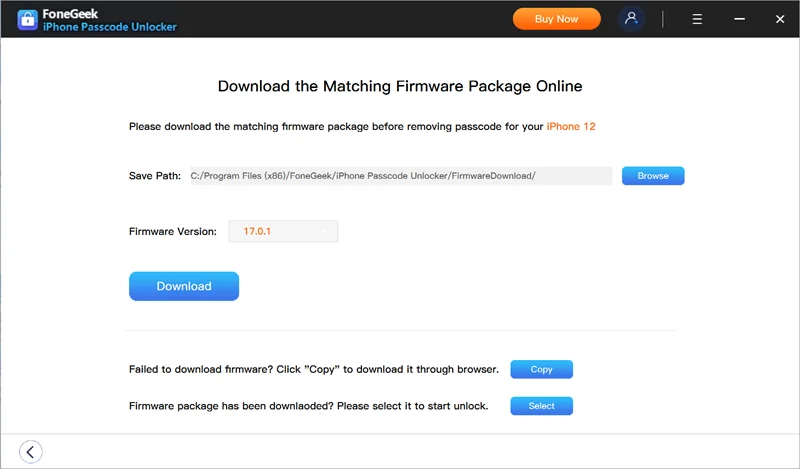 When the repair process is finished, your iPhone will be reset and the screen passcode will be removed as well.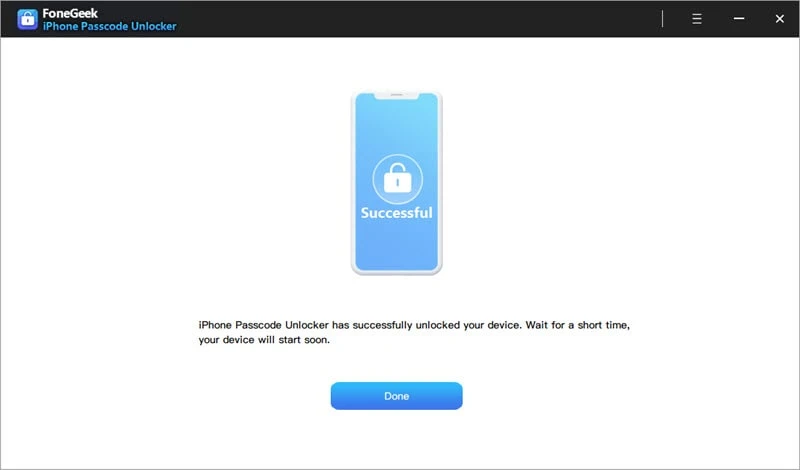 4. Factory Reset Locked iPhone via iCloud
Ensure that the Find My iPhone feature is enabled on your locked iPhone before and the iPhone needs to be connected to WiFi or cellular data network. The specific procedures are as below:
Use your friend's or family's iPhone, open the iPhone and go to Settings > iCloud > Find My iPhone and log in to your Apple ID.
Or visit iCloud's official website on your computer and log in to the iCloud with your Apple ID.
After logging in, select the locked iPhone in the section of "All devices", then click on "Erase device" to erase the device settings and password.
After the device data and password are successfully erased, select "Restore from iCloud Backup" on the "Application and Data" interface of the iPhone to reset it.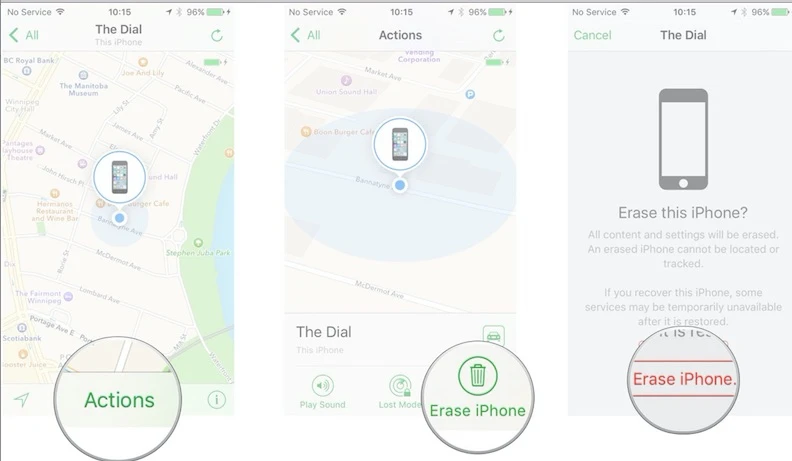 Conclusion
It is not hard to factory reset an iPhone but it will take for some time. When you factory reset an iOS device, the device will be reset as a new one. You now know how to reset iPhone when locked with the given methods above. If you need to find one with the highest recovery rate, the FoneGeek iPhone Passcode Unlocker will be the one for you. It works smoothly and unlocks your iPhone in only several clicks.