iCloud Lock is Apple's protection system. This feature is used to prevent others from using your iPhone, iPad, iPod touch, or Apple Watch if the device is lost or stolen. Activation Lock is automatically enabled when you enable "Find My iPhone".
Part 1. What's the Meaning of iPhone Being iCloud Locked?
What occurs when an iPhone is iCloud locked? An iCloud-locked iPhone comes with numerous limitations, essentially rendering it unusable. Upon accessing the sole screen, you will be met with a notification indicating that the phone is locked.
As a result, you will be unable to make phone calls, utilize any applications, send or receive text messages, or modify any settings. You cannot access the main screen until you input the Apple ID and passcode to unlock it.
If you designate your iPhone as lost in the Find My app on your device, it will become locked in this manner. Additionally, if someone attempts to reactivate your device after erasing it, they will receive the lock message on the screen. They will be unable to activate your phone unless they input your iCloud password.
iCloud is locked for the following reasons:
iCloud account is stolen.
Input incorrect iCloud password for multiple times.
Apple will lock the iCloud for account security reasons.
iCloud account is used by many users.
Log into iCloud account on a difference device.
Part 2. Is It Possible to Unlock an iCloud Locked iPhone?
At this point, you may be wondering whether it is possible to unlock an iCloud locked iPhone. The good news is, YES. There are ways to unlock an iCloud locked iPhone and we've taken a look at some of the most effective ones in this article for your reference.
Part 3. How to Unlock iCloud Activation Lock - 8 Quick Tips
After learning about the limitations of an iCloud-locked iPhone, you might be interested in discovering whether it's possible to unlock it. The straightforward answer is YES; however, you must fulfill specific prerequisites. There are several methods available for unlocking an iCloud-locked iPhone, with the top 5 outlined below.
1st Case. If You Are the Owner of the iPhone
To check whether your iPhone is iCloud locked, you can look for the iCloud Activation Lock screen.
Enter your Apple ID and password to activate your iPhone.
The iPhone will soon open.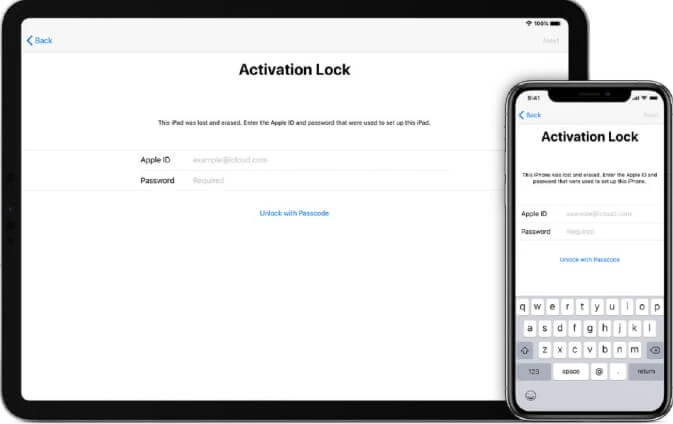 Here is a tip for you: If the iPhone's iOS system is iOS 11 or later, you can protect your Apple ID via two-factor authentication, or bypass the iCloud Activation Lock via the device's passcode (Choose "Unlock with Passcode" and click on "Use Device Passcode").
2nd Case. If You Are Not the Owner of the iPhone
Don't hesitate try the 4 solutions below if you cannot unlock iCloud lock with your own Apple ID or with the original owner's help.
#1. Unlock iCloud Lock Using a Third-Party Tool
You can use FoneGeek iPhone Passcode Unlocker (iOS 17 supported) to completely unlock iCloud Activation Lock without password or using iTunes. This tool will reset the device to its factory settings, consequently erasing the log in information and allowing the device to be set up as new. The following are some of the features that make it the most ideal solution:
Easily remove iCloud account associated with iPhone or iPad, allowing you to enter your own.
Once the iCloud account has been removed, you can easily erase the device, track it using Find My iPhone and even block the previous iCloud account from accessing the data on the device.
Allows you to continue enjoying all the iOS features after the iCloud account is removed.
It is very easy to use, allowing you to remove iCloud account without password in just a few clicks.
It works on all iOS devices and iOS versions, including the latest iPhone 15/14/13 running on iOS 17/16.
Many top-rated media site have highly recommended this program, such as D-addicts, GetDroidTips, Twitgoo, iLounge, Knowtechie, etc.
No technique knowledge is required even if it is the first time to use the program.
Now download and install FoneGeek iPhone Passcode Unlocker on your computer and follow the step-by-step guide to fix any iOS issues.
Step 1. Open it, choose "Unlock Apple ID" from the 2 unlock modes.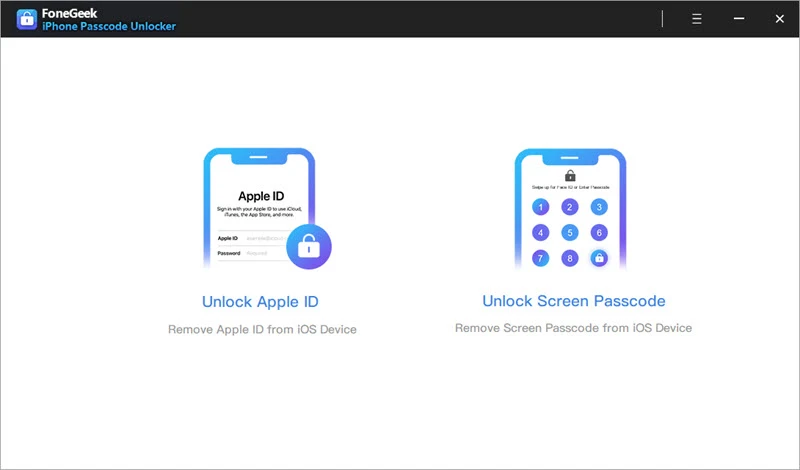 Step 2. Take an USB cable to connect your iPhone or iPad with computer. When the device is connected, hit the "Start Unlock" button.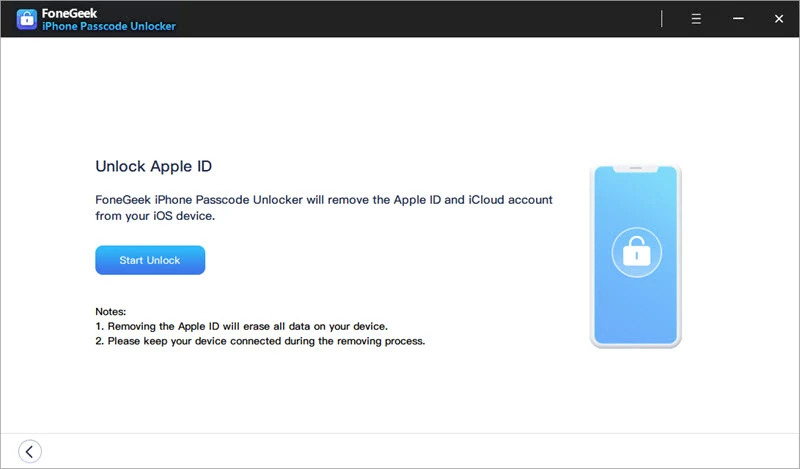 Step 3. Then the program will automatically remove the iCloud Activation Lock.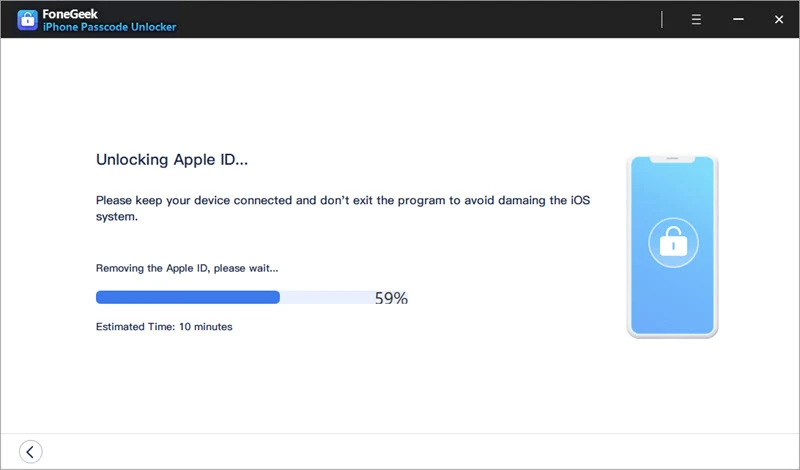 FoneGeek iPhone Passcode Unlocker is 100% secure to use and many users have left positive review after using this program.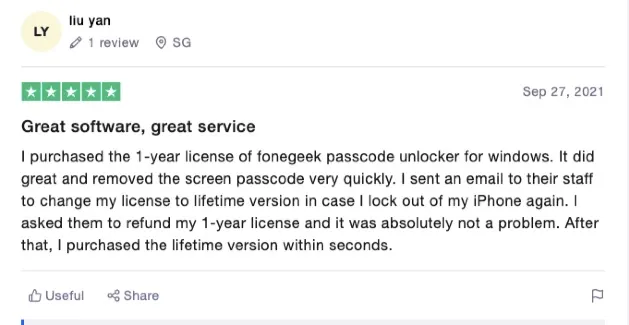 #2. Bypass the iCloud Lock Remotely
You may get a second-hand iPhone online or from your friend and the phone keeps asking you to verify the iCloud account, you will possibly need to contact with the previous owner to bypass the iCloud lock on his cell phone or computer.
Visit the official account of iCloud by entering icloud.com in the browser.
Enter the Apple ID and password to sign into your iCloud account.
Hit on "Find iPhone" and click "All Devices" option.
Choose the iPhone that you need to remove the iCloud account and select "Erase iPhone".
When the iPhone is deleted, tap on the option of "Remove from Account".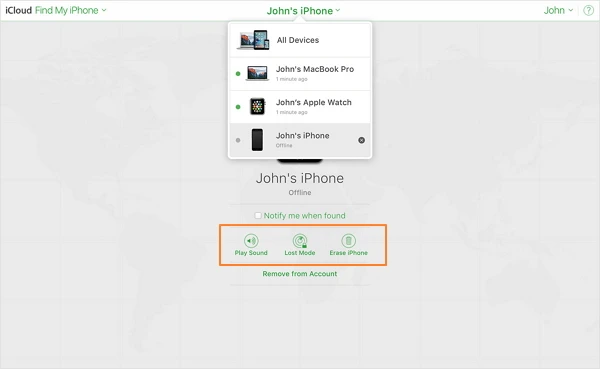 #3. Unlock iCloud Locked iPhone from Settings
You can contact the previous owner toremove the iCloud account via the iPhone settings.
Here are the steps to follow if you can contact the previous owner:
Ask the previous owner to sign in with their Apple ID and password on the iPhone.
Navigate to "Settings", then "iCloud" under your name, and select "Sign Out". If you're using iOS 10.2 or an earlier version, go to "Settings", then "iCloud" and choose "Sign Out".
The previous owner will need to enter their Apple ID credentials when prompted.
On iOS 10.3 and later, tap "Turn Off", while on iOS 10.2 or earlier, select "Sign Out" followed by "Delete from My iPhone".
Finally, erase your device by going to "Settings", then "General", "Reset", and "Erase All Content and Settings".
You can then activate your device without encountering the Activation Lock screen.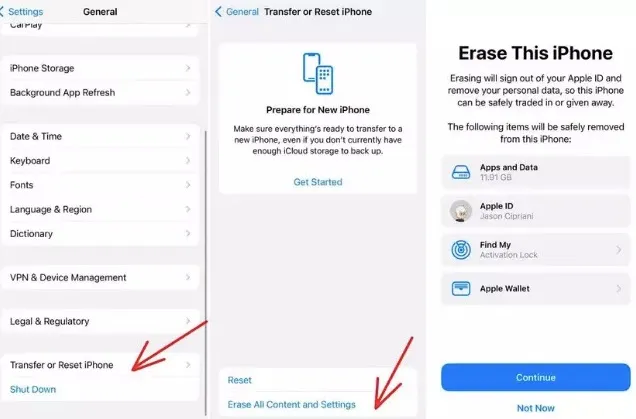 #4. Unlock iCloud Locked iPhone via DNS Bypass
You may also be able to unlock iCloud locked iPhone through Settings. However, it is important to note that this method is temporary and you'll have to use it to unlock the device every time it gets locked again. Follow these simple steps to do it:
Step 1: Open Settings on your iPhone and then tap on "Wi-Fi".
Step 2: Tap on the "i" right next to the network you would like to use.
Step 3: Replace the DNS settings with one of the following depending on where you are:
USA/North America: 104.154.51.7
Europe: 104.155.28.90
Asia: 104.155.220.58
Other areas: 78.109.17.60
Step 4: Tap "Back" and navigate to "Activation Help". If the process was successful, you should see "You have successfully connected to my Server" on the screen. This means that you have unlocked the device successfully.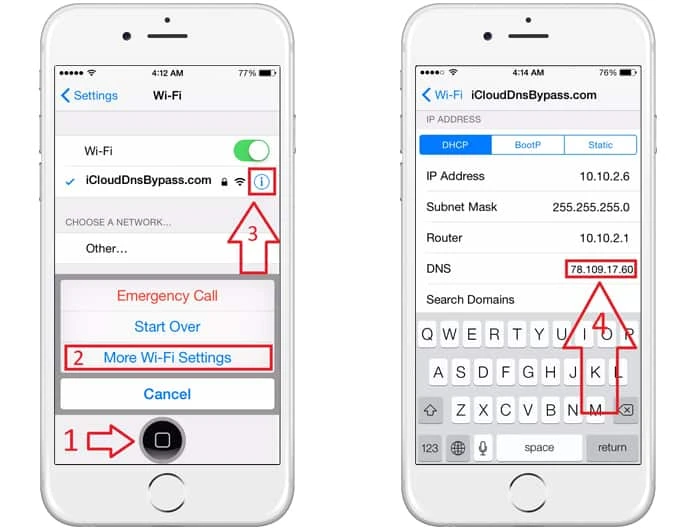 Though this method is free, there are some disadvantages to be noticed:
DNS bypass method only works with iOS devices running iOS 8 to iOS 10.
You still don't have access to all features after the removal process.
The "log in" banner constantly appear on the top of the screen may make you annoy.
#5. Bypass iCloud Lock Using Online Tool
Here is another way to bypass iCloud Activation Lock without contacting the previous owner: via online unlock tool - AppleiPhoneUnlock, of course, you can also search online to find other online iCloud unlock tools. Here are the steps.
Enter the site address of https://www.appleiphoneunlock.uk/ to visit this site.
There will be a list of options on the navigation bar, just select "iCloud Unlock".
Then you need to choose the device model and enter the serial number. (You can check the serial number on the back of the phone)
After that, click on "Add to cart" to pay for the service, and the iCloud Activation Lock on your iPhone will be unlocked.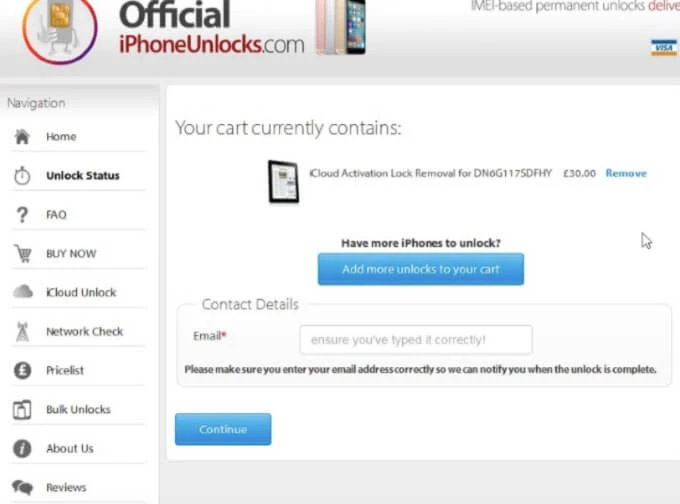 #6. Delete iCloud Account via iPhone Settings
There is another way to delete iCloud account if you do not want to use any online or 3rd-party tool. This way is available but the success rate is not guaranteed. Anyway, it is still worth to have a try.
Firstly, reboot the device that you want to remove the iCloud lock.
When the device is turned on, select the country and language to start the setup process.
On the WiFi network settings screen, hit the "i" icon that you want to connect to. Then scroll down to enter appropriate DNS number.
Next, click back button at the top of the screen and select the WiFi network that you will connect.
Since the iPhone is reset, you need to enter the WiFi password again then click "Join" option.
Turn back to the WiFi screen by tapping on Back button. The device will go to the new screen. Just click the Back option again to go back to the WiFi screen.
Then you could see the option of "iCloudDNSBypass.net". Click the menu and choose the app to provide the information of your iPhone.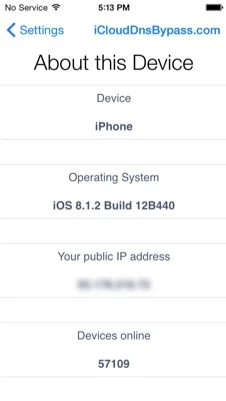 #7. Get Help from IMEI Unlock SIM
You can also use IMEI Unlock SIM to unlock your device. With this tool, expect a 3 day period before the tool unlocks the device. It also has a money back guarantee and is 100% legitimate and highly effective.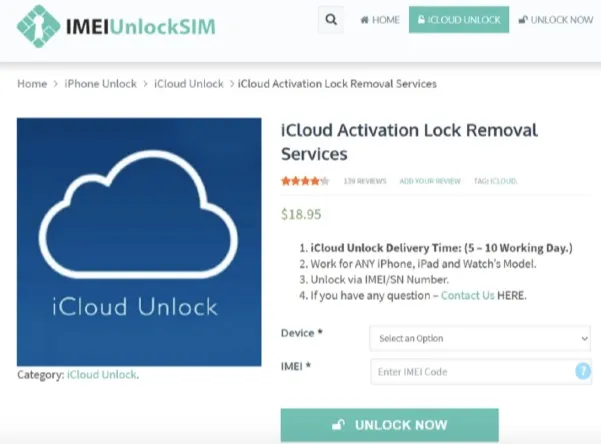 8. Remove iCloud Activation Lock with Apple
In some cases, the staff member in Apple Store will do a favor to unlock iCloud lock for your iPhone. But before that, You need to demonstrate that you are the legal owner of the iPhone. To prove that, you can either show the purchase receipts or provment of approved transfer from the previous owner to the Apple staff.
After checking the device information, they will help to remove the iCloud Activation Lock. However, your request will be refused if you cannot offer the proof that you are exactly the owner of this iPhone.
Part 4. FAQs about iCloud Locked iPhone
There are a few things you need to know about iCloud Activation Lock. The following are the most important ones:
Q1. How does iCloud Activation Lock work?
iCloud Activation Lock is normally activated during the iPhone setup process. You need an iCloud account to activate iCloud lock and every iCloud account in turn requires an unique Apple ID and password. If you don't know these details, it can be impossible to access someone else's account.
Q2. Can you remove iCloud Lock by jailbreaking the device?
There are some websites claim that they can help you remove the iCloud Activation Lock by jailbreaking iPhone. This is however not true and you shouldn't trust such sites. A jailbreak can cause damage to the device and may not even bypass the iCloud Activation Lock. Don't provide such sites with your IMEI number or your credit card details.
Q3. Can I Jailbreak an iPhone that is iCloud Locked?
In short, the answer is NO. Jailbreaking an iPhone involves removing restrictions set by the operating system, but it does not remove the iCloud lock. Jailbreaking only provides the user with more control over the device's settings and features, but it does not remove the iCloud lock.
If you have an iCloud-locked iPhone, it is recommended to follow one of the methods mentioned above to unlock it. Jailbreaking the device will not remove the iCloud lock and could potentially cause other issues.
Q4. Is it Possible to Fix a Security Sealed iPhone?
There are various methods to deal with the security system that locks an iPhone or iPad. You may be able to have your device unlocked by contacting the original owner or by using a software tool designed to bypass the activation lock. However, performing a factory reset will not remove the Apple ID and password associated with the device.
It's important to note that some techniques suggested on other websites, such as using iTunes to bypass the account password, are not effective. Connecting your device to iTunes will only allow you to back up iOS data to a computer and will not help you unlock the device.
By following the techniques outlined in this guide, you should be able to unlock your device and get it up and running again.
Q5. Should I Buy a Locked iOS device?
Purchasing an Activation Locked phone may seem like a good deal since it is usually cheaper than an unlocked one. However, it is important to understand that removing the iCloud lock can be a difficult and time-consuming process. In some cases, it may not even be possible to remove the lock without the original owner's assistance, leaving you with a device that is essentially useless.
Buying an iCloud-locked device is a risky proposition since there is no guarantee that you will be able to use it. While it is possible to manage the risk to some extent, there is still a chance that you may end up with a device that you cannot use. If you are not willing to take this risk, it is recommended that you purchase a device that is not iCloud locked.
Final Words
If you are in need to unlock iCloud Activation Lock without passcode or iTunes, there are 9 methods listed above. FoneGeek iPhone Passcode Unlocker is recommended here. It allows you access to everything on your iPhone without iCloud restrictions.