User Concern
"As a developer, are we able to use a iCloud locked device for a test unit and if so do we have ability to remove iCloud lock from iPhone?"
If you buy a second-hand iPhone online but only to find the owner is still signed into the device and failed to remove their iCloud details, you may want to find ways to unlock the iCloud locked iPhone. This skill may also prove very useful when you forget the iCloud password you used when setting up the device.
This article will explain what it means to have an iCloud locked iPhone and share with you various ways to unlock iCloud locked iPhone. Read on and check out.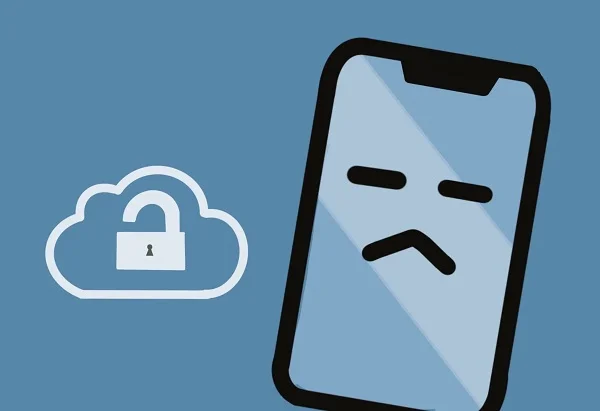 Part 1. How to Unlock iCloud Locked iPhone
If the previous owner is nearby, you can try Method 1.1 to remove the iCloud Activation Lock.
If you don't know any information about the Apple ID information, you can try Method 1.2.
Method 1.3 is the trick to bypass iCloud lock for old iOS devices.
1.1 Contact the Previous Owner
The easiest solution to unlock iCloud lock for iPhone is to contact the previous owner. He/she may know the iCloud passcode and get the iPhone unlocked.
On the iCloud lock screen, you can ask the previous owner to enter the password to unlock the iPhone.
When the lock is removed, go to Settings and click on the owner's name.
Scroll down and click on "Sign Out".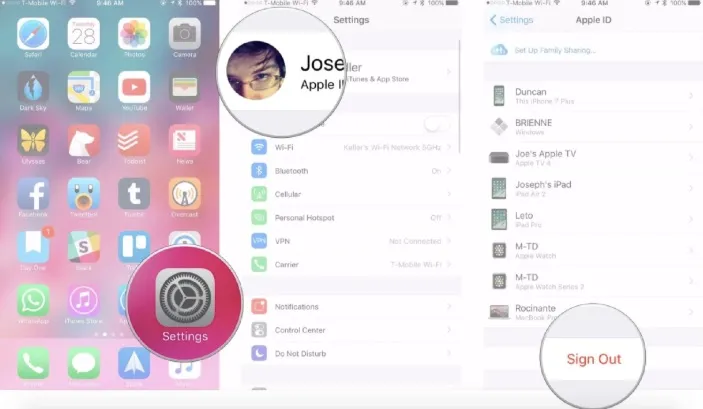 1.2 Unlock iCloud Locked iPhone with a Tool (The Best Solution)
The most effective way to remove iCloud lock from an iPhone is to use FoneGeek iPhone Passcode Unlocker, a third party tool that is designed for that purpose. This tool will reset the device to its factory settings, consequently erasing the log in information and allowing the device to be set up as new. The following are some of the features that make it the most ideal solution:
Easily remove iCloud account associated with iPhone or iPad, allowing you to enter your own.
Once the iCloud account has been removed, you can easily erase the device, track it using Find My iPhone and even block the previous iCloud account from accessing the data on the device.
Allows you to continue enjoying all the iOS features after the iCloud account is removed.
It is very easy to use, allowing you to remove iCloud account without password in just a few clicks.
It works on all iOS devices and iOS versions, including the latest iPhone 14/13/12 running on iOS 16/15.
Many top-rated media site have highly recommended this program, such as D-addicts, GetDroidTips, Twitgoo, iLounge, Knowtechie, etc.
Follow the steps below to unlock iCloud locked iPhone without Apple ID/password:
Step 1: Download and install FoneGeek iPhone unlocking tool on to your computer. Launch it and connect the locked device to the computer using USB cable, then click on the "Unlock Apple ID" option.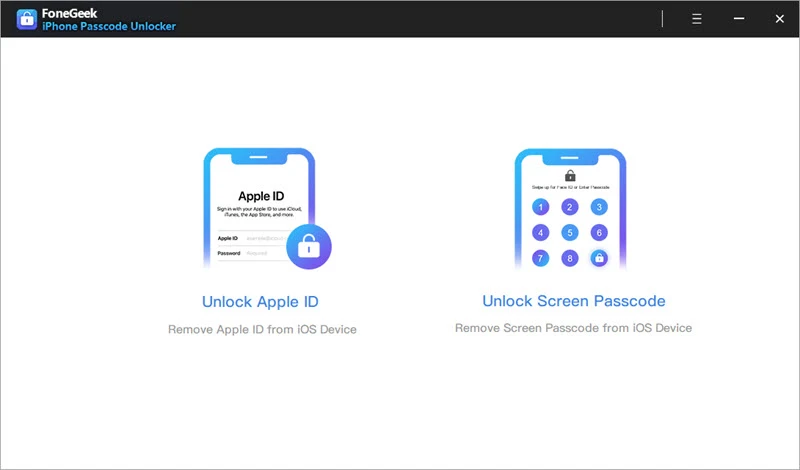 Step 2: Click "Start Unlock" to allow the device to begin the process of unlocking the device. If Find My iPhone is disabled, the iCloud lock will be removed immediately.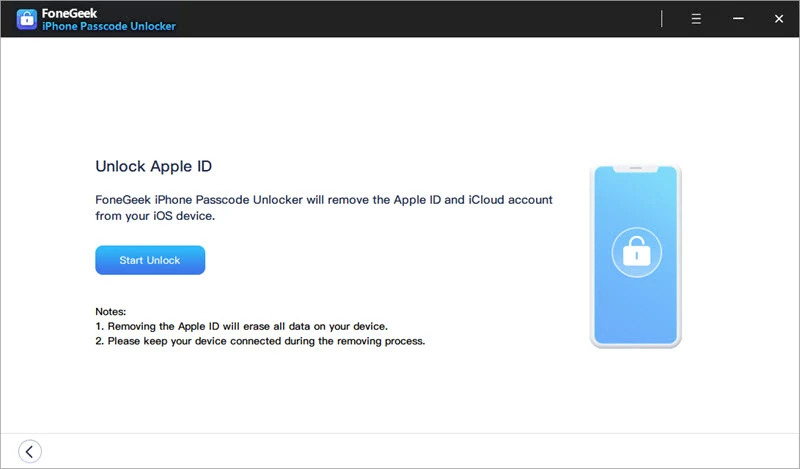 FoneGeek iPhone Passcode Unlocker is 100% secure to use and many users have left positive review after using this program.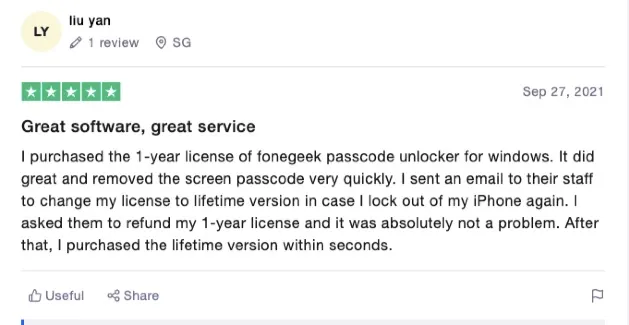 1.3 Unlock iCloud Locked iPhone via DNS Bypass
You may also be able to unlock iCloud locked iPhone through Settings. However, it is important to note that this method is temporary and you'll have to use it to unlock the device every time it gets locked again. Follow these simple steps to do it:
Step 1: Open Settings on your iPhone and then tap on "Wi-Fi".
Step 2: Tap on the "i" right next to the network you would like to use.
Step 3: Replace the DNS settings with one of the following depending on where you are:
USA/North America: 104.154.51.7
Europe: 104.155.28.90
Asia: 104.155.220.58
Other areas: 78.109.17.60
Step 4: Tap "Back" and navigate to "Activation Help". If the process was successful, you should see "You have successfully connected to my Server" on the screen. This means that you have unlocked the device successfully.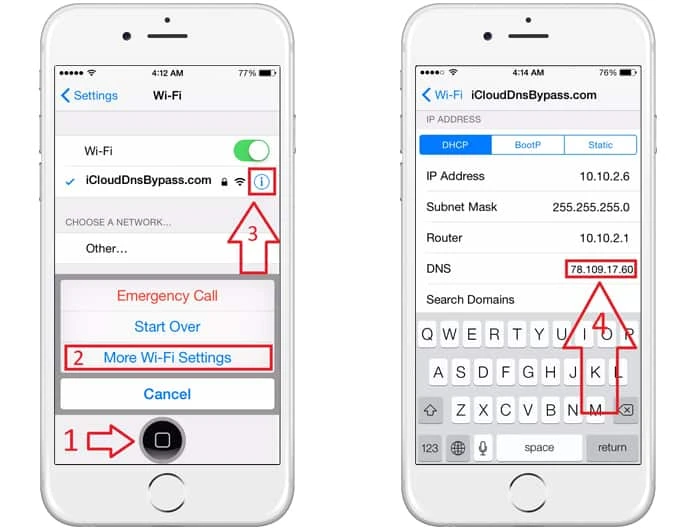 Though this method is free, there are some disadvantages to be noticed:
DNS bypass method only works with iOS devices running iOS 8 to iOS 10.
You still don't have access to all features after the removal process.
The "log in" banner constantly appear on the top of the screen may make you annoy.
Part 2. Other Methods to Unlock iCloud Lock iPhone
2.1 Via iCloud
If you are able to contact the previous owner and don't want to download any third-party tools on your computer, you can remove the iCloud activation lock through official iCloud website. This method can be taken out remotely.
What the owner requires is stable network connection and the iCloud login credentials. The following steps should be helpful for you to unlock iCloud locked iPhone remotely online.
Open the official website of iCloud and log into iCloud account.
After logging into the iCloud account, click on the option of "Find iPhone".
On the next screen, click on "All Devices" and select your iPhone.
Tap on the option of "Erase iPhone" and remove the account.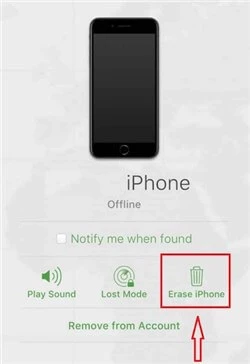 The iPhone will soon be removed from previous owner's account, you can then link the device to your own iCloud account.
2.2 Via iPhoneIMEI
iPhoneIMEI is an IMEI-based service to bypass iCloud lock on iPhone or iPad. The Apple ID on your iPhone could also be removed remotely. Here's how to do it:
Go to https://iphoneimei.net/ to access the tool you need.
Enter the device's IMEI number or serial number and click "Add to Cart".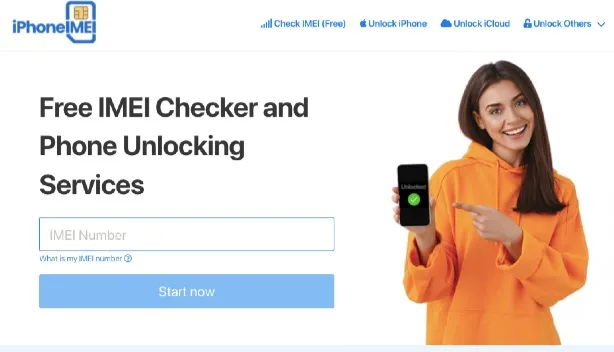 Now just wait for confirmation that the iCloud Lock has been removed.
2.3 Via AppleiPhoneUnlock
AppleiPhoneUnlock is one of the top rated iCloud unlock tools that you can find online. It offers legitimate services, unlocking your iPhone in two days. If the process to unlock the device fails, you can take advantage of the money back guarantee to get your money back. This tool also whitelists the device's IMEI number to ensure it never gets locked again.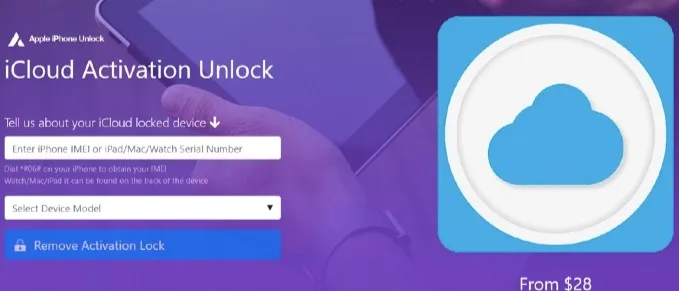 2.4 Via IMEI Unlock SIM
You can also use IMEI Unlock SIM to unlock your device. With this tool, expect a 3 day period before the tool unlocks the device. It also has a money back guarantee and is 100% legitimate and highly effective.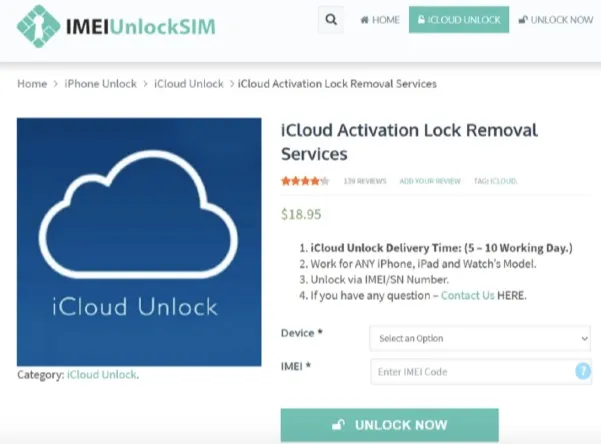 2.5 Free While Difficult Solution to Unlock iCloud Locked iPhone
If you are the original owner of your device, it will be unfair for you to spent extra money to unlock a device that has already been unlocked. If you have forgotten the details of your iCloud account, you can go to Apple Store to recover the details.
However, this method is difficult and time-consuming. Apple attaches great importance to the user security. To carry out this method, you need to provide all the details.
Part 3. FAQs about iCloud Locked iPhone
Before we get to the solutions to help you unlock an iCloud locked iPhone, there are a few things you need to know about iCloud Activation Lock. The following are the most important ones:
1. What does it mean when an iPhone is iCloud locked?
It simply means that the iPhone is locked using an iCloud account. This feature was made possible by Apple back in 2014, allowing all iOS devices to be locked using an iCloud account. When an iPhone or iPad is locked in this way, you won't be able to reset, erase or reactive the device.
Other features that require an iCloud account will also be inaccessible including Find My iPhone. This can severely limit the way you use your iPhone which forces you to find a way to unlock the device.
2. How does iCloud Activation Lock work?
iCloud Activation Lock is normally activated during the iPhone setup process. You need an iCloud account to activate iCloud lock and every iCloud account in turn requires an unique Apple ID and password. If you don't know these details, it can be impossible to access someone else's account.
3. Can you remove iCloud Lock by jailbreaking the device?
There are some websites claim that they can help you remove the iCloud Activation Lock by jailbreaking iPhone. This is however not true and you shouldn't trust such sites. A jailbreak can cause damage to the device and may not even bypass the iCloud Activation Lock. Don't provide such sites with your IMEI number or your credit card details.
4. Is it possible to unlock an iCloud locked iPhone?
At this point, you may be wondering whether it is possible to unlock an iCloud locked iPhone. The good news is, YES. There are ways to unlock an iCloud locked iPhone and we've taken a look at some of the most effective ones in this article for your reference.
Conclusion
It is easy to think that unlocking an iCloud locked iPhone is nearly impossible, but the solutions above prove helpful. Use one of the solutions above to unlock the device and then share your thoughts or questions in the comments section below and we'll do our best to help.